Congratulations to the giveaway winner: Janis Bradford
My oldest daughter will be finishing up her first year in public school in just over a week!! It's so hard to believe that this school year is already over. She's grown by leaps and bounds in so many areas, but especially in reading. She has learned to love reading, and I want to encourage that passion and keep her learning even through the summer months. It's hard to know exactly how to do that without her getting frustrated or feeling like it's just another "chore."
Well, I've found an amazing solution for fun summer education … Brain Chase!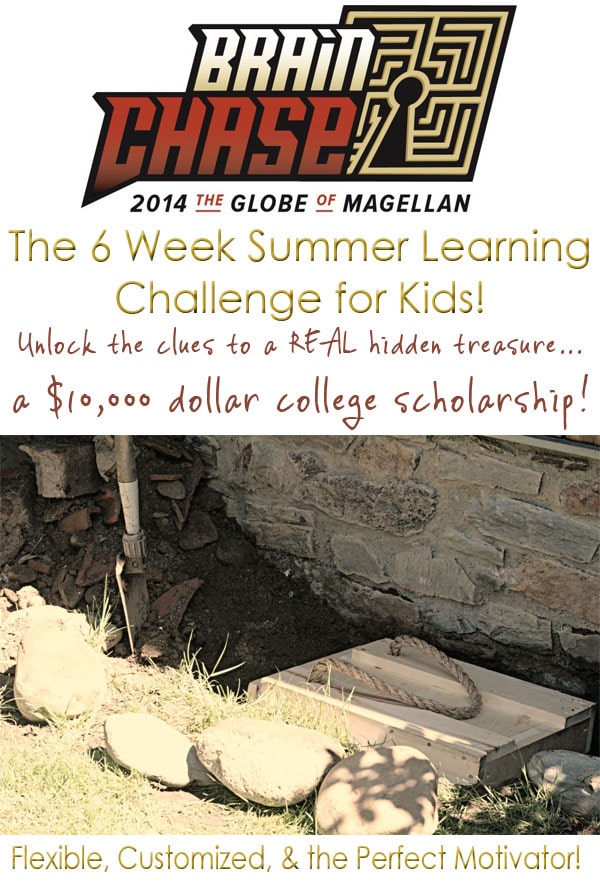 Brain Chase is a 6-week online learning program designed to boost 2nd-8th graders in core academics during the summer break. While the goal is to keep kids learning through their summer vacation, that's not what they'll love about Brain Chase. Kids will be drawn to the awesome story line, quality graphics and the real life treasure hunt. That's right, kids enrolled in the Brain Chase summer learning challenge get to unlock clues that will help them discover the location of a treasure worth $10,000 buried somewhere on earth! The first kid who correctly guesses the location of the treasure (Globe of Magellan) gets to fly with a guardian to the location to help dig it up. What kid wouldn't be motivated by a massive global treasure hunt?!?
Season One of Brain Chase begins at 9 a.m. Eastern on June 30, 2014. Kids will log in to watch the first animated webisode and meet Mae Merriweather and her friends hot on the trail of the Globe of Magellan.
Kids will then begin the first week of learning activities. The time commitment is about five hours each week and includes four tasks: read for 15 minutes, write one journal entry, earn 10,000 energy points on Khan Academy, and do one bonus challenge. Kids unlock the next webisode as they complete the tasks, and the webisodes are where they'll find hidden pictures, numbers, and riddles to help them find the treasure. But that's not all … they'll receive three of the six bonus challenges by mail. What kid wouldn't be thrilled to receive a decoder ring, brass compass and a mystery project in the mail?!?
Other benefits of enrollment in Brain Chase include:
Reading with access to 6,000+ digital books
Math through Khan Academy

Writing with credentialed teacher review

Bonus projects in history and science

Global treasure hunt for the Globe of Magellan

12 webisodes that reveal clues to the treasure

Student dashboard to track progress

Weekly progress emails to parents
So, are you excited to get your kiddos registered?? Registration is limited to 5,000, so now is the time. The registration fee for your first child is $199, and you get a 50% discount for each additional child. But the folks at Brain Chase are offering 'Or so she says …' readers a 20% discount for a limited time. Simply enter SOSHESAYS when you register your kid(s) for Brain Chase here.
GIVEAWAY FOR ONE FREE BRAIN CHASE REGISTRATION!! Even better, Brain Chase is offering a FREE registration to one of our readers. Just enter the giveaway below for your chance to win! The contest is open to U.S. residents, and you must be 18-years-old to enter. The winner will be notified by email and has 48 hours to respond before another winner is chosen. The giveaway ends at midnight on May 19, 2014.
Don't miss out on this exceptional opportunity to keep your kids engaged in learning throughout the summer and beyond! Check out this fun video for a quick overview of Brain Chase, and have a wonderful summer with your kids!
This is a Sponsored post written by me on behalf of Brain Chase. All opinions are 100% mine.