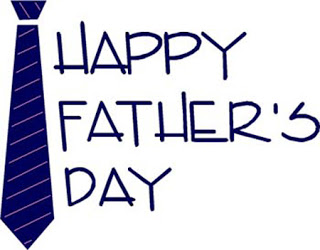 You have met our awesome mothers, now it's time for you to meet the first men in our lives, our dads! Im very lucky to live just 5 minutes away from my dad. When Nick is out of town and I need a man to do something, Dad is the lucky one who gets the call! Bless his heart, he put together my treadmill for me- while his favorite football team was playing!!
My dad is a hard worker. He has always provided for our family, even if it meant having a job he didn't like. While most guys would rather be with "the guys"- my dad is a true family man. I don't remember him going to do things that he would enjoy (fishing) like most men, even if he had the chance.
He is also Mr. Organization! I really don't know anyone more organized than he is…. I guess
that's where I get my list fetish- every Saturday without fail he would have a "To Do" list. Now I do:)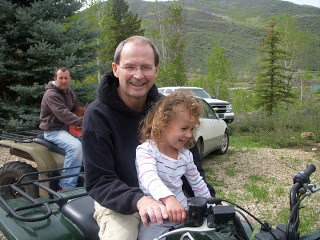 1. My dad is the one who helped me get almost everyone of my jobs. The first one being a paper route. He wanted his kids to learn the value of hard work and we did! All of my siblings have had my dad's help in getting jobs also! Like I said before, my dad is a hard worker. When he wants a job, he really puts himself out there! He might be the older guy applying for a position, but he gives the "boys" a run for their money- he's not one to sit back and let people walk over him.
2. For as long as I can remember, my dad washed the dishes after every dinner. He said because my mom made dinner he could help with the dishes.  He's been a great example to my brother and his son in laws!  This is one thing I definitely want to pass on to my son!
3. My dad is a great writer. If ever I had a school paper that needed to be read, I would take it to my dad. He would correct all my grammar mistakes. He is also a great speaker, he is eloquent and entertaining!
4. My dad instilled in me a love for music. He played the guitar for us, as kids. I remember singing with him all the time. At my wedding dinner, he and Nick played their guitars, while he and I sang a duet. We were also in a play together at our community theatre which was so much fun- I'd love to do it again!
5. My dad has a great love for his family, and I know we are very important to him. He always made it a point to have good relationships with his kids. He would take us on dates, have one on one talks with us, and be there to support us in all of our extra activities. He coached my softball team and always encouraged us to strive to be our best! His famous quote is
"Nothing in life comes easy!"
Thanks for the great life lessons Dad! You are the best! I love you!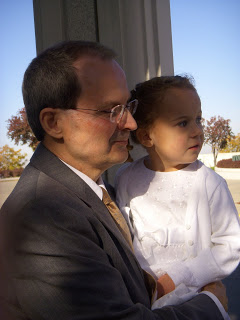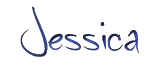 K, my turn (Mariel). So, I know you have all been dying to know my relation to Jessica. We get asked all the time! Are we friends? Neighbors? Gay lovers? Sisters? What's your guess??? Drum roll, please…..we're cousins (and friends, of course)!! Our daddies are brothers, as you will notice from the pictures.
Here's my daddy! The older brother to Jessica's dad. Our dad's are semi-reformed rednecks from the South, and we're proud of it. That's why we eat okra, hush puppies, grits, boiled peanuts and pork rinds! Yum! That's also why we randomly put sticks in our noses and ears. You wouldn't believe how good it feels, so soothing. So, this is my dad…Steve…when he's being himself. No holds barred, nutty and fun Dad….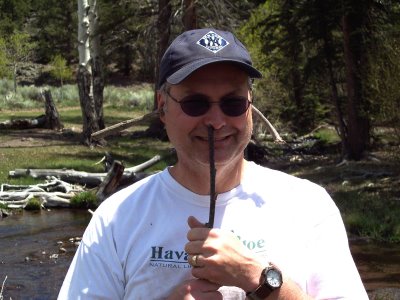 But, sometimes…well, lots of times…he puts on a disguise that makes him look like this (see below)…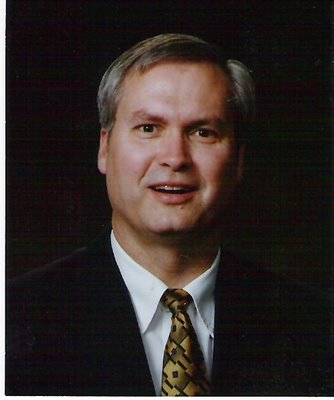 He pretends he is
really
into his job, and he's really good at pretending! He fools lots of people. He goes to work at 5 in the morning, just cause he wants to (supposedly). He's got a closet full of suits, stacks of work papers on his night stand, and a highlighter in his possession at all times. Luckily, I can see right through it! I've seen those sticks in his nose…and now you have too! He's exposed, the truth is out! Here's my real Dad!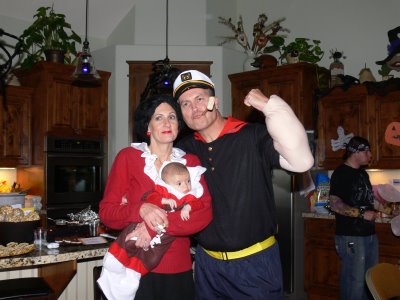 Here he is as Popeye at my Halloween party! What a nut! Anyway, so one of my most favorite things is to see my dad having fun! He works a lot and does a fabulous job of taking care of the family. So, it's a real treat to see him let loose and enjoy himself. And one sure-fire way to see him enjoy himself is to see him around his kids! It's always been really obvious to me how much my dad loves us (all 7 kids). He has this secret tender-heart that radiates through his eyes and voice when he's around us. Here are some of my favorite things that he has taught me in life that I would like to pass on to my kids…
1. I love that my dad taught us to work hard. When my siblings and I were in junior high in New York, he got us a paper route. It wasn't right in the neighborhood either! So, every day at like 5 in in the morning we all got up with our dad, organized the papers, hopped in the car and delivered them until the sun came up. I always thought it was so nice that he would do that just so we could earn a little money. But, now I realize he was teaching us work ethic and responsibility. I loved that he would turn the route into a race that we would try to beat our time every day!
2. My dad has a soft spot for the elderly…and is a great service-provider. There was a sweet, little Italian lady…Millie…on our paper route. My dad knew that she lived all alone and so he made it a family project to take care of her. He was always visiting her to do handyman jobs and having us kids keep her company. It made her so happy and I thought my dad was so super for watching out for her. Besides her, I had a great aunt who was really fond of my dad. So, he went with it! He was so kind to her, would take her for walks, etc. She raved about him! I love that about my dad. He is great at thinking of others and is always willing to be of service.
3. I love that my dad always made me feel special. He has always been involved with doing adoptions ever since I was little. So, he would let me be his business partner and come on his business trips to do adoptions! It was awesome! He would pretend that he was letting me help him make business decisions, give me lectures in the car about why it's better not to get pregnant before you're married, and quiz me on my multiplication tables. I also used to have this complex about being given the inside chores while my brothers got to do the outside chores. I wasn't into the whole "man/woman chores" thing. So, he made sure I got to help outside, mow the lawn with him, water his plants, etc. I grew up never feeling held back or incapable.
4. My most favorite thing that my dad taught me is to live a balanced life. He said that was the way to be happy. He said to regularly take inventory of my life and see what I was lacking in…educational, physical, social, family, spiritual, and personal areas. Any area that was lacking would cause unhappiness. And, it's so true! I love this advice and am always checking myself, making goals, and rededicating myself…thanks to him!
5. My dad's a big sports nut and that is something that my brother's have all shared with him. So, I'm really glad to have found out that I inherited that plants/gardening bug from my dad and we can talk about our plants all day! We both get the same giddy feeling when we go into a nursery, I'm really glad that somebody understands! I'm hoping at least one of my kids will inherit the same bug!
All in all, my dad is amazing. I get a little emotional thinking about it! He really is an inspiration to me. He makes me want to live a life of purpose…being all I can be, working hard, doing what's right, and remembering who is the most important. That is what I've seen from him.
Thanks Dad! I love you so much!