When I tell people that I'll be homeschooling next year, I typically get one of three reactions:
1. "Why would you want to do that?!?" (with a total scuz on their face.)
2. "Can I ask "why" you decided on that?" (with a curious demeanor)
3. "Why?? I need to know, I've been thinking about doing the same thing!" (with big, protruding eyes)
I think it's safe to assume your reaction would be one of those above…with the foundation of all of your questions being, "why??," I'll tell you why. Now when people ask "why", I can just say, "refer to my blog." That will save me loads of time. 🙂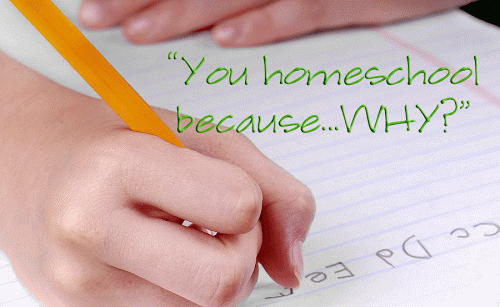 Alright, you ready? Pull up a seat…here is "why":
* And, like our previous homeschool post, I feel that I need a disclaimer too. These are my personal feelings about the personal decision we have made, as a family. I am not implying anything to you, trying to convince you or do not think anyone should feel the same. If you choose to be offended, have fun with that. Thanks. *
1. My kids want to – And, it's not because they think they're getting off the hook to do hard work. They sincerely enjoy doing family things. They crave family nights, movie night, vacations, dates with their parents, cooking together, reading together, playing family games, etc. They have seen homeschool in action and can't wait to get it started!
2. I want to – It's a real bummer for me to have to send my kids away for 7 hours a day. I just really like them! They are gone during the times where I have the most energy and the most time to spend with them. I truly enjoy them and fear having regrets later in life that I didn't spend enough quality time with them. I'm well aware of how "fast kids grow up"! I realize that homeschool isn't all peaches-n-cream…it's a lot of work! But, it will put me in a position where I HAVE to set aside time for them and I know looking back, I will be so thankful that I did. I'm counting on rough times but also lots of fabulous, fun times together! For me, guilt and regret are more emotionally draining then spending time around lots of little kids.
3. My husband and I feel good about it – We've pondered and prayed a lot. Through prayer we have received many answers and lots of direction. And, we feel good about this decision.
Based on those three reasons, I would say "that's reason enough!" But, some of the bonus reasons…
4. I was homeschooled – Once upon a time, 23 years ago, yours truly was homeschooled (for a few years.) The schools in New Mexico were majorly poopie and took out their poopiness on the children through corporal punishment. Mi mamasita was completely fed up with children being put in refrigerator boxes as punishments, having to put their noses against the wall, and being threatened (sometimes the threats carried out) with a big, wooden paddle. So, she homeschooled my brothers and I. Truth be told, she didn't love it…but, guess who did? Oh, me and my brothers. We have great memories of our homeschool days and attribute that to one of the main reasons we are such good friends.
5. Some of the kids at school – I have no problem at all with our schools in the area. But, what I don't really love is what my kids are learning from some of the OTHER kids at school! My second grader just learned all about the "F-word", some crude jingles, that "so & so" is the richest kid in the class and the rankings following, to not include kids that aren't "cool," and that giggling about overweight children is funny. Oh, we've had many talks, lately. What is he going to learn in 3rd grade?? True, kids live in the world too and will learn many crappy things either way…but, I would rather prolong having them learn some of those things until they are mature enough to not embrace it. Or, even if it can't be prolonged…maybe, it could just be "made less." I'm excited to have more time to teach the kids about good character traits…they can't get enough of that!
6. They can learn at their own pace – I love this! Utah has great homeschooling laws, yay! I can skip over something that is too easy or slow down when something is too hard. They have more individualized attention and I think it will be so helpful in their education.
7. I love teaching and being organized – I've been having so much fun choosing our curriculum! I'm already planning the lessons, buying supplies for the craft projects, etc. Teaching is something I love and I'm quite excited to start!
8. No more morning grumps – Nothing makes me grumpier than an even grumpier kids who have to be somewhere on time and are dragging their feet, moaning and groaning. It's such a crappy way to start the day, for all of us! We've already decided…school starts at 9:00 in the living room! That also gives me time to get in my much-needed exercise before-hand, yay!
9. Less driving around – Currently, I drive to the school 3 times a day. Granted, it's close…but, that doesn't mean I just jump in the car and go. Noooooooo, everyone has to come…buckled in their car seats, only to be unloaded 5 minutes later…3 times a day. Super annoying and intrusive. That, coupled with errands and extra activities for the kids has me going crazy, being in the car all day!
10. There are support groups – Cheers for support! There are plenty of families around doing the same thing…which brings plenty of opportunities for social situations, group field trips, ideas, new friends, etc. But, obviously…I will have to make sure that I get involved.
11. It's not all or nothing – If it doesn't work out, the kids can go back to school. I think it would be a lot scarier decision if I felt that there was no turning back. So, we're giving it a go!
The top 3 concerns I hear, that I'm not too worried about:
1. My kids being anti-social – Not worried. My kids are constantly surrounded by family and friends. They have friends at church, friends through Scouts, friends in the neighborhood, friends at baseball, basketball, you name it! To me, kids are "weird" USUALLY because their parents are "weird". Homeschool or not, there are some socially awkward kids and adults out there! Excuse me for being arrogant, but I like to think of myself as socially normal 🙂 and have confidence that my kids will be just fine. They will still have experiences with peers and spend plenty of time outside the house.
2.
My kids not listening to me, as a teacher
– I'm sure we'll have some rough days, for sure. But, just like in school where a teacher has to use rewards, praise, and even discipline to maintain respect…I plan on doing the same thing. It's what I already do as a parent. I've already come up with a chart (I'm a
chart
lover!) for their notebooks where they earn things they want by being helpful, listening, being on time, being positive, etc. Rewards include things like 30 minutes of "screen time" (tv, games), an extra book on library day, 15 minute breaks, etc.
3. Going crazy being with the kids all day – Well, I'm already with kids all day…whether I homeschool or not. And, I'm going to have little kids at home for several years to come. Besides, I'm already crazy. And, like I said before…I can handle being with little kids a lot better than I can handle feelings of wanting more of myself, as a mother. The Beard Man knows he will need to make a greater effort to give me free time and when I need a break during the day, that's when its "outside time" or "reading time" for the kids.
Here's the curriculum I've chosen for this fall (I'm so excited!):
(Keep in mind, we will not be doing every class, every single day. Some subjects one day, other subjects another day…)
K12 – I have a friend who LOVES k12 for her kids…she is actually the one who helped me get this homeschool thought turned into a reality. (Thanks, Laurie!) After observing her family in school, having my kids observe them, and asking lots of questions, we decided to take the leap. K12 is an online public school, federally funded. You sign up, they send you everything you need for the year, and you're on your way! There is an assigned teacher that you communicate with for help and support. The kids check into their classes online but still lots of the work is to be done off the computer. The curriculum gets rave reviews and is separated into lessons…so, you know JUST what your child needs to do and how to teach it. We are going to be doing k12 for History, English, and Spanish. Everything else…I've chosen to use something else. That's one of the great things about k12 too is that you don't HAVE to take all of their subjects. Obviously, if you choose to do the others on your own, you will need to buy the supplies. Not every state has a k12 program and a brick & mortar school typically sponsors it. Although I live no where near Washington County, I have chosen to join their Utah k12 program…Washington Online. I'm also excited that they are letting my kids take the same history class, even though they are in different grades…that's great because they can learn together and I only have to prepare one lesson!* Update 6/12 – k12 was good for my first year, but there were several reasons it didn't work for me. The second year I used Sonlight and liked it much better…except for a few things. This third year, I'll stop using Sonlight, venture off and do some of the subjects (history, English, reading) on my own.
Science
– I decided to use
Apologia
for three reasons. One, because it is God-Based science…nothing about Big Bangs or humans being monkeys. That's important to me. I also like that it's just Christian based…if you believe in God and that God created the earth, it will work for you. It doesn't incorporate beliefs of only one specific religion (that is
probably
not yours). The second reason is that the same book can be used from 1st through 7th grade. So, if you are teaching multiple young kids…you don't have to teach multiple lessons. Time savers, I like 'em. Reason three is that Apologia gets fantastic reviews! Parents (and kids) love the lessons and the science/craft projects to do afterward! This year we will be studying
Astronomy
. The books are usually cheaper if you can find them somewhere besides the homepage.
Math
– I first was looking into using
Saxon Math
. I heard good things about it and was teetering between using that or k12's math (which I hadn't heard much about). But, in my research I discovered
Math-U-See
…was blown away by the reviews and decided to learn more. I read a lot on their web site, watched videos, and really liked what I was seeing. It's a program that makes math more visual and more fun! Parents say their children have never understood math as well, until they used this program. So, it's on the agenda too!
Art – I love arts and crafts…and so do the kids. Besides, the fun projects we can do in the Science book and through k12's classes…I picked up a couple books for extra ideas…
Music – I'm thinking this year we will start with the basics of musical instruments and classical music. I found the cutest books to introduce different composers to the kids, called Getting to Know the World's Greatest Composers
. I also want to find a CD for each of the composer to play during school to get the kids familiar with the styles. Maybe one year we'll learn about folk music, the blues, the 60s, 70s, 80s, etc.! Fun! Eh, I think I might skip right over rap and whatever category Marilyn Manson falls into. 🙂
Gospel & Character Studies
– We are going to alternate our scripture study with learning about good qualities. I took the Pioneer Woman's advice and started collecting the Value Tales books from my childhood (thank you,
ebay
). They are so fun! Each one tells the story of a notable person in history and how they exemplified a positive character trait. So, they're also getting a history lesson!
I also want to integrate lessons/hand-on experiences with
home studies
(see link for fun lesson plans), the great outdoors, and cultures/food from around the world…
Obviously, some things are "extras" that can only be done when we have time, but I think my kids would enjoy these topics too!
Here are some favorite books:
* Update 6/12 – I decided not to do art, music, and nature every year. We focus on the main subjects and choose one fun subject to study in the year. This last year we studied art and famous artists. Next year, we may do music. We try to use the summertime to do nature studies. It makes for a more realistic schedule, more in-depth study, and less stress.
So, wish me luck! I'll keep you updated on our successes (and failures) 🙂