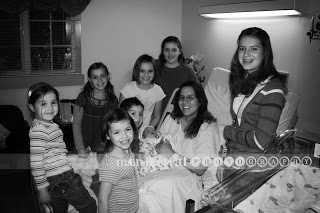 Hi! Cocoa here from Chocolate on my Cranium. I am the mother of eight children, seven of whom are girls. Yeah, that's me up there the day I delivered child number eight, daughter number seven. When my son is off "working" on the farm with daddy, we girls get to have fun doing girly things…like having manicures and painting fingernails!
This is seriously one of our favorite ways to spend time together. I've hit upon an easy way to decorate my girls' nails without spending money on nail stickers or waiting forever for different colors of nail polish to dry. We could paint on a coat of plain color, but where's the fun in that? 
How about music notes?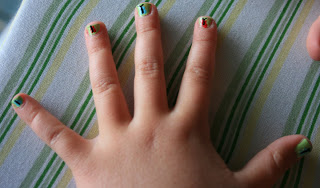 Or butterflies?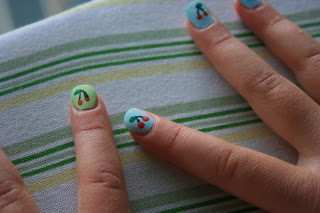 Or cherries?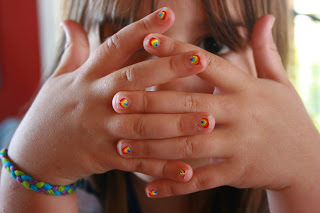 Or rainbows?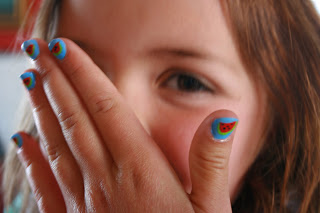 Or watermelons?
Seriously cute, right? It's simple and oh, so easy! I'll show you how we do it using the watermelons as a guide.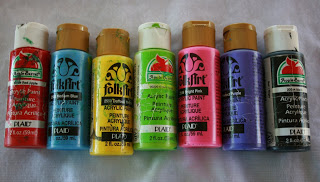 Gather acrylic paint (like those in this photo), toothpicks, small paintbrushes, and clear nail polish.
Paint all fingernails with clear nail polish and let dry. Then paint on a background color using a small paintbrush. My daughter decided on blue. Let the paint dry. It takes literally about 30 seconds. My girls all line up and I just go down the line painting away. By the time I've done the last girl the first one's nails are dry.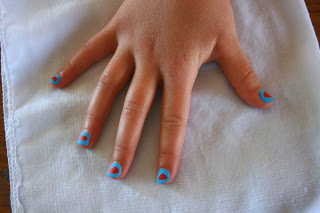 Next add the red in the shape of a half circle. We used toothpicks to do this since my daughters nails are small. Let dry.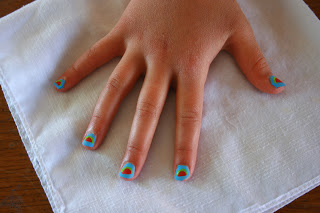 Then, using a toothpick, add the green to the outside curved edge. Let dry.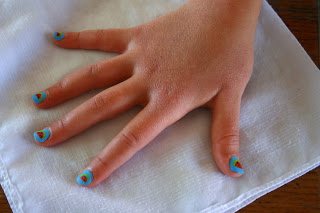 Dab on the black dots using..you guessed it, a toothpick. Let dry.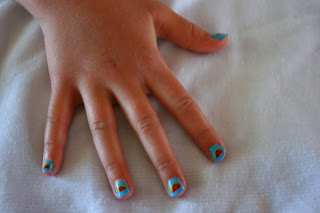 When you are done with your design add another coat of clear nail polish to protect it. This also makes the nails shiny and brings them to 'life.'
Once you get started you can literally paint anything you want. We've done cell phones, shamrocks, flip flops, leaves, trees, suns, guitars….well you get the idea. Next time you've got a gaggle of girls or just one special one to spend time with, pull out the paints, some clear nail polish, and go to town!
Oh, and if you try it, let me know what designs you painted. We are always up for more suggestions!
Cheers!