Laundry and dishes have been lifelong enemies of mine.  It's like an obnoxious relative that has to be tolerated and dealt with because there is so chance of them going away.  (Not that I would know, seriously.  I've just HEARD.)  But, if it must be a part of life, you might as well make the best of the situation.  Another time, we'll talk about laundry…today, I picked dishes.  To me, making the best of all of the blasted dishes and accompanying chores is done by having great products.
BumpyName Orbit Labels
– These personalized bands stretch over your kids cups and are microwave and dishwasher safe.  They don't leave sticky residue, ugly permanent marker scribbles, etc.  Great for bottles, cups (less dishes!), thermos containers, baby shower gifts, labels for college bound students, you name it!  Slip one over the kids designated cup for the day and you will always know who's is who's and have no reason to get another cup from the cupboard.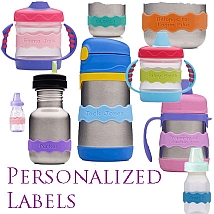 Zak Designs Tableware
– I ordered the cups, plates, bowls, and reusable straws, all by Zak Designs.  Their products get great reviews.  Made from melamine, they last a long time, wash nicely…without getting the aged look and it comes in a set with 6 different colors.  Assign each kid a color and make that their designated cup, bowl, plate, and straw forever!  Did you know there was such thing as reusable straws??  I didn't!  I got the ones from Zak Designs and they are the best!  My kids are obsessed with straws and I am constantly buying them, so to be able to just throw them in the dishwasher and reuse them is awesome.  Make it their responsibility (if they're old enough) to keep their designated dishes washed and ready for the next use.  Throw them in the dishwasher at the end of the day.  Oh, I also chose to get the salad plates over the dinner plates because the dinner plates were said to be massive!  I also love how the plates have a lip around the edge…helping the tots to keep their food on the plate 🙂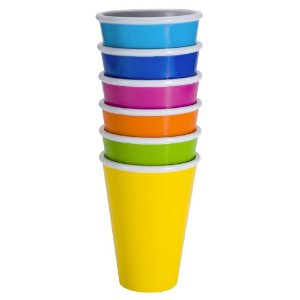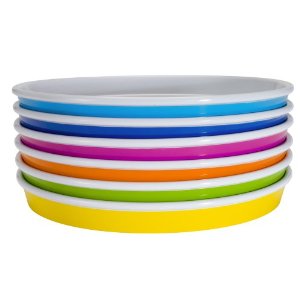 Is your dishwasher kinda gunky?  Is it leaving lots of hard water crapola on your pretty glasses??  You must get
Glisten
.  Your dishwasher will look brand new, just check out the
rave reviews
!  I would use this every couple months to keep things sparkly.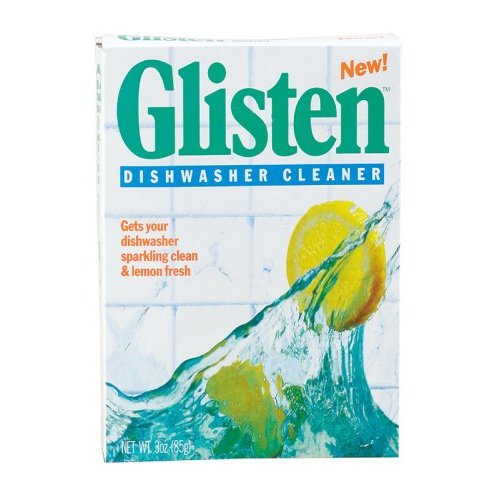 When it comes to scrubbing dishes, you will love OXO's Steel Soap Squirting Dish Brush.  Not only does it look hot, but it really performs!  Stop wasting your money on endless disposable sponges and scrubbies…this is the top rated scrubbing tool out there!  It dispenses soap, and has lots of room to store it.  If, in time, you wear it out…just pick up a couple replacement brush heads.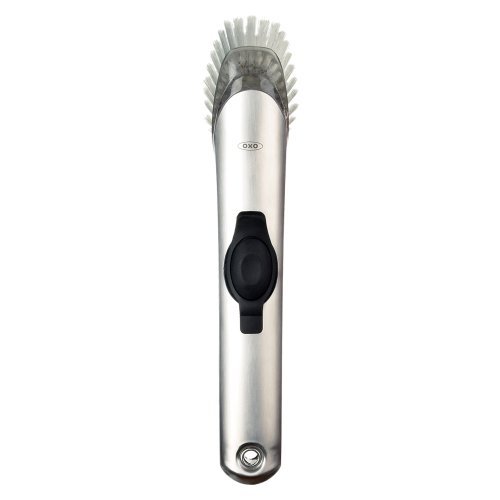 Now, for wiping down the counter tops.  I have two favorite products…first, is
Mrs. Meyer's Counter Top Spray
, in Lavender scent.  Lots of times environmentally friendly products just don't work as well, but this one is the exception!  It cleans beautifully and smells awesome!  I like to save money by buying it in bulk on
Amazon
.  There are other scents as well, but this is the favorite among customers.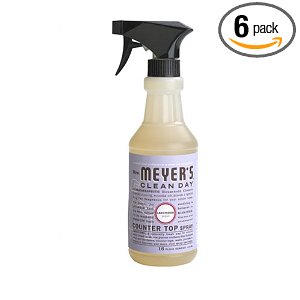 Okay, if you have granite counter tops…this is another favorite product.  I've tried so many granite cleaners and was never impressed until I tried
Method's Daily Granite Spray
.  It really brings that sparkle back to my granite…check out the other rave reviews,
here
.  I also buy this in bulk.  I usually use Meyer's Lavender spray (above) to do a daily wipe down and then use Methods granite spray every few days when the granite needs a pick-me-up.
Feel free to share any of  your favorites!!