Just recently, I asked you what kinds of posts you would like to see more of in 2014. The resounding answer was recipes, specifically crock pot and freezer meals. Those will be coming right up! I was also happy to see that many of you want more inspirational posts. Those are some of my favorite ones to write! It seems that every time I write one, I feel a renewed energy to try harder and do better. I need that, so thanks for asking for MORE of them. Since the New Year is always a time to reflect on my life, how I'm doing, and what I can do better. I wanted to share with you something that recently taught me a powerful lesson.
So, my little sister had been struggling, trying to decide if she wanted to serve a mission or not. By mission, I mean being officially called and set apart to serve for The Church of Jesus Christ of Latter-Day Saints (known as the Mormon church, to some) in a location likely far from home, for 18 months. There were several times where she felt so strongly that Heavenly Father wanted her to go. So, she turned in her 'papers' and soon received her call to the Sydney South Australia mission. That was 5 months ago. After her call, she struggled a lot, back and forth, wondering if she had the courage to leave everything behind, put herself in awkward situations, live with people she had never met, and commit to the experience. We have had brothers who served in Japan, Peru, and Guatamala, but despite missionary work being a familiar thing in our family, it was still unnerving to her. And, I can imagine why! Throughout the past five months, her feelings were all over the place. Basically, she cried… a LOT. Her life had just fallen into place. She had started dating a guy she really liked. She was accepted to a great university and finally knew what she wanted to study. She didn't have to go, nobody was making her. But, she had several small experiences where she knew that God was letting her know that he needed her in Australia. I have stayed by her side throughout all of this, and it would break my heart to see the turmoil she was experiencing. But, despite her frustration of NOT liking what God was telling her, she stayed faithful. She cried, but she still prayed faithfully. She cried, but she still studied the scriptures. She cried, but she always stayed true to her beliefs.
I Can Do Hard Things ~ Free Printable ~ Click to Download
This last Wednesday, New Year's Day, was the big day. Our family was all to meet at the church where she would be set apart as a missionary, by one having authority, and then we would say goodbye. The whole way to the church, I prayed and prayed that my sweet sister would be blessed for her sacrifice and would feel at peace with her decision. The moment I walked into the room, I witnessed a miracle. My sister, who had been experiencing so much anxiety for 5 months, looked completely at peace. I don't think I've seen her look so confident and courageous as I have that day.
Before she received her blessing, her Stake President, spoke to her for a few minutes. He told her about the time that Jesus had just learned that His beloved cousin and disciple, John the Baptist, had just been beheaded by Herod. Jesus longed for a moment of peace with his disciples, so they were about to leave on a boat. The people saw Jesus leaving and followed Him to the boat. Jesus "was moved with compassion toward them, because they were as sheep not having a shepherd: and he began to teach them many things." I love that He set aside His feelings to teach the people! (This is also where Jesus miraculously fed the 5,000.) Anyway, back on target… The night was getting late and His apostles were getting weary, ready to get on the boat and leave.
It continues from there…
Mark 6
45 And straightway he constrained his disciples to get into the ship, and to go to the other side before unto Bethsaida, while he sent away the people.
46 And when he had sent them away, he departed into a mountain to pray.
47 And when even was come, the ship was in the midst of the sea, and he alone on the land.
48 And he saw them toiling in rowing for the wind was contrary unto them: and about the fourth watch of the night he cometh unto them, walking upon the sea, and would have passed by them.
…so, Jesus asks His disciples to go ahead and get on the boat and wait for Him, while He sent away the people. But instead of immediately getting on the boat afterwards, He headed up a mountain to pray. I would imagine He was reflecting, grieving His loss, AND praying. While He was on the mountain, He could see his disciples struggling to keep their boat steady and close-by, the winds were so strong. But, He stayed on the mountain, watching over them, seeing them struggle, until 'the fourth watch,' which is between 3 and 6 in the morning, the last part of the night, at which point He walked out ON the water to be with them.
Why would He watch them struggle for so long before He came to them? The answer, He comes to you when it will have the greatest impact, teach you the greatest lesson, strengthen your testimony the most.
That story was absolutely perfect for my sister. Granted, people struggle for far more serious reasons, but she was struggling. She was longing for peace. She stayed faithful through it all, and in the end, the fourth watch, He came to her. Everything about her changed that very morning, like a whole new person. My parents drove her to the MTC in Provo (the missionary training center) where she will stay for 2 weeks before she takes off for Australia. And, I know that the Savior will be with her, not just watching over her.
That story was perfect for me too. I have recognized that 'fourth watch' several times in my life. Times when I'm struggling, praying my heart out, over and over again. He always comes. Sometimes sooner than later, but He always comes when I stay faithful. And, it always has a profound impact on me, I learn a great lesson, and my testimony is strengthened.
Before she left, we hugged and cried, and I was able to give her this awesome necklace that conveyed everything I wanted her to know… that she can do hard things. I've seen her do it before, and I saw her do it again. She is a wonderful example to me, and I miss her already.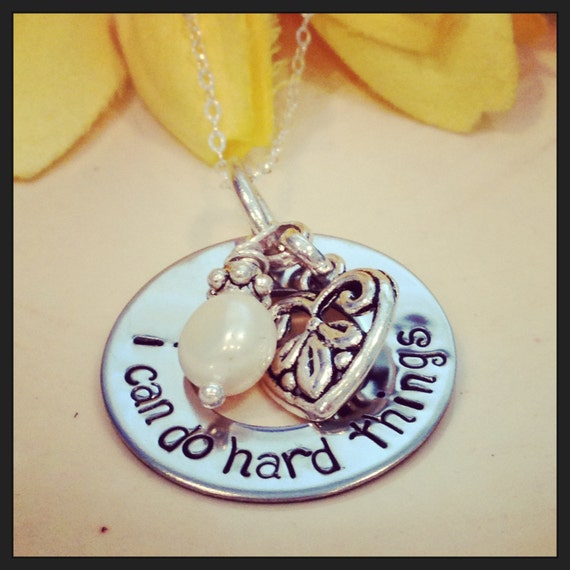 So, I guess my message to you is that if you're struggling, don't give up. Know that the Savior is watching over you and will be there for you. Stay faithful. Trials will never be completely eliminated, as they are for our good, but with Him we can bear all things and feel peace in our hearts. You can do hard things!
–
* As with all my inspirational posts, comments are disabled to avoid taking away from the spirit of the post. These are my beliefs. This is what I know to be true. If you are interested in learning more about my beliefs, feel free to check out this post: Why Are Your Favorite Bloggers Mormon. *
.
If you liked this post, check out: How to Never Miss a Day of Scripture Reading