Warning: This post contains pictures of early morning crazy haired children!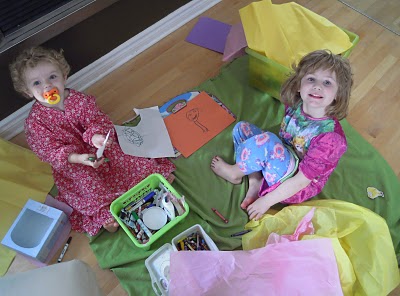 My children, like their mother
love
to craft! I don't think a day goes by in our home where some type of art is not being made. With the lazy days of summer upon us and laid back mornings, the girls have been diving into the craft box each morning (6AM!) I think we have a pretty good craft system going on (easy access, lots to play with, easy to clean up, cool looking storage) and wanted to share it with you.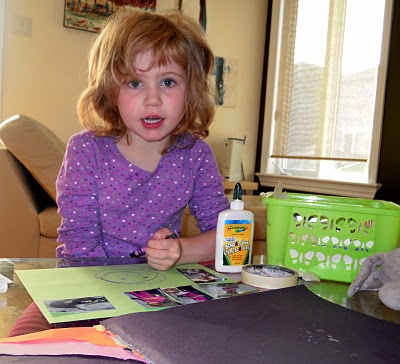 I must say that I am pretty lucky. The girls (4 and 2) create on their own with the odd "MOM can you glue this or HELP!). I confess that I can usually be found in a semi-sleep-like state on the couch while they go to town creating. I "wake" to find art work taped all over the walls.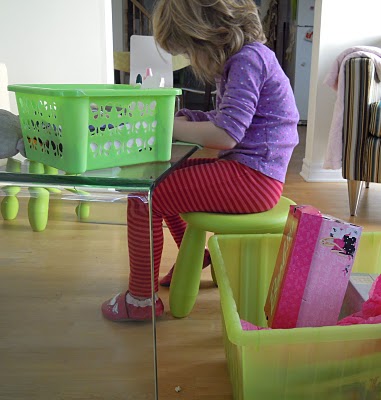 Our system has evolved from an old wipe box filled with crayons and some coloring books stored in a drawer to this funky green bin on wheels (IKEA). The bin is stored under a table in our kitchen with other bins each containing toys. I like this BIN idea because I truly just toss all the craft mess into the bin and stick it under the table. Voila, all tidy and a happy Mommy.
In our house crafting essentials include:
glue sticks, kid scissors
(one for each, because heaven help us if they have to share)
, lots of tape, stickers, crayons, loads of colored construction paper, some SQUEEZE glue, and the odd marker (washable of course and odd because they don't seem to last long with the tops off). 
The kids are really into using stuff they find for crafts right now. I believe the hip word for this is "RE-PURPOSING." Kleenex boxes become TV's, tube yogurt boxes become rectangle spiders, and even CAT HAIR (yes, cat hair!) becomes clouds in the sky.
We have a similar craft box downstairs which comes in handy when I want to scrapbook. The kids can craft as well, and I am free to do my own art. Wanting to keep this post REAL (messy kid hair, cat hair, etc..), I will share a very messy picture from my laundry room where I store the rest of our craft supplies… 
Here I have a variety of bins (I love bins they suit my messy but organized style) that keep things like stamps, foamies, ribbon, paint, chipboard, various recyclables they can create stuff out of, etc. This is also where I store all my 12×12 scrapbook albums. Not the best place but alas, that's their home. I give my children my scrapbook cast offs for crafting. I have a bin filled with the odd leftover letter stickers. These are great for random sticking on paper and GET THIS "letter learning" 🙂 I also have a bin of all the chipboard letters I have amassed over the years. I bet these will make great educational crafts as they learn their letters and learn to spell.
We also do a lot of painting. Painting in our home usually starts of with me wanting to be FUN MOMMY and then I turn into GRUMPY MOMMY as they paint their hands and face and make a mess. But grumpiness and mess aside it has made a nice picture wall in our playroom.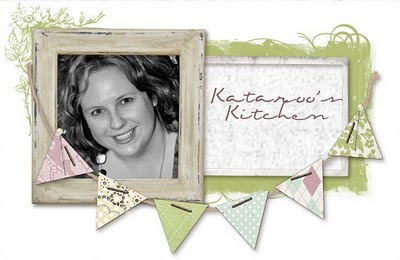 You can find me here at
Kataroo's Kitchen
and read all about my adventure to get fit here at
So Write.