I'm a stay at home mom with one toddler son.  I grew up with a talented mom that taught us the joy of creating.  I always have a couple projects going, which is why my blog is titled
Running With Scissors
.  My favorite projects usually upcyle or transform junk into something great all for the least amount of money possible (we've been on student budgets our whole marriage until this past May when my husband finally graduated!). 
I also love sewing, painting, upholstery, decor, quilting, crafts, and recently began building furniture.  My blog is just my little space to share my ideas.  Come check it out!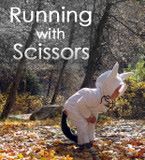 Today my project is Back to School for the little ones still at home!
Now the older kids are settled with school going, here's an easy little project you can create to aid in teaching children the alphabet.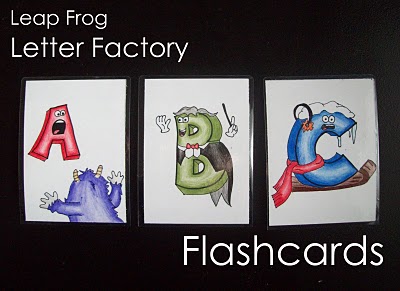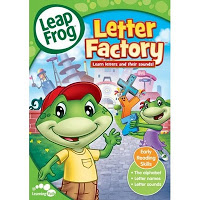 I've really enjoyed Leap Frog's educational DVDs, mainly the Letter Factory that teaches the sound each letter makes .
I've been looking online for flashcards that coordinate with the alphabet characters in the DVD for a while, and couldn't find any, so made some myself.
So far they've been great, and I was actually surprised how many sounds my son knew from watching the DVDs.  I think having the cards with the same clues helps him, and it's nice to review the same clues he's already familiar with– but not having to watch TV to do so.  It seems like he learns a lot more using the cards, since he has to recall info rather than just watch the DVD, but it's fun to have both that reinforce one another.
My mom gave us the Leap Frog DVDs for his 2nd birthday, but I saw them at Costco for $5.99 the other day. 
So, if you would like some ABC Flash cards to go with the Leap Frog sound clues, I'm sharing the ones I made!
**Keep in mind I just sketched them so take them for what they are–home made by a non-artist mom.**
Here's links to print your cards:
(I recommend you print them on card stock for durability)

Plain cards so you or your kids can color them:

Or if you don't want to color, save time by using these:
I did try in the sketch to emphasize the actual shape of the letter rather than all the clue crap around them, by drawing the letter in bold marker. 
Here's my add-ons once you've printed them off, colored them if you chose that route, and cut them apart.
1. Backed them with scrapbook paper.
Just cut 4″x4″ squares, and used glue sticks to attach them on the backs of the cards.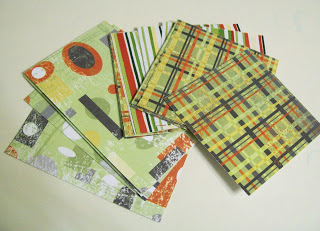 2. Printed uppercase and lowercase letters on address labels.
I wanted to have just the printed letters on the back, so as he gets better at knowing his sounds, I can easily flip the cards to test his knowledge of the actual text letters, rather than the cartoon clues.  Eventually I hope to mainly use the text backs when he's learned them all, and have the character clues for reminders.
So I just printed them out and stuck them on, you could obviously print letters on regular paper and glue them on too.
4. Laminated for durability
I looked into having these laminated at office stores.  But it is expensive!  $3.00 per square foot, or buy many 8 1/2″ x 11″ sleeves for $2.00 each.
I found this laminator at Costco for $18.99, and it included 100 laminating sleeves.
So I decided it was worth it to just get the equipment, since one set of cards would have cost around $15.00 anyway.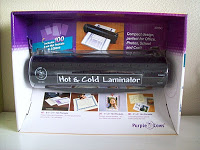 It's really easy, I used the 4×6″ sleeves for these cards.
Just slip in the card, put it in the machine, and it comes out great!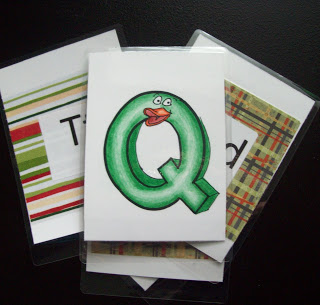 (I did have to trim the extra plastic on the bottoms)
After everything was done, I thought it would have been smart to have used a different, bright, plain colored paper on the back of the vowel cards.   Then when he's just practicing with the text letters, those would stand out as different.  It was too late on mine, but maybe an idea as you cut the paper on the back of your cards.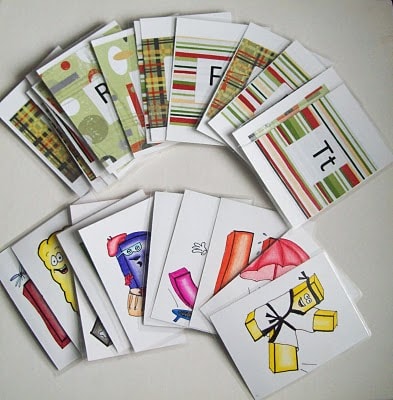 I just bundle the pack with a rubber band to keep them together for now, and they've been great when I've had to wait at doctor's offices and the post office.  They fit in my purse, so I keep them there and just grab a few while we're waiting.  
Using these cards has also initiated my little guy looking for familiar letters throughout the day, on shirts, signs, and as we read books.  Needless to say I've been loving these!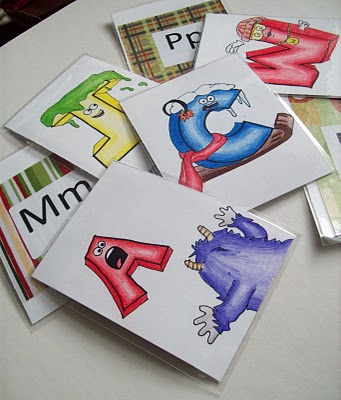 I also thought it would be a good idea for a gift to give the DVD with a set of these flashcards. 
Anyway, enjoy!