Ya, maybe not family related. But, you know me… Ms. Product Junky. I have to try anything and everything and when I find something I love, I can't shut up about it. You are a member of the She Picks! Facebook group that I do, right?? The one where my team and I share and give away favorite products and gift ideas? Anyway, you should totally join. But, that's not the point of this post… the point is… LIPSTICK. Like, the most amazing, game-changing lipstick that you will ever use. I've become a little obsessed, so here I am, needing to tell you about it.
It's called LipSense by SeneGence.
WHAT MAKES LIPSENSE DIFFERENT THAN OTHER LIP COLORS??
In a nutshell, LipSense has staying-power like no other, as in… up to 18 hours! You can kiss, drink out of your mug, go to the dentist, whatever, and your lips will still be radiating that beautiful color. It's CRAZYness. There's a reason why celebrities rave about it and confess to carrying it in their bags.
A regular lip stain will dry out your lips, but the LipSense two-part system actually moisturizes them. You can create your own custom colors by mixing and these tubes last sooooo long… way longer than several tubes of lipstick or any lipgloss or stain you can buy. It's definitely worth trying it out… and I can bet, once you do, you're going to be itching to try lots of the awesome colors available. I'm hooked!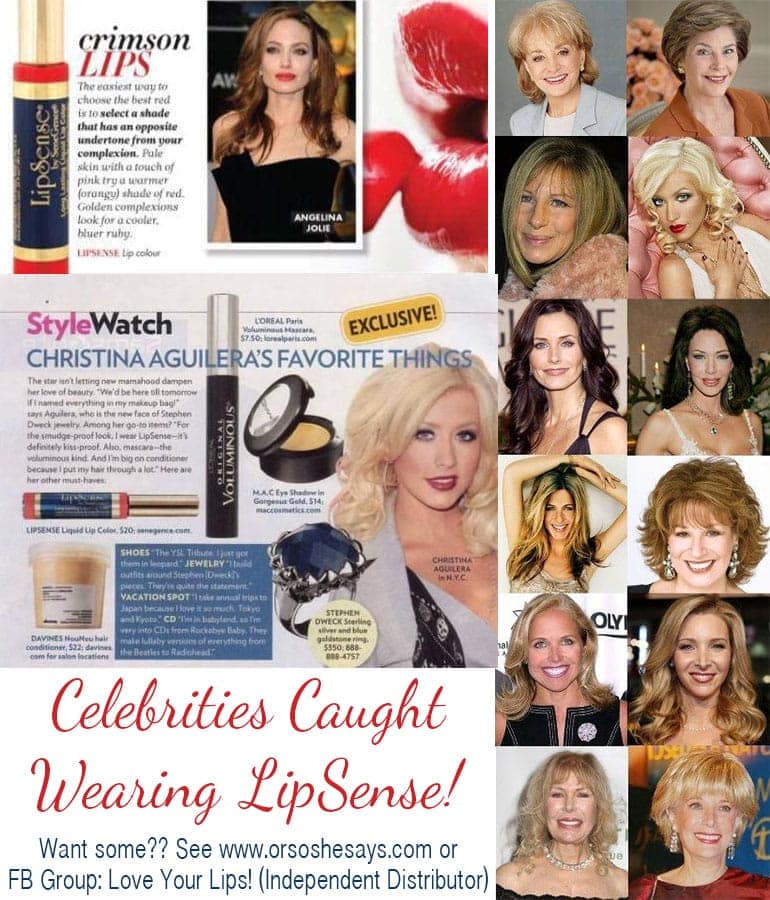 CAN I SEE THIS AMAZINGNESS IN ACTION??
Why, yes. Yes, you can.
How to apply (if you would rather read the instructions):
1. Clean & dry your lips, including the inner part of your lips. Some customers love using Witch Hazel to prep their lips before application.
2. Shake your lip color.
3. Open mouth so your lips don't touch & apply color with one solid swipe, from side to side. Let dry for a few seconds and repeat 2 more times.
5. Apply gloss on top and throughout the day to freshen the lip color and moisturize. No need to apply additional color!
WANT SOME??
STEP 1: CHOOSE YOUR LIPSENSE COLORS ($25 each)
A few personal faves: Apple Cider, Fleur de Lisa, Aussie Rose, and Caramel Apple. I still have several others I'm anxious to try!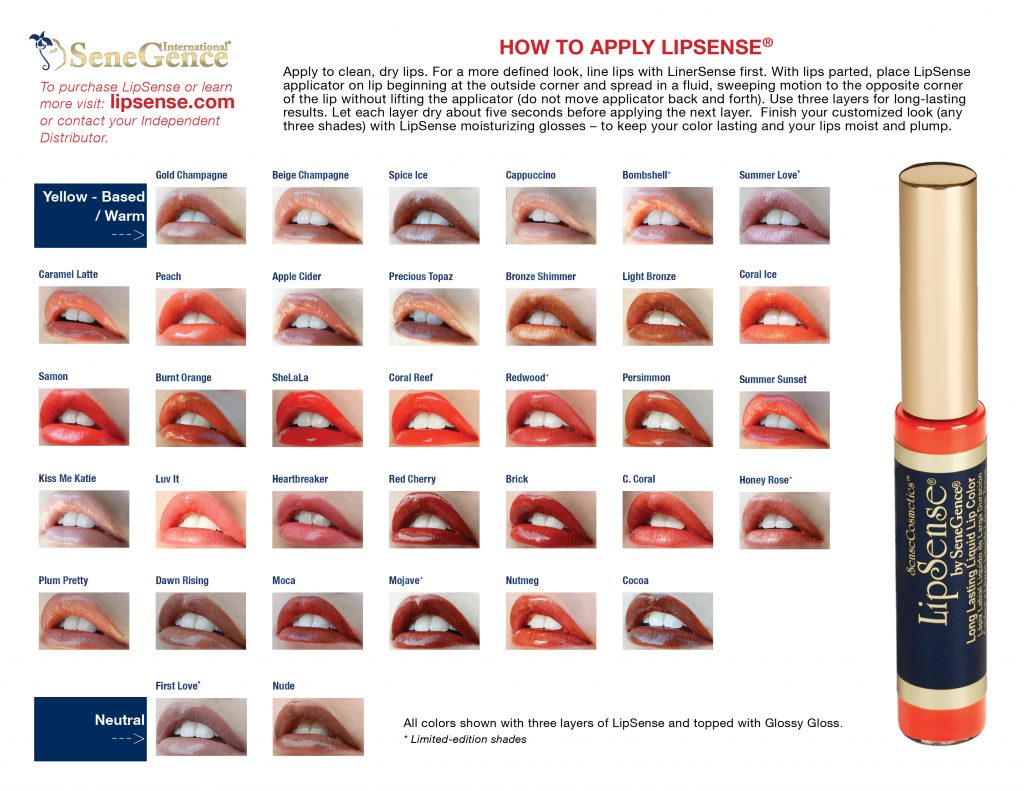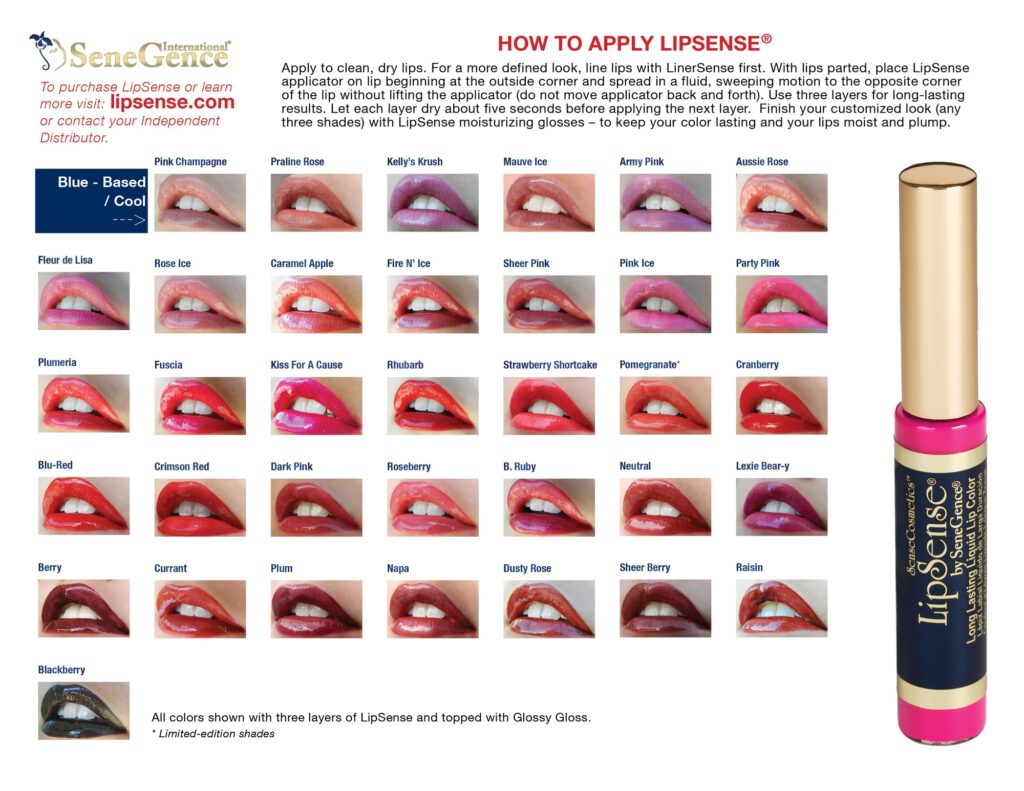 Want to see some of the customer favorites up close?? Check out this link:
LipSense Up Close!
Now that you've got your colors chosen, on to step two!!
STEP 2: CHOOSE YOUR TOP COAT GLOSS ($20 each)
LipSense is a two-part system. The color will stay all day long, but you just reapply the gloss throughout the day to keep your lips looking fresh and moisturized. And, no you can't just use any old lip gloss on top… they're made to work together. The glosses are super moisturizing (no wax!) and penetrate through the color to keep those lips soft and lush.
The first couple weeks that you use your LipSense, your lips may experience an exfoliation process. Don't fret, my friends. Your lips are just shedding the dry skin and with continued use, your lips will look better than ever.
If you want to use a scrub, it will speed up the process a bit. You can find a scrub online or make one with 1/2 tsp. honey, 1/2 tsp. coconut oil, and 1 tsp. sugar. Rub it on your lips and rub your lips together, rinse with warm water. You can also use the AWESOME Moisturizing Lip Balm from SeneGence to keep your lips moisturized… it's so much more effective than your beloved Chapstick!
If you are new to wearing LipSense, SeneGence recommends using Glossy Gloss as your first gloss, as it is the most moisturizing. Personally, it's actually my favorite gloss, as it's not overly glossy/shiny. But, it just depends on what you like! Each gloss gives a slightly different effect.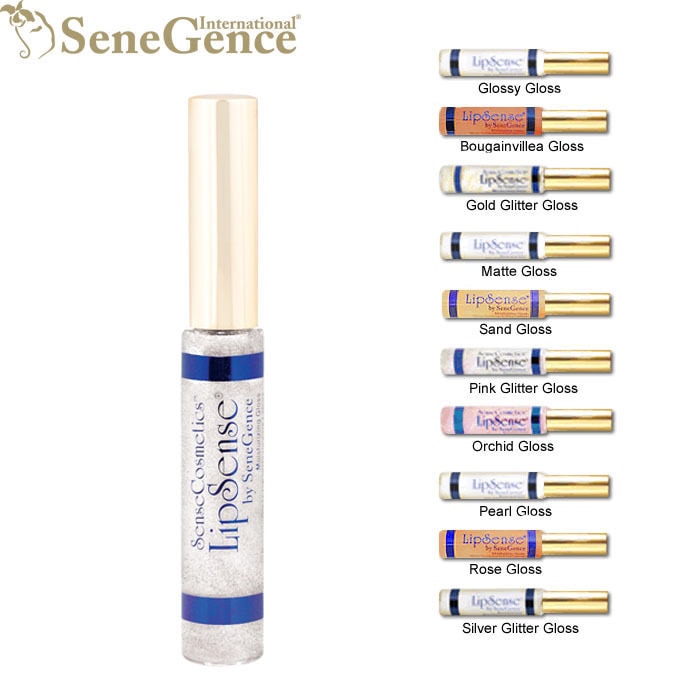 I GET THAT IT'S GREAT, BUT IS IT WORTH THE MOOLAH??
Heck, yes. The average tube of LipSense will last you as long as 4 tubes of lipstick! Not only that, but I would say the coolness factor alone, of the color lasting all the dang-day long and the gloss being so moisturizing, was enough to sell me on it. I started out with 2 colors and a gloss and within a few weeks was itching to add more colors to my collection! When you get to that point, you might want to consider becoming a distributor, so you can immerse yourself in LipSense, save money on the product, share the goodness with others, and make some major bucks. Basically, that's what happened to me. I loved LipSense so much that I wanted to get more of it CHEAPER. If that interests you, email me at ladies (at) oneshetwoshe (dot) com.
IF LIPSENSE STAYS ON SO GOOD, HOW DO I GET IT OFF?
Well, if you are looking to remove it before the amount of time that it would naturally wear off (12 to 18 hours,) SeneGence offers a remover, Ooops! However, word on the street is that people don't love it and prefer to simply use a Neutrogena Transparent Facial Bar to wash it off. But, if you would rather try Ooops!, just let me know.
DID YOU PICK YOUR COLORS & GLOSS?? READY TO ORDER??
Sweet. This is all you need to do…
Email me at ladies (at) oneshetwoshe (dot) com. Let me know what colors and gloss you want, your name, and the email address you use for Paypal. I will send you an invoice via Paypal and once the payment is received, your product will ship out. If something is not in stock (some colors are super popular!), I'll let you know the wait time, as best I can. There is a flat $4 shipping charge, plus tax.
I also recommend that you join my brand new Facebook group, Love Your Lips! You'll see the latest promotions, colors, what's back in stock, get instructions, and be able to enter giveaways to win some product! You can also private message me your order from there.