Another year down, and it's getting easier and better with each one! Homeschooling is one of those things that you really have to find what works for you and your kiddos. I hear about some homeschooling methods or curriculum that are top rated and seems like everyone loves them. I'll splurge on them and end up thinking it was a total dud. But, things that I love for our family could be completely ineffective or unappealing to someone else. So, that's how it goes. I'll tell you about what I have personally come to love this year in homeschool, but just know that there are more options out there. You can fine tune your system (or shake it up completely) every year/month/day until you find just what works for you.
Where to start, where to start…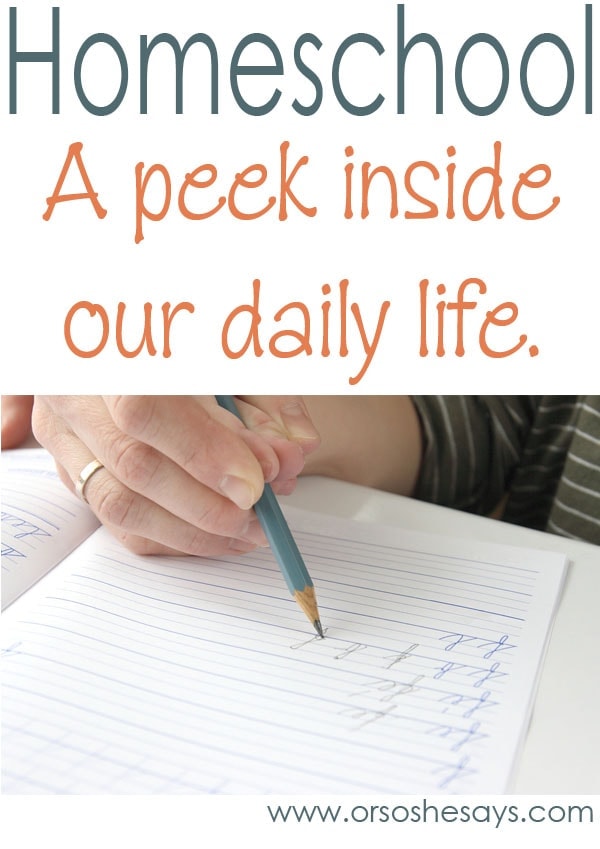 Okay, well let me tell you real quick how much praying helps a busy and overwhelmed homeschooling mother-of-six (and any mother/person, for that matter.) Oh, my heavens. I cannot tell you how many times I pleaded to God for help… help to be a better teacher, to be more in tune to the needs of my children, and to find a system that works for us. So, a lot of the ideas and changes made this year were due to those very moments and the answers I received for myself and my family. Yay!
Dan had some flowers delivered to me, during a particularly overwhelming day. It's such a blessing to have a supportive husband!
Our biggest changes this year:
1. A 50% (at least) decrease in nagging my children. Serious! In the past, we had a family rule that free time didn't start until after 4:00. Even if they were done with school, they could only do things that were educational, spiritual, or physical. My kids abhorred that rule. Which was fine with me, for a long time. But, then I realized that's why they were dragging their feet in school and I was nagging the heck out of them. They just wanted to be done when they were done and not have to wait for 4:00 to come. So, after much frustration and prayer, I felt impressed to try an experiment. I made the big announcement that the 4:00 rule was no longer in force (at least for a trial period). I would give my kids each a list, first thing in the morning, with everything on it that they had to do that day. As soon as they finished the list, they were done for the day, whether it was before 4 or after. Basically, I put it all back on them and miracles happened. The kids get their work done in half the time, and the amount of time I spend frustrated or nagging has taken a nose-dive. I love, love, love it. They just keep their list on hand and start working on whatever they want to. There are a few things on the list that they need me for, but at least 75% of it is something they can manage on their own. What I realized is that if I include on the list all the things that I want my children to accomplish, besides just the educational items, then I can feel good about them being done early. If they are being spiritually fed, getting their exercise, and educated during their school hours, I don't care if they're done before noon. They can have the rest of the day to do whatever it is they love.
An example of a standard list:
Prayer *
Scriptures *
Watch CNN Student News *
Devotional with Mom (We'll read, watch a video, or talk about something to encourage integrity, morality, our beliefs, etc.)
Do 2 Math Lessons *
30 Minutes Reading *
History with Mom
Mom's Reading (I read a book out-loud to them.)
Handwriting *
Exercise *
Vacuum the Hard Floors *
Empty the Dishwasher *
Clean Room *
List Notes:
– The items with a * after are all things that most of the kids can do without my help.
– Their chores change every day, based on what needs to be done. But, they always have two, plus their room.
– The subjects may switch out on some days with other ones. Math is every day, but handwriting is a couple times a week. Science is sometimes inter-changed with handwriting… things like that. The schedule is flexible! If there is a day that we want to watch a movie on the American Revolution and it's going to take a couple hours, I'll cross a couple things off the list. Or, if I find a fun book on Mozart that I really want to read the kids, I may take a day off from History. But, overall we stick to our basics.
2. No-School Wednesdays! I love homeschooling and I know that it's right for my family, but it wouldn't be honest to say that life never gets overwhelming. It totally does. I need a day to catch up on laundry, house-work, blog posts, homeschool plans, errands, a nap, etc. As a family, we all agreed that if we did a little more Monday, Tuesday, Thursday, and Friday, then it would allow us to take Wednesdays off. It's soooo awesome. I wish I would have done it a long time ago!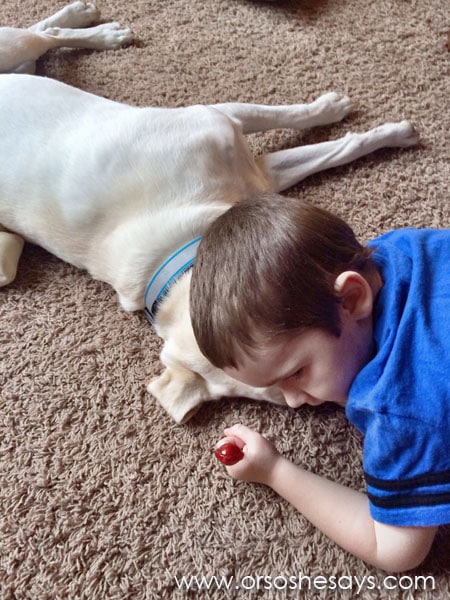 Puppy love.
3. Family Gym Membership. I bought a family membership at the local gym. I think it's about $95 a month, but boy, do we ever get some good use out of that place! The boys love to play basketball, I'll take a crossfit class, the girls will run around everywhere, and the little boys will play in the nursery (with their grandma, who is the director!) It inspired me to start taking tennis lessons, my oldest son is now in a Parisi class (speed training… kinda like crossfit for kids.) The girls take swim lessons there… we are all in much better shape! It's been such a great addition to our homeschool. I put together this previous post from our family time at the gym: No Equipment Needed Post-Baby Workouts (from my personal trainer!)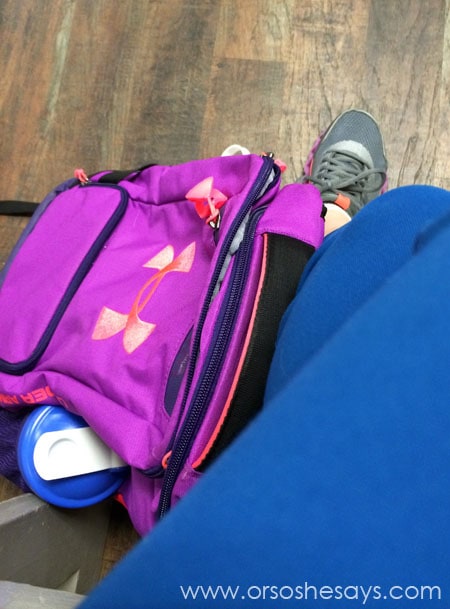 This is a pic I shared on Instagram, nervously waiting at the gym to get my measurements done.
4. Adjusting Learning Styles. During homeschool, there are a couple subjects that we do all together, namely Science and History. BUT, I have one little kiddo that cannot bring herself to focus in a group (even if it's small!) setting. She's usually doing somersaults, rolling on the dog, putting her feet on her brother, and daydreaming. After we read a chapter of our historical fiction novel, I'll ask the kids to each tell me 3 things they learned. She is the only one that can't do it. Ever. Five seconds after we finished reading and discussing! I've tried little games to motivate her. Heck, I've even used the fitness dice! Every time the kids get the answer to one of my questions wrong, they roll the dice and have to do however many situps, jumping jacks, squats, etc. that it tells them to. They actually think it's hilarious. But, I must say, it was usually the same child doing it over and over, getting a killer workout. You know the one. Anyway, what I found was I really needed to adjust the way I was teaching her. She simply learns better one-on-one, cuddling up on the couch with just me. She also seems to do better with worksheets, rather than listening to an engaging novel or watching a movie. Boring worksheets seem to do the trick. So, yes… this takes more time to teach something two different ways at two different times, but it's what she needs right now. And, really I'm just glad we got it sorted out and I can see her progressing.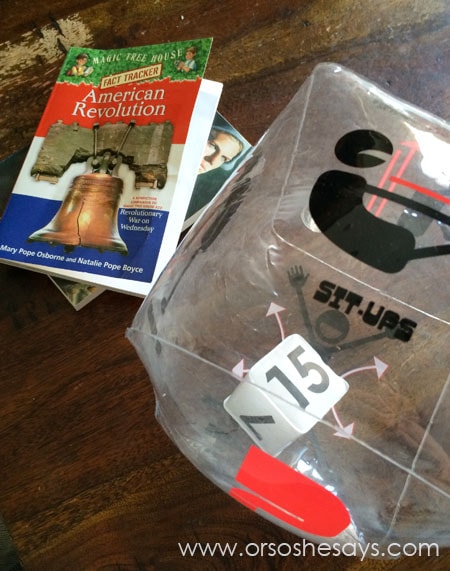 The fitness dice. Pretty great.
Throughout the year, I get several emails asking about the homeschool curriculum I use. A lot of it is the same as what we used last year, but there are a few changes, so… let's get to it.
Scriptures, Prayers, and Devotional: As you may have noticed on the list above, the kids have to read their scriptures and say a personal prayer at some point in the day. Then mom does a little devotional for everyone. It changes every day. Some days I read the scriptures to them, we watch a Living Scripture video, a Mormon Message, read from one of my church magazines, or whatever. And, of course we always discuss and apply afterwards.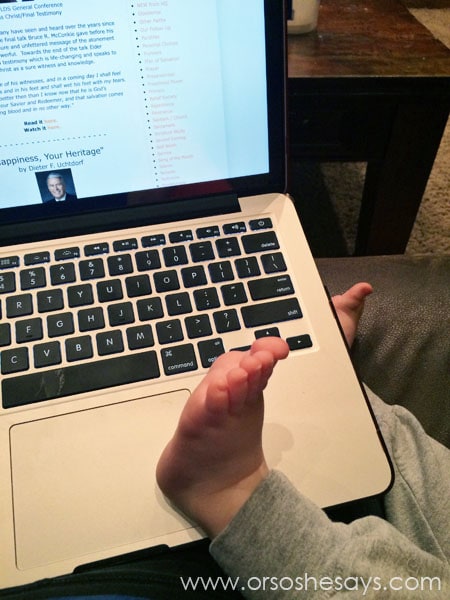 Benny kickin back while mom tries to spread a little inspiration.
So for example, yesterday we watched this video and talked about how faith precedes miracles and how because we are so blessed personally, we need to find ways to share our blessings with others.
Reading:
Every day, the kids have to read a book of their own for 30 minutes. I let them pick the book they want to read, but when they're done, I get to pick the next one. So, we take turns! Which basically means they toggle a fun and silly book with a classic or more educational book. 🙂 After they're done reading, I usually read a book that I picked to them. This is my favorite part of the day… cuddling up on the couch with the kids, reading something fabulous. A few of our favorite books from this year:
Wonder
,
My Brother Sam is Dead
, and
The Ghost of Crutchfield Hall
.
CNN Student News: I mentioned this awesome program to you in a different post, 5 Favorite Homeschool and Educational Resources. Anyway, again it's awesome. We pull it up on my laptop, pile on the couch, and watch it together. It takes about 10 minutes, and each day the kids get to hear all about what's going on in the world with fabulous explanations. CNN Student News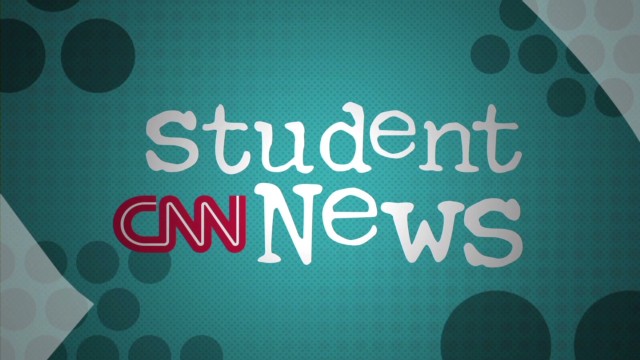 Math: So, we changed our Math program mid-year, and I'm so glad we did. We were using Horizons, but it just wasn't doing it for me. I started using Teaching Textbooks, and am super happy with it. It's a computer program that totally teaches kids the lessons, provides practice problems, and assistance if they miss a question. I love that if they miss a question, it will explain it to them again, in a different way. It also keeps track of their scores, so if I need to check up on them, I can. Because we take Wednesdays off, and because some of the lessons don't take that long, I have them do 2 lessons a day. So, they end up doing 8 lessons a week. I'll for sure be using this again! Just a note: Teaching Textbooks program starts at 3rd grade.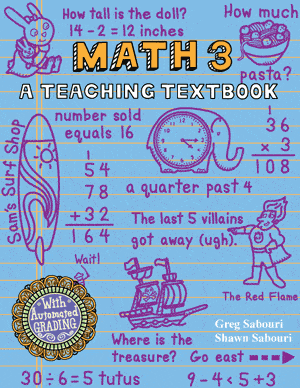 History: I explained in last year's post (Our Homeschool Year 2012) how I started doing History differently. It has been so awesome! We no longer use textbooks or any organized curriculum. What I do is go through the periods of time. Last year we did the late Renaissance and Elizabethan age. This year, we have been studying the pilgrims, colonial life, Indians, explorers, and The American Revolution. I prepared for the year by researching tons of books and videos, and choosing my favorite ones. Throughout the year, we just go through them all. It's fun because every book is wonderful. Some are non-fiction, but most are historical fiction that really engages the kids, helping them develop a passion for the subject. There are also many great videos out that cover all sorts of historical info… sometimes we watch little YouTube clips, other times we'll make popcorn and watch a full length movie. We usually do History every day for about 20 minutes, minimum. If there are any local field trips that teach about what we're studying, those are also a fun resource. We're hoping to take a trip to Connecticut this fall, to see lots of the historical landmarks we studied this year. Wouldn't it be amazing to take your kids to all of the places you learn about?!? I dream of that. So, coming up really soon, I'll do a blog post on our favorite products for learning about The American Revolution and Pilgrims.
One of the highlights from our year was the Pilgrim Lunch that we had with some homeschooling buddies of ours. We chowed down on some of the things Pilgrims would eat (not highly authentic, but they got the point.)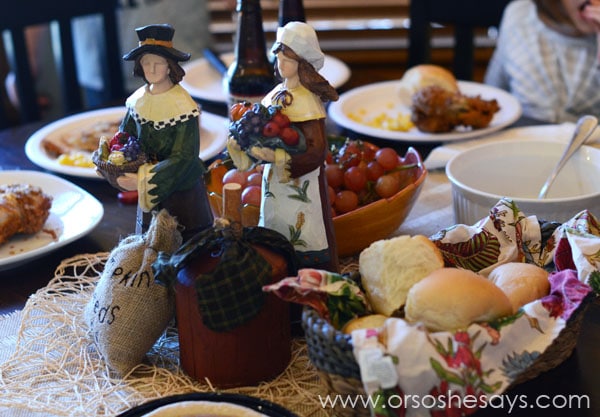 They particularly loved the mock-beer-drinking, as Pilgrims drank a lot of beer (it was safer to drink than the water.)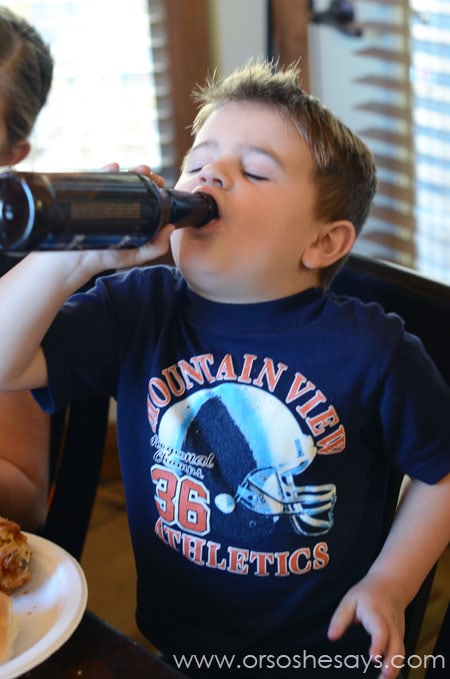 After our Pilgrim Lunch, it was time for oral reports. The kids were so nervous about sharing their reports with the other family, but it was so good for them! They each had to do a report on a famous pilgrim or Indian. They did so good! We ended the day with a traditional Indian craft. The kids are pretty bummed that their Revolutionary War oral reports will only be in front of their Dad this time. We're calling it their 'final,' before the school year ends. Basically, a report to the principal. 🙂
Science: For Science, we watch a lot of science videos. A lot of them! This year we especially loved MythBusters and Brain Games. Both great shows! We took a field trip to the planetarium to watch a the IMAX Hubble movie. Have you seen that?? It's amazing and the kids were so stoked to see it in 3-D. I think I'll have the kids follow a more formal curriculum for science when they're older. Right now, it's a little random, but we're sure having fun with it. They typically watch a science video every day, usually while eating lunch.
Handwriting: We do handwriting a couple times a week and often toggle it with typing. I love handwriting, because it's a great subject to do some multi-tasking. It can easily encompass English, spelling, creative writing, and of course, handwriting. Some of the days, I'll have them write a letter, other times a journal prompt, or maybe a quote from my free e-book, 124 Quotes for Kids. When they're done writing, I come check it… having them correct spelling mistakes, teaching them grammar rules, sloppy writing, etc. If you haven't downloaded the e-book yet, it's great because all of the quotes in it are ones that invite a character discussion afterwards. I'll have the kids copy the quote, noting the places where commas and periods are, how the sentences are formatted… things like that. Afterwards, we'll talk about what the quote means and how we can apply that to our lives.
Something I hear a lot from other moms is, 'Oh, you must be so organized to do homeschool. I could never do that.' And, I kinda laugh. I mean, I guess I am slightly organized, but the way I do homeschool NOW is soooo flexible. I have a standard routine, but if it changes one day, two, or three, it's not a big deal. For example, on St. Patrick's Day we woke up to start our day and then I realized, 'It's St. Patrick's Day!' So, we scrambled to get our reading, scriptures, and devotional done, then jumped in the car and headed to MacCool's, an Irish restaurant downtown. I ordered several authentic Irish dishes and the kids had to try them all. There was even a live Irish band playing. It was perfect! I even pulled out my phone and read all about St. Patrick to the kids. Anyway, that was our school day. Flexible. As long as I'm sticking to the basics most days, I feel pretty darn good. The kids are learning a ton, even when being flexible, so I just go with it. 🙂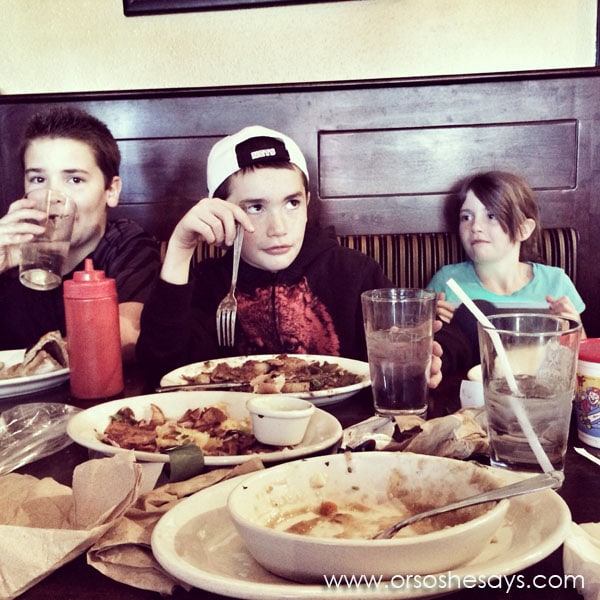 Our MacCool's outing…
Anyway, so that pretty much wraps it up! Let me know if you have any questions. I've received so many emails about homeschooling, so I was trying to remember some of the things y'all wanted to know. But, I may have missed something. 🙂
Finally, if you're interested in keeping the kid's minds active throughout the summer, check out one of my newest sponsors, Brain Chase. They have such a cool program starting soon that your kids will love (plus, it gives them a chance to win a scholarship!)