Hello all! I'm Trish from CraftyMoods. I absolutely love any and everything DIY and crafty. I love spending time doing crafts with my kids and also for myself and my home. I am happy to share something once a month with you here on Or So She Says as your craft contributor. I have lots of unique out of the box crafts that I just cannot wait to show you.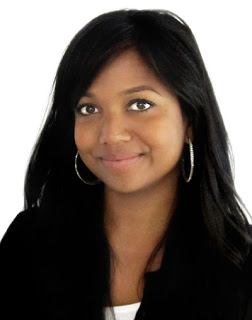 This weekend I spent some time doing some mommy crafts for myself and decided to play dress up with my own jewelry. I also wanted to share my trick for saving all those amazing but faded jewelry that I just could not part with.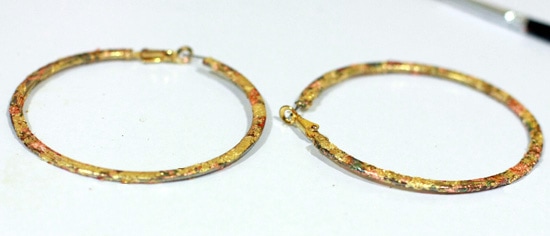 Hate the thought of your favorite costume jewelry fading so fast?  I have to say that I had this pair of hoop earrings for years and was surprised at how long they lasted without fading. I bought them at EXPRESS and though they are great (non-gold) quality, they fade eventually. I have a few pieces of jewelry that I have covered in Gold Leaf sheets or flakes and they look amazing!
Things you will need:
Faded Jewelry
Gold Leaf or Gold Flakes
Gold Leaf Adhesive or Mod Podge Glossy
2 Paint Brushes
Although you cannot see it in the photo below, the earrings are spotty and faded in some areas. Believe me I wear them anyway! They fit my face perfectly and I never want to part with them…They go well with every outfit—-dresses, shorts, jeans and even swimwear 🙂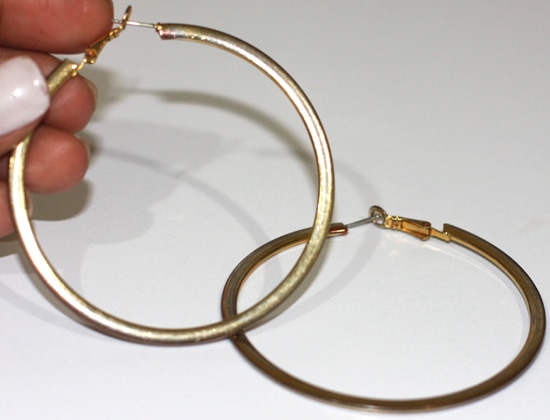 These are my tools. The smaller brush is what I used for applying the adhesive. The bigger one is to remove the extra flakes.
Using the small brush, paint your Mod Podge onto the surface of the earring.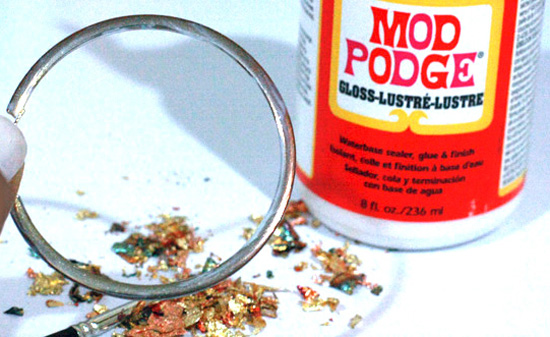 Spread a generous amount of Gold Leaf flakes on a clean surface and dip the earring into it. Make sure every part of the earring is covered. Let dry for about 15 minutes. If you missed a spot apply more adhesive and slap on some gold flakes. I love the beautiful array of colors of this. I prefer these flakes over the plain gold sheets. They look like fine exotic jewelry.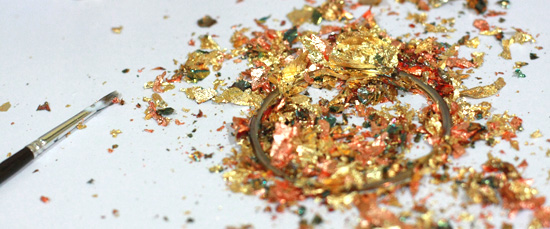 Take your larger brush and carefully brush off the excess flakes. This is the best part.

A close up of all the layers and different colors. After all the extra flakes are off and it is completely dry, you can add another coat of the Mod Podge Gloss to coat and seal it. This will make them last forever.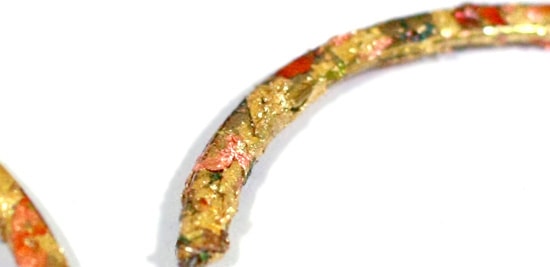 These photos do no justice to how they really look in the light.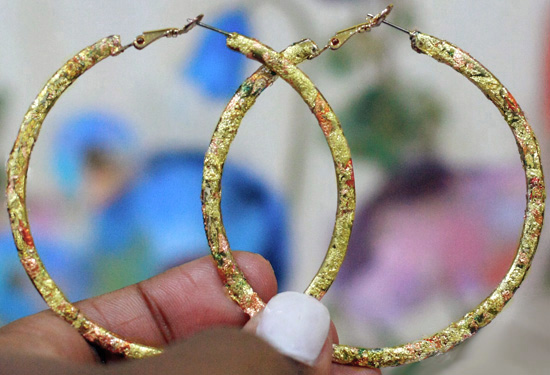 Thank you for reading this. Enjoy and please share!
~~~