I have been on a quest for a LONG time for my favorite facial moisturizer…and I'm proud to say I finally found it. I've tried the cheap stuff and the outrageously expensive stuff (don't tell my husband) trying to find something that would make my skin soft and truly moisturized…and hopefully prevent wrinkles too! I spent too much time reading online reviews of products hoping that someone would clue me in. Lo and behold, after much effort and many years…a little mix of time spent at
http://www.makeupalley.com/
and proved to be the answer. Vitamin E oil received out-of-this-world reviews on both sites! So, I had to try it!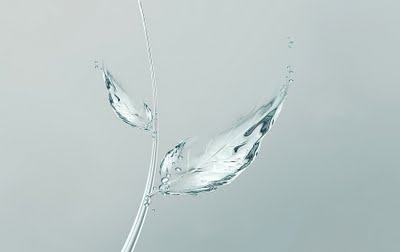 Oil on your skin??? Yes, don't be scared. I converted to oil a long time ago…first with Jojoba and the Sweet Almond…but I had never tried Vitamin E oil. Until now, and I love it best!! It DOES NOT cause break-outs (none of them do), in fact many reviewers said that it cleared them up! It brings back balance to the skin. It absorbs quickly and your skin feels wonderful! Best of all….it's ALL NATURAL, no weird or harsh chemicals. You can also add some to your shampoo or just slick a few drops on your hair after you get out of the shower. You can also use it as a moisturizer for the rest of your body!
So, here is the kind I use…guess what?? It's only $7.49 and it lasts forever! You just put a few drops in your hand and rub it on! I use it both morning and night.  Sometimes when I'm bored, I'll use a throw another moisturizer into the mix, just to try it out.  But, this is the staple.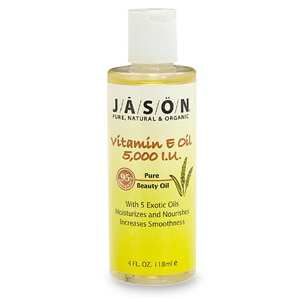 This Vitamin E oil has a great blend of additional oils that are super for your skin…sunflower oil, avocado oil, sweet almond oil, wheat germ oil, and safflower oil.
– Because of it's anti-oxidant activity. It greatly strengthens skin cells to ward off pollution, ultra-violet light, and other enemies to your skin.
– Because of it's anti-aging benefits. It helps minimize the appearance of fine lines and wrinkles. It also improves elasticity. That's why it is added to so many beauty products!
-Vitamin E is often used to treat sunburns. It is added to many sunscreens because the vitamin E will sink to the epidermis layer and provide a stronger protection against the ultra-violet rays. Thus…it helps prevent skin cancer. It is also used in Psoriasis treatments.
– Many people claim that Vitamin E softens to the look of scars, stretch marks, age spots.
– It absorbs nicely, gives you a healthy glow and is a fantastic moisturizer!!!
There are many more benefits that come along with taking Vitamin E orally, but I won't go into that since we are talking about skincare today…but here are just a few of the many, many reviews found across the Internet on :
"I am buying my 3rd bottle today. It does what the more expensive stuff does at a great price. I have normal skin, but am now seeing some dryness (I'm in my 50's now) and this is keeping my skin hydrated, smooth and looking great. I only use it at night since I use sunscreen during the day. I have seen improvement on the fine lines around the eyes and the smoothness of my skin. I even wash with it when my skin feels very dry. I do get compliments on my skin and am happy to tell people about this product, how affordable it is compared to other products and where to purchase it. I hope it is never discontinued!!"
"This is the best product that I have ever purchased in the last ten years or so. I have had an acne problem for the last few years, I tried everything, changed doctors/prescriptions/pro-active and all! This is the best thing to use and I was able to see the results within a week. My skin got softer, and it was glowing within few days. I absolutely love this product and would highly recommend, especially to those who have dry/sensitive skin. The smell is not that bad at all..it goes away within a minute and you can't tell the difference. Definitely a GREAT product for your face and the body."
"I made the shift to using natural products 3 months ago, found drugstore.com, and relied on the customer reviews to find a moisturizer. You have to have faith sometimes, right? I gave myself a month to figure out if this product worked well with my skin, I'm sensitive, and I am a die-hard fan of this beauty oil. I use it on my entire body. It doesn't take much, I'd say 3 drops, to moisturize my face; my skin just soaks it up. I bet that my skin would thank me if she could. My skin has gone from combo to consistently smooth and moisturized. Although the bottle is small, remember… less is more."
If you want to reduce/prevent as many wrinkles as you can…don't forget to wear sunblock! You don't have to buy anything ultra-expensive. Mrs. Review Reader…I use as part of my daily skin-care ritual for my face. It's light-weight, goes on smooth, and does the job! I'm a fan. It's easily found at any grocery store or you can get it online at where the vitamin E oil is sold.
1. Rub about 3 or 4 drops of Vitamin E oil on your face (let absorb for about 10 minutes or more)
2. Top with Neutrogena Ultra-Sheer sunblock or your favorite facial sunblock.
3. Apply makeup…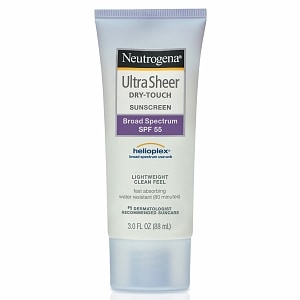 That's it. Two products and I'm happy!