~I am Amanda, Mom of Two Boys~
Aidan Kale {3} 
and Kamden Kane {16 months}…
I married my first love 15 years after our first date and h
e still gives me butterflies.
My life is busy…
Chaotic…
Unpredictable…
And INCREDIBLY rewarding.
Once I became a Mommy, one of my very favorite hobbies became extremely difficult…

SHOPPING!
 I started buying online and never looked back. At first I was apprehensive…what if the clothes didn't fit? What if I didn't like the product?  
I have been shopping online successfully for three years and here are the lessons I have learned…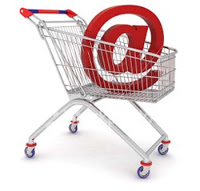 Shop locally…this is not always possible BUT for the most part I try to shop at online retailers we have locally. This makes returning a product so much easier and cheaper. In addition, if it is offered, I take advantage of free shipping from site to store.
Read the stores return policy prior to ordering…Make sure you know if you can return the item or not. Nothing is more frustrating than buying something online and NOT being able to return it.
Read product reviews…I am more likely to order a product that received great reviews than I am a product with poor/no reviews. By shopping online I have learned that I need a half size smaller or that the product has been known to fall apart. Reviews are the next best thing to seeing the product yourself or trying it on.
Use a cash back internet site
…I LOVE
ebates
. There are thousands of stores on this site that offer cash back. We recently purchased a swingset at Home Depot and received a percentage back by using ebates. No additional paperwork with a very quick turn around time. You will be surprised how many retailers you currently use are on this site. I started using ebates a few months ago and have already received $64.02 in cash back!
ALWAYS Google the store name and coupon code…Although ebates will automatically apply coupons in their database to your order there are additional coupon codes on various sites for a percentage off or free shipping. RetailMeNot and CouponCabin are two of my favorites.
Never order from an unreputable source…Unfortunately identity theft is very real. Carefully research any unfamiliar retailers before you give out personal information.
Create a PayPal account…The safest way to pay for online purchases to smaller businesses is through PayPal. They never see your personal information and you can even earn additional cash back.
Leave a product review
…Since I rely heavily on product reviews, I make sure to add my own opinion after I buy something. It also alerts the retailer to any NOT so great products that might need discontinued or improved.
Become a repeat shopper…Find stores you like and register your name, address and email address. You will receive special offers and coupons by mail and email. Sign up for point programs available like Place Perks at The Children's Place , Best Buy Rewards or Kohl's Cash and receive credit towards future purchases.
Some of my favorite online retailers are…
Forever 21-a store for which I make an exception and shop outside my local area. Their clothes are so inexpensive and adorable. Make sure you check out the Fabulous Finds section. The trick is inventory goes FAST, so if you see it and like it, buy it.
This linen blend dress is only $13.50…
Walmart.com-they usually have a lot more selection online than they do in stores and I utilize site to store shipping for free.
Newport News-I never shop at this store without a coupon code. You can use codes for free shipping with any percentage off.
eBay-ebates even offers cash back on eBay purchases.
Overstock.com-they have the best clearance deals. These coats are in my closest just waiting for cold weather.
Coffee Shop Faux Fur Coat – $18.99
Steve Madden Wool Blend Coat – $33.99


Do you have any online shopping tips?
What are your best buys?
~ M.O.T.B.