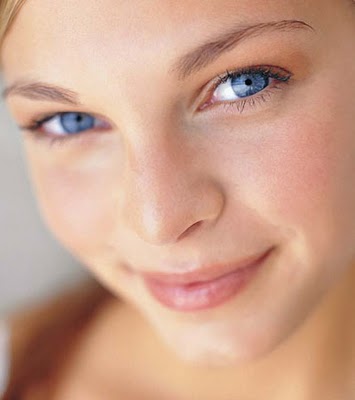 I have just recently started to notice the lines across my forehead, my parentheses, and the indentation that is left from me constantly raising my left eyebrow. (It's my trademark) You can opt for a rhinoplasty specialist in Miami or a full cosmetic procedure and that's okay. For now, the most natural and least invasive treatments are ones I'm looking for. Not that I have anything against Botox, or plastic surgery, I'm just more of an au naturale kinda girl. Here are some great less-invasive skin treatments to get that younger looking skin.
Microdermabrasion. According to ME Clinic, microdermabrasion is a general term for the application of tiny rough grains to buff away the surface layer of skin. Many different products and treatments use this method, including medical procedures, salon treatments and creams and scrubs that you apply yourself at home. It's usually done to the face, chest, neck, arms or hands. For best results, it's recommended you get a series of treatments, and use in conjunction with anti-aging skin care products. It takes about 20 to 30 minutes and here are the benefits:
-It leaves the skin with a fresher, more glowing look.
-Diminishes, the appearance of fine lines and wrinkles, enlarged pores and coarse textured skin.
-Makes it easy for high-tech skin care products to actually penetrate into the deeper layers of the skin and help build collagen, which gives skin its youthful appearance.
The best at home treatments are Olay's microdermabrasion kit, which got 4 and a 1/2 stars on Drugstore.com out of 20,683 reviews. $23 at your nearest drugstore, Target or Wal-Mart.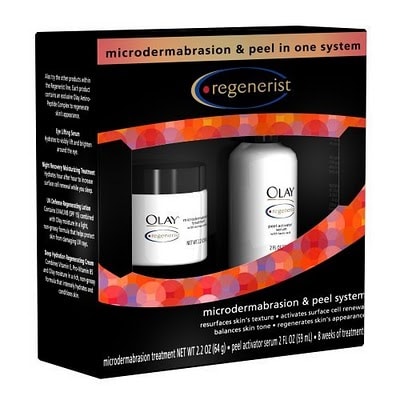 Chemical Peels. Chemical peels, also known as chemexfoliation or derma-peeling, are a technique used to improve the appearance of the skin. In this treatment, a chemical solution is applied to the skin, which causes it to "blister" and eventually peel off. The new, regenerated skin is usually smoother and less wrinkled than the old skin. The new skin also is temporarily more sensitive to the sun.
Chemical peels are performed on the face, neck or hands. They can be used to:
-Treat wrinkles caused by sun damage, aging, and hereditary factors
-Improve the appearance of mild scarring
-Treat certain types of acne
-Reduce age spots, freckles and dark patches due to pregnancy or taking birth control pills (melasma)
-Improve the look and feel of skin that is dull in texture and color
A chemical peel can be performed in a doctor's office or in a surgery center as an outpatient procedure.
The skin is thoroughly cleansed with an agent that removes excess oils and the eyes and hair are protected. One or more chemical solutions, such as glycolic acid, trichloroacetic acid, salicylic acid, lactic acid or carbolic acid (phenol), are applied to small areas on the skin. These applications produce a controlled wound, enabling new, regenerated skin to appear.
Prior to the chemical peel, your doctor may ask you to stop taking certain drugs and prepare your skin with topical preconditioning medications such as Retin-A, Renova, or glycolic acid. After the chemical peel, it's important to use a broad-spectrum sunscreen every day.
If you have been prescribed oral antibiotics or an oral antiviral medicine, you should begin taking those as directed. Typically, the oral antibiotics are prescribed depending on the depth of the chemical peel.
During the procedure, most patients experience a warm to somewhat hot sensation that lasts about five to ten minutes, followed by a stinging sensation. Cool compresses may be applied to help alleviate this stinging. A deeper peel may require pain medication during or after the procedure.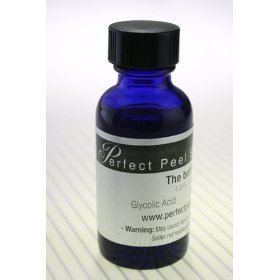 Gllycolic Acid 70% Chemical Peel on Amazon, is $35.
Laser Resurfacing. You can't do this at home, but is by far less invasive than a facelift, and pricey.
Laser resurfacing is a relatively new treatment for reducing facial wrinkles and skin irregularities, such as blemishes or acne scars. The technique directs short, concentrated pulsating beams of light at irregular skin. Laser skin resurfacing removes skin very precisely, layer by layer. This popular procedure is known by several other names, including lasabrasion, laser peel or laser vaporization. Speaking of alternative treatments, checkout this blog why sellers have been springing up online like mushrooms after the rain.
The two types of lasers most commonly used in laser resurfacing are carbon dioxide (CO2) and erbium. Each laser vaporizes superficial, damaged skin cells and both reduce the risk for the patient because they limit the amount of heat absorbed by the skin.
Both erbium and CO2 laser resurfacing are performed on an outpatient basis, using local anesthesia (pain relief at the site of the procedure) in combination with orally- or intravenously-administered sedative medications.Wrinkles around the eyes, mouth or forehead may be treated individually, or a full-face laserabrasion may be performed.
A partial-face lasabrasion takes 30-45 minutes and the full-face treatment takes 1-1/2 to 2 hours, and will cost a pretty penny. Average: $2250!
Recipes, please!! (& great family ideas too.)
Subscribe to get our latest content by email.