Potty training…. sigh…  Very rarely have I heard of a mother making it through without a hitch.  I'm sure it happens (just not to me.)
Potty training probs:
1. No interest from child
2. Only doing #2 in the toilet…not pee (or vice versa.)
3. Constipation
4. Being trained and reverting back
5. Having an insanely small bladder so you are taking them to the bathroom every 5 minutes.
6. No interest from YOU to start the battle.
7. Wetting the bed
…the list goes on and on…
So, I can't say that I've found one sure thing that works every time but I have learned two things that I can usually count on:
First, wait until your child shows interest. If they aren't interested then you are wasting your time and breath.
But, there are things you can do to spark their interest:
1. Buy cute undies. Even though the cupcake and watermelon undies are so cute at Gymboree…your little one will likely be far more excited about their favorite character (Little Mermaid, Diego, Spongebob, etc.)
2.
Get a special toilet seat just for them
. This
Baby Bjorn Toilet Trainer
is the best around! Just read the reviews
here
. Mommies love it because of the comfortable design, the hard plastic is easier to keep sanitized than the soft ones, and it doesn't wobble all over the toilet. I love mine, it fits the toilet so perfectly.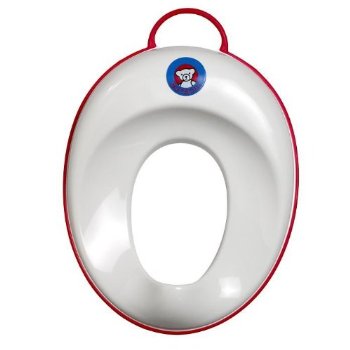 3.
Buy a DVD or Potty Training Book
. This "
Potty Power
" DVD gets
amazing
reviews online…lots of parents saying it lit the fire their child needed to become potty-trained. How could you NOT be inspired by talking toilet paper??  UPDATE:  This movie works! 
Read about my experience, here!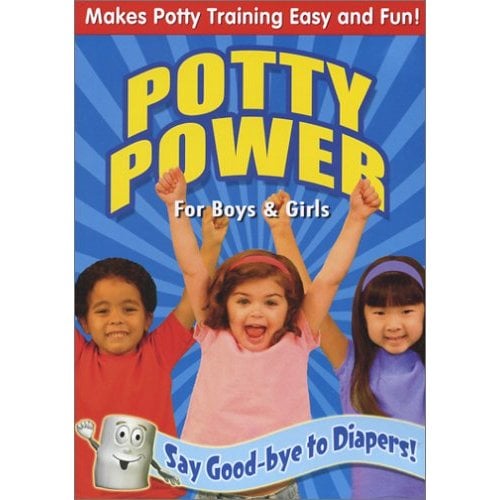 4. Let them spend time with a buddy who is potty trained. That is what worked for at least one of my kids! Audrey's cousin would come over that is the same age and was using the bathroom where Audrey could notice. Pretty soon Audrey wanted to wear undies and use the bathroom like her cousin. Thank you, cousin Madi.
5. Let them see the prize bucket. If you can, get a clear container with a latch that they can't open. That way you can leave it on the back of the toilet where they can look/dream, but not steal. Swiper, no swiping! Ugh…the Dora show is my LEAST favorite…
Secondly, I've only had luck potty training with prizes. Not one big prize. Lots of little prizes. This tip goes hand in hand with your child showing interest. If they aren't interested in using the potty, prizes won't entice them…at least they haven't with my kids. But, once they are interested…they can't wait to go to the bathroom to earn those prizes!
* I'm sure there are moms out there who have had success using hugs, kisses, and cheers as rewards.  That's great…and cheaper…and, maybe the "right way."  But, this is how I've done it, it worked for me, and my kids are normal, happy, and well-adjusted.
So, prizes. I find a lot of them in the $1.00 toy sections of Wal-Mart, the candy aisle or in the Birthday party section. There is also lots of fun/cheap stuff at an actual party store (Zurchers). Dollar stores are also great. You don't want to buy anything too expensive because kids have pretty small bladders, they could put you out on the streets! Besides, don't we all need more junk toys floating around the house?? Well, you do…if you're potty training.
Here are some of things that have graced the prize bucket at my house:
–
Jewel Rings
, $1.29. Not that you NEED 12 of these things…but it's cheap and my little girl would be totally happy to have one on each finger…and two toes. You could also find the
Mardi Gras necklaces
,
bracelets
,
sunglasses
, etc.
– Surely, there aren't enough of these toy cars floating around your house!
Matchbox cars
are usually around $.97. Boys want them all!
– You can usually find cheap-o
nail polish
or mini polishes at the store. Also, you could get
hair clips
,
earring/nail stickers
, or
chapstick
.
– Water Guns
,
$5.95. You could also get water
balloons
or
bubbles
.
– Candy necklaces or ANY kinds of treats your kids like…Ring Pops, Gummies, Beef Jerky, gum, etc.
– Bouncy Balls
, $3.95. Old Navy has GREAT bouncy balls and I think they're only a quarter each. We always come home with at least 3 every time we go!

– Coloring Books
,
Crayon boxes
, cute
pencils
, or
stickers
.
So, when it gets to the point when your little dude is performing consistently and you are so over giving several prizes a day…make a chart! Hang it behind the toilet and keep some stickers nearby. Each time they go to the bathroom on the toilet, let them put a sticker on their chart. They can pick a prize when they complete a whole row. When they get even better, let them pick a prize when they complete the whole chart.
Good luck! Feel free to share your ideas…there are lots of mommies in need!