"Whatever you do, don't shave your legs! That way, you won't let it go to far. Hairy legs are your only link to reality!" I love that scene in "Return To Me"…. I used to agree with it, but I think it's better applied when you are dating and not married! Hairy legs don't deter my man!
So, here's what I found in my quest for the best razors:
Surprisingly, the Gillette Sensor 3 disposable razors got a 4.8 out of 5 on
Makeup Alley.
They are fairly inexpensive, but not cheap. They have a great rubber grip, and don't knick.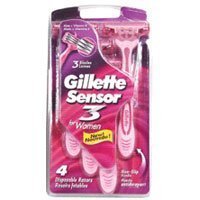 I think it's totally worth the money to buy a great razor and have it forever! This is my favorite!
The Gillette Turbo Mach 3
. Who knows their way around a razor better than a man? You get a super close shave, no nicks or cuts. The blades are a bit pricey but last longer than your ordinary razors, so better in the long run.
Here are some reviews from Makeup Alley:
I finally got around to trying out my husband's Mach 3 razor, and I'm a convert! This is by far the best razor I've used. It gives me the closest shave with the least irritation. And it's so convenient now to have to buy only one kind of replacement blade for both my husband's razor and mine. I highly recommend this razor.
I don't know what it is about it but this razor is the best ever made in the history of razors. I've been using a Mach 3 exclusively since high school. It never nicks, cuts, or burns. My friends think I'm nuts for buying a men's razor but I don't care. Maybe because it's meant for his face they make them a little better than ones made for legs? I don't know. Just try one. All triple blade razors are NOT the same, as proved by the Bic Soleil compared to the heavenly Mach 3. Love love love it.
Is there a pattern to great razors? Ya, they make 'em for men! The Gillette Fusion got 4 and a half stars on
Amazon.
Great for people with sensitive skin and also the bikini area. No ingrown hairs! Bonus: a precision trimmer blade on the back. $6.39 on Amazon.
Last but not least is the
Venus Embrace
. Voted the best razor in Cosmos's top 100 beauty products. With five, yes
five
blades and a moisture ribbon for a smooth glide, your guy will love to glide his hand over your legs! $10.69 on
Amazon.
Here's what some people said about it:
i love love love love this razor. i have been having lots of trouble shaving my skin it seems to cut really easy. until i discovered this razor. it is precise and it gets all the hairs in its path and it leaves my legs super soft.
The aloe strips really help to get a smooth shave, and the 5 blades are great since it almost get all the hairs instead of go over more than once or twice. Another plus is the blades are sharp to remover the hair instead of giving you too much cuts, and you just have to rinse the hairs out with warm water and it's as good as new. I really did try to find my way to remover hair and this product made my legs feel smoother straight away without giving me super trouble. Although the price was quite expensice, it is worth it since it is Very easy to use.