I've never known a parent that looked forward to
the "Birds and Bees" talk
with their kids. However, I know one particular husband that is always prodding me to talk about the birds and bees with him…via phone, text messaging, in bed, at the store, in church, you name it! I tend to avoid the topic as much with him as I do with the kids!…
unless, I need some new shoes or the dishes done
. I'm such a hooker!
Anyway, I'm taking this in the wrong direction…kids and the hanky panky.
Do you remember having "the talk"?? I totally do.. My mom read me this book,
"Where Did I Come From?"
by Peter Mayle (above picture is from the book, minus the white-outs!). I still remember saying to her, "you and dad did that!?!" and she of course replied, "we had to or you wouldn't be here." Obviously, it was all new information to me. And, hopefully it will be to your kids and they haven't been taught too much by their trusty school friends. When is the right age?? I don't know, I think it depends on your child. I would say around 6 to 8 years old. But, I'm no expert. If there comes a time when your child is asking lots of questions, it's probably a great time. Otherwise, you decide. But, don't decide NOT to do it.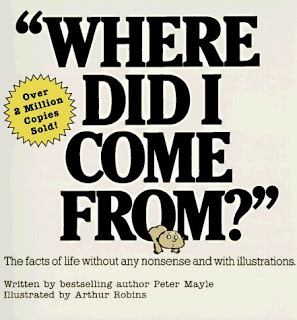 Basically, you can either just explain sex to your kids, read them a book, or show them a video. I think I'm liking the book idea. However, I found a couple books that I like better than this one. There are a couple reasons I don't love this book: first, because it spends some time explaining how sex/orgasms feel…"like a tickle in your nose" and such. Do kids really need to know how it feels? I don't think so, just the facts are fine with me. Also, this book explains the male part and it's scientific name, but dodges the female parts. It says that "men have a penis, and women don't". Okay, well…what do they have?? (Don't tell me. Believe me, I already know.)
Anyway,
I found a few other books that came highly recommended
by reviewers on Amazon. These are on my list to get when the time comes…
It's So Amazing
, by Robie Harris got rave reviews. This is a large book with multiple chapters, not really a sit-down-read-in-10-minutes-and-discuss-book. Although, it's easy to understand and very in-depth. It addresses sex, puberty, pregnancy, the whole nine yards. I would like this one as a supplement for more information accompanied with a simplified book, such as this…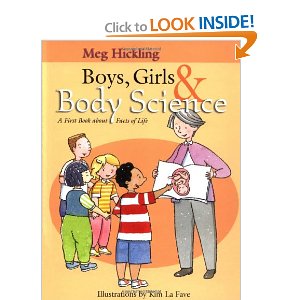 Boys, Girls & Body Science
by Meg Hickling is a more simplified book in story form. It's about a nurse that comes to a school class to teach about anatomy and the birds and the bees. All positive reviews about this book.
If you have a pre-teen girl, you should read all the fabulous reviews on this book,
The Care & Keeping Of You
by Valorie Schaefer. It addresses everything from zits, hair care, and periods to hygeine and bra buying.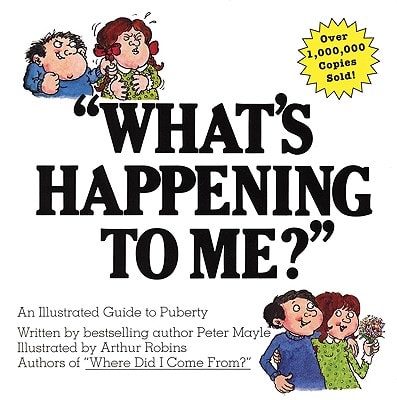 Another great book for girls and boys regarding puberty,
"What's Happening To Me?"
by Peter Mayle. This book got better reviews than his first book, "Where Did I Come From?".
Just my luck, my 7 year old was just looking over my shoulder and asks me…"What's sex??". Great. I said, "It's how babies are made. I'll tell you later. Go see what your brother's doing." I obviously need to order a book.
Let me know how it goes or if you have any tips!