Swimsuit shopping for me ranks right up there with going to the dentist or cleaning the bathroom. Add to that the fact that I'm six months pregnant, and well, I'd almost rather get a root canal. That's probably why I've ordered my last three bathing suits online. They look so good in the pictures, and I get to try them on in the privacy of my own home with high hopes that they'll magically look good on me too! Surprisingly, this wishful thinking has worked out pretty well for me with my last few orders. In fact, I couldn't be happier with my newest Hapari bathing suit I ordered online!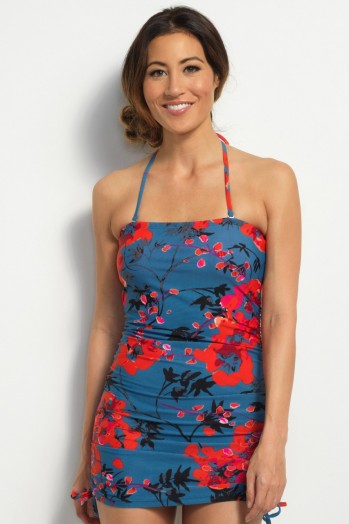 When I was given the opportunity to review a Hapari suit, I was a little bummed because I didn't think they offered a maternity line. Fortunately, I was very wrong! Well, sort of. They actually don't make special maternity suits, but the awesome design of several of their regular tankinis allows them to work well for us pregnant mamas. Hapari uses a high-tech fabric and extra length to keep growing baby bumps covered throughout pregnancy. Check out their maternity page for the select styles that make up their maternity line – V-Neck, Sport, Seaside, Twist and S.O.S. Underwire.
I actually already own the Twist and S.O.S. Underwire tankinis from Hapari, so I decided to try out a Seaside tankini to help get me through my last trimester. I love that the Seaside tankini has an adjustable drawstrings on the sides that allow it to lengthen out to a swimdress, or cinch tight for a rouched look. My other favorite feature of Hapari tankinis is the adjustable straps. The can be worn three ways – as a halter, criss-cross or tank.
After live chatting with a very helpful Hapari rep, I decided to order one size larger than I normally would since I'll be wearing my suit right up to delivery. I've found Hapari suits to be pretty close to size, or maybe a tiny bit on the small size. So, it made sense to go a size bigger in my situation. However, I didn't pay close enough attention to the bust/cup measurements in their Size & Fit Guide. If I had, I probably would have stuck with my normal size. If you're on the busty side, then definitely go with a size bigger if you're ordering the Seaside tankini. Or, if you're on the smaller size, then you could always try out the Illusions inserts that fit right into secret pockets built into Hapari tankinis.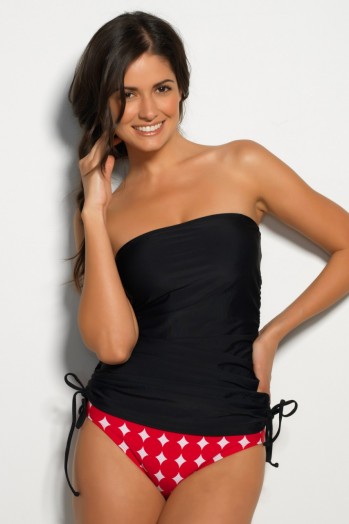 But in my case, I decided to exchange my original tankini for my normal size. Now I'm thrilled though. And I have a cute suit to wear on my upcoming babymoon with my hubby to Cancun. Plus, I'll have a cute suit that I can still wear after the baby is born in July (I'm hoping to cinch up the drawstings and let the rouched fabric hide my post-baby belly!).What's better than a cute bathing suit that does double duty as a maternity suit AND a cute suit I can wear even after my little guy gets here?!?
I also tried on my two Hapari tankinis that I already own (Twist and S.O.S. Underwire), and they're going to work great for now, but maybe not all the way to the end. I get really, REALLY, alarmingly big toward the end of my pregnancies, but I think most women could wear any of the suggested maternity styles through all three trimesters!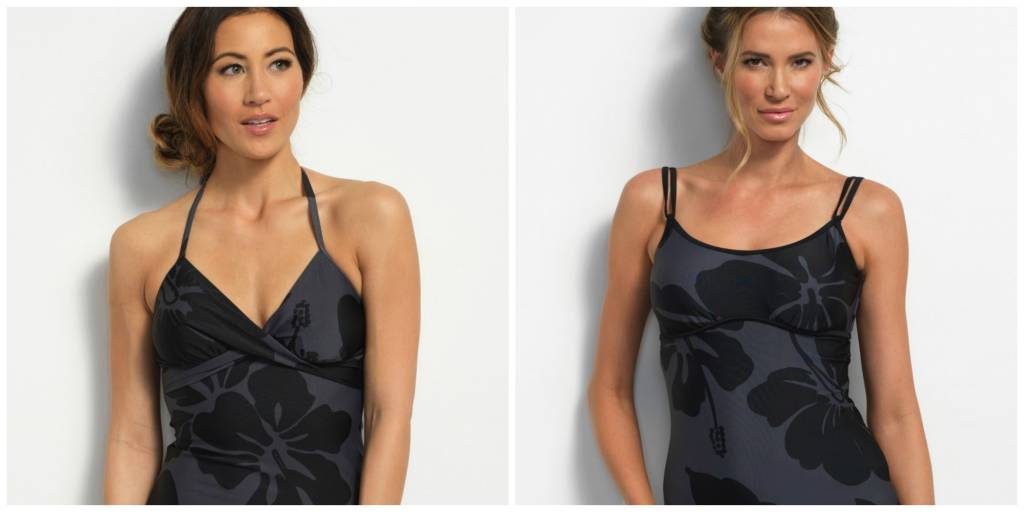 Now, for the bottoms. I ordered the black Tummy Tuk Swim Shorts because I want lots of coverage at this point in my life, plus they looked really comfortable. And they are, even with my big belly! I pulled the super stretchy fabric slightly below my belly, and they felt (and looked) great. My husband even commented on how flattering they were. I think they look cute with the different length options of the Seaside tankini.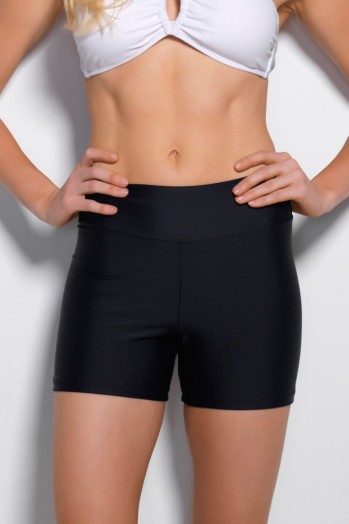 Again, I'm excited that I can wear them now and post-baby. Hapari also offer several other cute bottom options …
The flexibility of Hapari's swimsuits is just awesome! I feel pretty confident in saying that any women, of any size, at any age and stage in life could find a Hapari suit to love! I'd be interested to hear what your favorite Hapari suits and patterns are!