Hello again, OSSS readers! It's Kimberly from Get Away Today, here to tell you all about Universal Orlando Resort, the ride heights required, and how you can score some discount tickets (get the 3rd park FREE!) That's right, for a limited time you can experience all three parks at Universal Orlando Resort for the price of two. So much great park information to get to!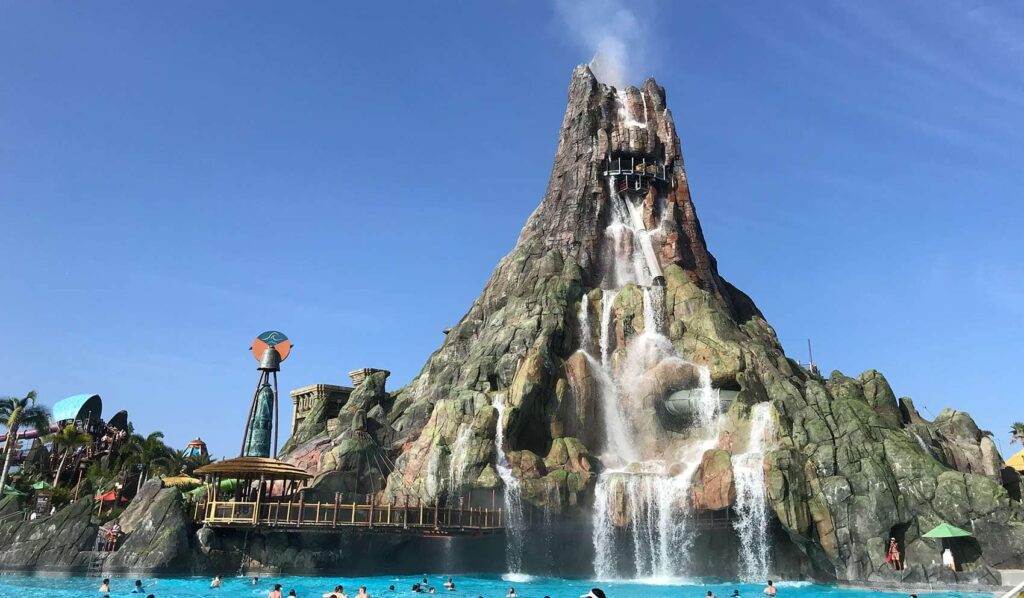 Universal Orlando Resort
Before I tell you all about the details of this deal, I need to tell you about the three different parks of Universal Orlando Resort and what makes them the ultimate vacation destination for families. Whether you're a fan of the Minions, Harry Potter or the Fast and the Furious, there's something for everyone.
Universal Orlando Resort – Universal Studios Florida
Universal Studios Florida is known for rides, attractions and dining experiences based on the best blockbuster films and TV shows you love. From Harry Potter and Transformers to Minions and Curious George, it's fun for all ages.
One of the most common questions we receive at Get Away Today is whether or not there is much to do for young or small kids at Universal Studios Florida. To help you plan your family vacation, I've broken down the Universal Studios Florida rides and attractions by height. Of course, you know your child best and even if they're tall enough can choose whether or not a ride is suited for him/her.
Universal Studios Ride Heights
34" and Taller
Hogwarts Express: With a Park-to-Park ticket, you can climb aboard Hogwarts Express at Kings Cross Station and ride to Hogsmeade Station in neighboring

Universal's Islands of Adventure Park

. Jump through Platform 9 3/4, and once on the Hogwarts Express you'll see characters and magical creatures from the films.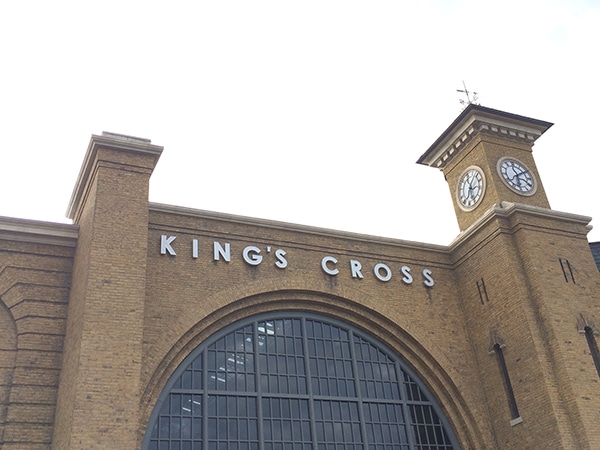 E.T. Adventure: One of the only remaining original rides, it's stuck around for a reason! Ride a bike with E.T. through the night sky in an escape from capture.

Shrek 4-D: This experience is a glimpse at what happened between the first Shrek movie and the second. With 4-D effects, you'll be immersed in the story as Shrek attempts to rescue Fiona from Lord Farquaad.
36" and Taller
Woody Woodpecker's Nuthouse Coaster: This is a kid-friendly coaster with gentle twists and turns, perfect for first-timers.
40" and Taller
The Simpsons Ride: As a virtual reality roller coaster ride, this one is great for kids. Join The Simpsons on a trip to Krustyland and watch out for someone who's trying to wreck the place.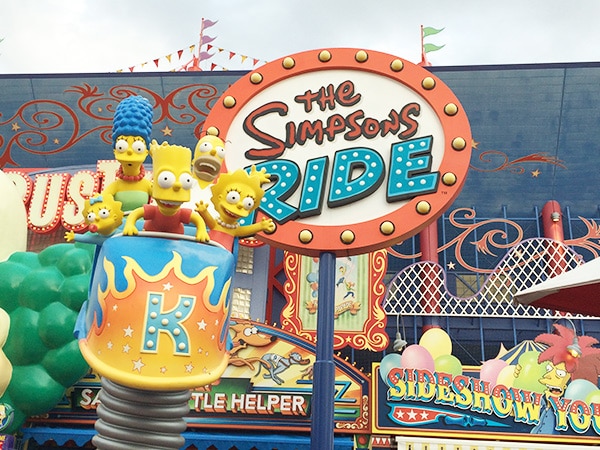 TRANSFORMERS: The Ride-3D: Help save Earth on this 3-D/4-D experience with TRANSFORMERS. Join Optimus Prime aboard a N*E*S*T* vehicle in an attempt to keep Megatron away from the AllSpark.

Despicable Me Minion Mayhem: Join the Minions on a quest! Beginning in Gru's basement laboratory, you'll be along for the virtual reality ride and feel transformed into one of the Minions. There's a super silly dance party at the end, too.

Race Through New York Starring Jimmy Fallon: Be a guest of the Tonight Show and explore its history! As you await your turn to ride through New York, you'll enjoy entertainment and interactive elements that are just as fun as the ride itself.

Fast & Furious – Supercharged: Racing fans will feel like part of the team as they walk through the Fast & Furious headquarters. See real props from the movies before climbing aboard the ride and experience a virtual reality street race!
42" and Taller
MEN IN BLACK Alien Attack: As an agent in training, you'll help battle the aliens overrunning NYC! Using a laser gun you'll blast those bad guys back to space.

Harry Potter and the Escape from Gringotts: Enter the dark tunnels under Gringotts bank and then try to escape with Harry, Ron and Hermione. Look out for dragons, goblins and other villains such as Voldermort himself. This motion simulation ride also includes 3-D and 4-D elements.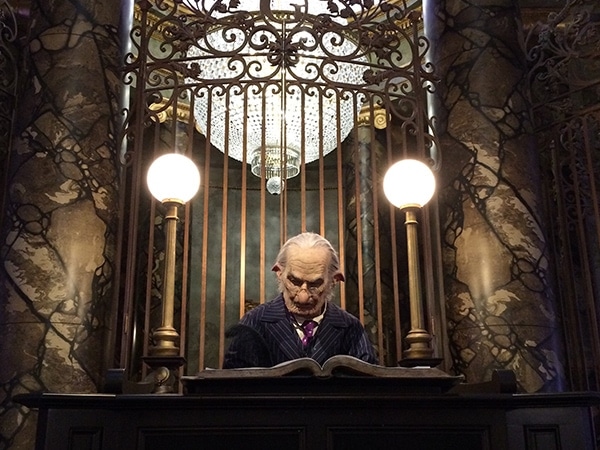 Under 48"
Kang & Kudos' Twirl 'n Hurl: This is a kid-friendly ride, and guests 48 inches or shorter simply need an accompanying rider with them. Take off in a flying saucer along with Kang and Kudos and take your best shot at the residents of Springfield!
48" and Taller
Revenge of the Mummy: This ride is definitely for the brave! With lots of thrills, it may be too scary for younger kids. The Mummy is dedicated to his revenge! This coaster includes forward and backward motion, as well as steep drops and dark surroundings.
51" and Taller
Hollywood Rip Ride Rockit: Combine music and coasters for the ultimate Universal Studios experience. The coaster begins with a 90 degree incline, and only gets better from there. This ride reaches speeds up to 65 mph, so hang tight and rock on!
Universal Orlando Resort – Universal's Islands of Adventure
There is still more adventure to be had at Universal's Islands of Adventure. This park is based on all your favorite mythical legends. You'll find an all-new Harry Potter roller coaster, an all-new Jurassic Park River Adventure, Dr. Suess-inspired attractions, super hero thrills and more. Again, here's a look at the rides categorized by height.
Universal's Island's of Adventure Ride Heights
34" and Taller
Hogwarts Express: Remember that only with a Park-to-Park ticket can you ride Hogwarts Express between parks, just like a student heading off to the famous wizarding school of magic.

Stormforce Acceleration: Help the X-Men fight Magneto by spinning Professor X's generator as fast as you can! You'll feel like you're in the middle of one of Storm's tornadoes.

One Fish, Two Fish, Red Fish, Blue Fish: Lift off in fish for this gentle ride. You control the height in an effort to dodge fish fountains.

Caro-Seuss-el: Unique Dr. Seuss characters come to life on this carousel ride.

Poseiden's Fury: Take a journey through ancient ruins during this ride plus live-action experience. Watch as the battle of Poseiden and Lord Darkenon plays out, and hope that you can make it back to the surface!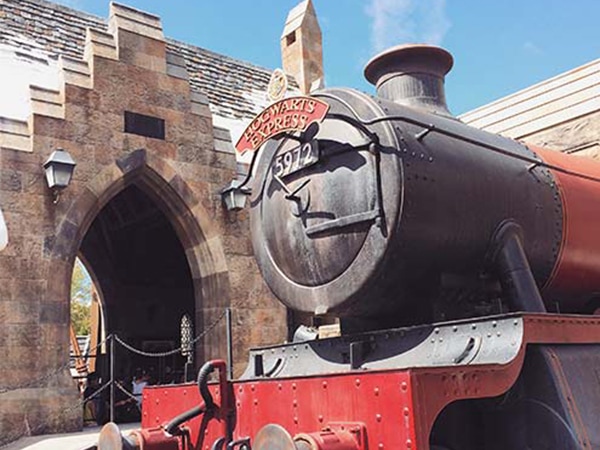 36" and Taller
Flight of the Hippogriff: This roller coaster takes you on a journey around the grounds of Hagrid's hut. Learn about the care of Hippogriffs from Hagrid himself, and enjoy a flight over the pumpkin patch.

The Cat in the Hat: This ride brings scenes from iconic Dr. Seuss stories to life! Make your way over and around all the mess left by The Cat, Thing 1 and Thing 2.

The High in the Sky Seuss Trolley Train Ride: This slow-moving trolley features a retelling of the tale of the Sneetches. Soar over the land of Dr. Seuss on one of two tracks and experience the ABCs of beloved childhood stories.

Pteranodon Flyers: Suspended from a Pteranodon, you'll soar gently through the sky with stunning views of the Resort.
40" and Taller
The Amazing Adventures of Spider-Man: With motion simulation and 3-D enhancements, join everyone's favorite web slinger in New York City. Battle villains alongside other Marvel characters in an attempt to win back the stolen Statue of Liberty.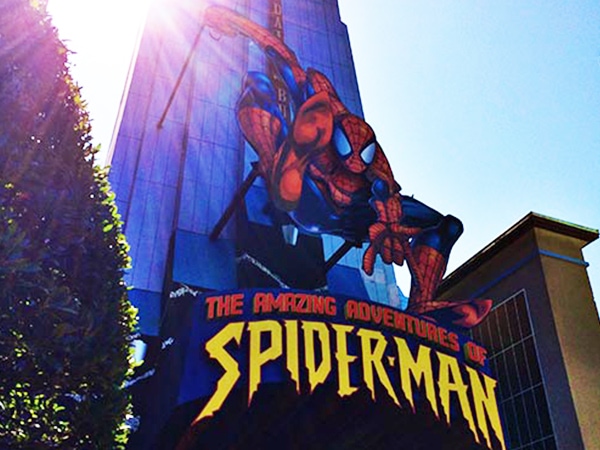 42" and Taller
NEW Jurassic Park River Adventure: Float aboard a raft through uneventful viewings of dinosaurs before this ride takes a turn! Once inside the restricted area of Jurassic Park, you'll encounter much fiercer dinos and an 85-foot drop.

Popeye & Bluto's Bilge-Rat Barges: Help Popeye rescue Olive from Bluto on this water ride! Look out for an octopus, fountains and rushing rapids.
44" and Taller
Dudley Do-Rights Ripsaw Falls: A combination water flume and roller coaster, this log ride takes you through the story of Dudley Do-Right. You're bound to get wet during and after the 75-foot drop that takes you below water level.
48" and Taller
NEW Hagrid's Magical Creatures Motorbike Adventure: Climb aboard an actual motorbike or hop in its sidecar for a trip through the forbidden forest. This thrilling roller coaster ride gives glimpses of all sorts of magical creatures, some new to even the most loyal Potterheads. With forward and backward motion, plus drops, twists, turns and high speeds, this ride is hard to beat.

Harry Potter and the Forbidden Journey: Walk through Hogwarts Castle and explore its corridors. Then you'll virtually soar above the grounds and encounter many magical creatures.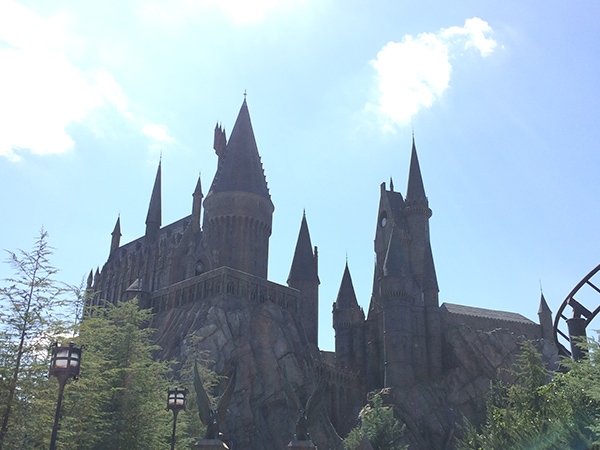 52" and Taller
Doctor Doom's Fearfall: Doctor Doom wants to collect

fear

, so he hurls you 185 feet into the air and then drops you back down again. Be brave, and don't let him use your fear to power his weapons!
54" and Taller
The Incredible Hulk Coaster: With a blast of gamma radiation, you'll be ready to blast off on this roller coaster to assist General Thunderbolt with his experiment. This coaster offers high speeds, zero-gravity loops and lots of twists and turns.
Universal Orlando Resort – Universal's Volcano Bay
Now I get to tell you all about the water theme park at Universal Orlando Resort. Based on the fictional Waturi people, Volcano Bay offers 19 water experiences, private cabana rentals, delicious island food and more. One very important thing to remember is that there is NO waiting in long lines at Volcano Bay. With the use of TapuTapu Bands, you virtually queue for each ride at Volcano Bay. TapuTapu Bands are no additional cost, and they are handed out for daily use when you enter Volcano Bay. From tots to teens, there's so much to experience at Universal's Volcano Bay!
Universal's Volcano Bay Ride Heights
All Ages
Kopiko Wai Winding River: This is a gentle, lazy river that can take you around all of Volcano Bay.

Tot Tiki Reef: This reef is for small splashers, providing fountains, singing whales and a variety of water play.

Puka Uli Lagoon: This is Volcano Bay's leisure pool, giving you plenty of room to swim with a view of the body slides.

Waturi Beach: With gentle waves, this beach is near the entrance to Volcano Bay. Here you'll find water play areas adjacent to lounge chairs and restaurants.

The Reef: Geared more toward those who want to get away from the hustle and bustle of the island, The Reef is another leisure pool. It offers views of the Body Plunge and is located near Waterfall Cove.

Runamukka Reef: Play among bubbling geysers, take aim with water guns and watch out for dumping cups of water! This Reef is perfect for school-aged children.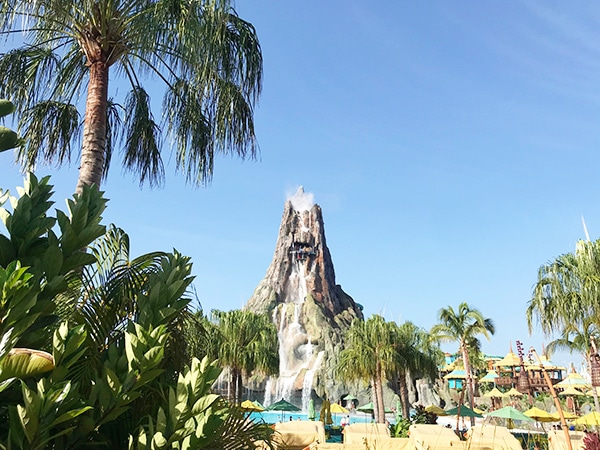 42" and Taller
ika Moana of the Honu ika Moana: Five passengers rafts take the ride of a lifetime, mimicking the whale rides Waturi people take on the ocean.

TeAwa The Fearless River: This river is geared toward the adventurous! Wearing a life jacket, you'll float among waves and whitewater toward Hammerhead Beach.

Krakatau Aqua Coaster: Ride a four-person canoe in and around the volcano. The adventure ends as you glide through a waterfall.

Punga Racers: Ride a manta ray (really just a slide mat!) down one of the slides in a race to the bottom. The four racing lanes plunge through caves, and the winner gets a celebratory splash at the end.

Tonga of Taniwha Tubes: This tube slide mimics the growth of the Punga trees and features tiki fountains.

Raki of Taniwha Tubes: Like the roots of the Punga trees, this tube slide twists and turns toward the ground. It also features spraying tiki fountains, so look out!

Puihi of Maku Puihi Round Raft Rides: Ride the multi-person raft down a lava path through a dark cavern, all on your way to the water below. Experience the thrill of zero-gravity on this ride.

Maku of the Maku and Puihi Round Raft Rides: Six riders twist and turn down this slide, through a volcanic gorge and past a geyser.
48" and Taller
Ko'okiri Body Plunge: For the adventurous, the Body Plunge ride offers a 70 degree drop at the very start. Then enjoy seemingly endless track until you plunge into the pool below.

Honu of the Honu ika Moana: Like the Waturi who rode turtles through the sea, you can take a trip down this slide with four other passengers. The raft takes you through open plumes featuring many twists and turns.

Kala and Tai Nui Serpentine Body Slides: Take a flying leap from the volcano on these body slides (not really, but that's what it feels like!). You'll be dropped through a trap door at the top of the slide, and will race along intertwining tubes to the bottom.

Ohno of Ohyah & Ohno Drop Slides: Cross the rope bridge and stare adventure in the face before you even attempt this slide. When you do finally cruise to the end of the slide, you'll be met with a six-foot drop into the pool below.

Ohyah of Ohya & Ohno Drop Slides: Climb the cliffs of the volcano before zooming down this slide. As you exit, you'll experience a four-foot drop before plunging into the pool.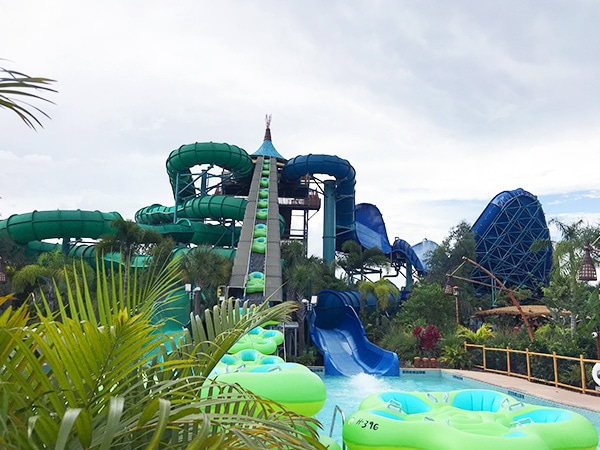 Universal Orlando Resort Discount Tickets – 3rd Park FREE
Are you excited about all the amazing attractions at this vacation destination? At Get Away Today, we truly love Universal Orlando Resort for all the unique adventures it has to offer. We're excited to be able to offer discount tickets and vacation packages to Universal Orlando Resort, including Universal Orlando Resort hotels. When you stay on property at Universal Orlando, you have access to exclusive perks such as complimentary breakfast, free transportation and even free Universal Express Unlimited, which allows you to reduce wait times in the Resort. To sweeten the deal, Get Away Today has a limited time offer for Volcano Bay. When you book a Universal Orlando Resort vacation by December 2, 2019, you can access Volcano Bay FREE*. You can choose between Base Tickets, which grant access to one park per day, and Park-to-Park Tickets, which grant access to more than one park per day. View all vacation packages at www.getawaytoday.com, or book by calling 855-GET-AWAY.
*Blackout dates include December 26 – 31, 2019. Travel must be completed by May 22, 2020.
If you loved this post, check out:
Pin this image to save the post for later & share with friends!
(Additional images available by clicking Pinterest button in post header/footer.)