Print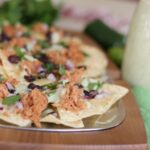 Sweet Pork Nachos
Loaded, meaty nachos baked to melty perfection and served with a creamy, dreamy dressing.
hearty tortilla chips

pulled sweet pork or carnitas

or even diced grilled chicken or steak would work great here!

cilantro lime rice

optional

black beans

drained and rinsed

shredded colby jack cheese

cilantro ranch dressing

pico de gallo or salsa for dipping

finely diced red or green onion

* No specific amounts are given so just eyeball it and put as much or as little as you'd like!*
Preheat oven to 425.

Line a rimmed baking sheet with foil or parchment and spread tortilla chips into a single layer. Top each chip with pork, rice, beans, and onions making sure that each chip feels the love! Liberally sprinkle shredded cheese over the chips and toppings.

Bake for about 5 minutes until toppings are heated through and cheese is melted (this will vary depending on how much "stuff" is on each chip). Turn the broiler on low and keep a close eye on it. Broil for about 2 minutes until the cheese gets nice and bubbly!

Remove from oven and lightly drizzle with cilantro ranch dressing. Serve with pico de gallo or salsa for dipping and dig in!