Print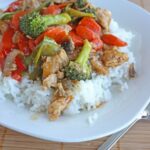 Honey Chicken Stir Fry
Honey soy sauce glazed over fresh stir-fried veggies and tender chicken pieces. Serve over hot rice for an easy nutritious meal.
Preheat a large nonstick skillet or wok to medium-high. Once hot, add 2 tablespoons of oil and veggies and stir fry until they are crisp-tender. Remove from pan and keep warm.

In the same skillet, add 1 tablespoon oil and chicken pieces. Season with salt and pepper and cook until chicken is no longer pink and juices run clear. While chicken is cooking, whisk together the sauce. Add garlic to the chicken and cook for 30 seconds to 1 minute longer.

Combine the honey, soy sauce, water, and cornstarch in a small mixing bowl. Pour sauce over chicken and simmer for 2-3 minutes until sauce starts to thicken. Add cooked veggies back in and heat through. Serve immediately over hot, cooked rice.