Print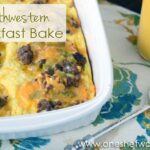 Southwestern Breakfast Bake ~ Easy & Hearty Breakfast
This is such an easy and delicious breakfast! Perfect for Christmas morning or ANY morning. Serve with a fruit smoothie or the orange julius recipe (on the blog), and you've got a killer breakfast! www.orsoshesays.com
Spread butter on each muffin half and place buttered side up in a 9x13 baking dish, coated in cooking spray. Set aside.

In a medium pan, cook sausage until done, drain. (I like to use the Hormel sausage rolls)

Spoon sausage over each muffin half.

In a bowl, whisk eggs and sour cream. Pour over the sausage.

Sprinkle cheese and chilies on top.

Refrigerate overnight, or bake immediately. 350 degrees for about 30 minutes, or until fork comes out clean.
Recipe from Taste of Home