Print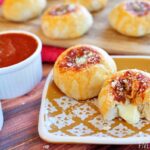 Mozzarella Bubble Biscuits
Warm, soft biscuits -- topped with a dollop of spaghetti sauce and a sprinkling of Parmesan -- conceal a gooey, stringy, cheesy center, making these Mozzarella Bubble Biscuits a perfect party appetizer, kid-friendly snack, or accompaniment for an Italian meal.
1

can

7 to 8 ounces refrigerated buttermilk biscuits

1

teaspoon

dried oregano

3

ounces

mozzarella cheese

cut into ten 3/4" cubes

2

tablespoons

spaghetti sauce or pizza sauce

Grated Parmesan cheese
Preheat oven to 375°F and line a baking sheet with a piece of parchment paper.

Slightly flatten a biscuit and sprinkle with a pinch of oregano. Lay a cube of mozzarella in center and carefully fold biscuit around cheese, pinching to seal. Place seam-side down on baking sheet. Top with a dollop of spaghetti sauce. Repeat with remaining biscuits, placing them at least an inch apart on the pan. Bake for 10 to 12 minutes or until golden brown. Sprinkle with Parmesan and serve warm.
If you use a 14 to 16-ounce can of jumbo biscuits, cut each biscuit in half before shaping, flattening, and proceeding with recipe. You may have to cut additional cheese cubes and use a bit more oregano and sauce to compensate for additional biscuit halves.
*Adapted from Taste of Home's Quick Cooking: 5 Ingredient Wonders