Warm, soft biscuits — topped with a dollop of spaghetti sauce and a sprinkling of Parmesan — conceal a gooey, stringy, cheesy center, making these Mozzarella Bubble Biscuits a perfect party appetizer, kid-friendly snack, or accompaniment for an Italian meal.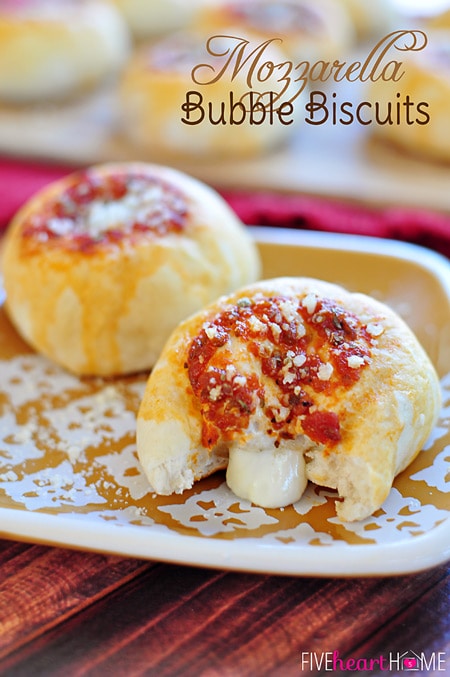 Hi, friends! It's Samantha from Five Heart Home and I'm happy to be back today with another quick and easy recipe that's as tasty as it is versatile!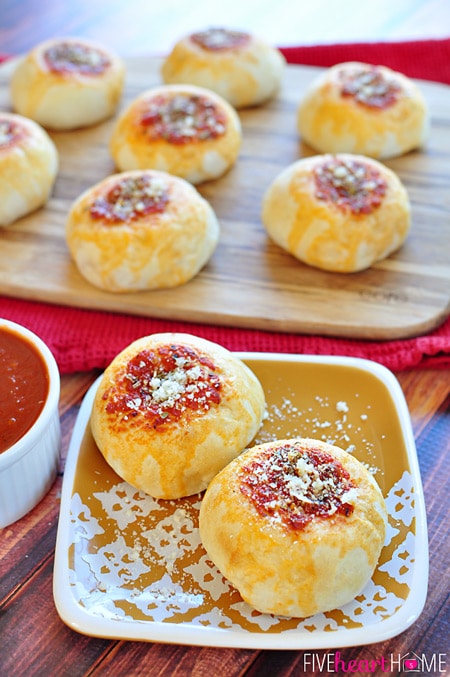 If you're anything like me, your favorite food group rankings go something like this: bread, cheese, butter. Okay, okay…I know that those aren't technically food groups in and of themselves, but they are certainly some of my favorite things to eat! And today's recipe includes two of the three, which pretty much makes it a winner in my book.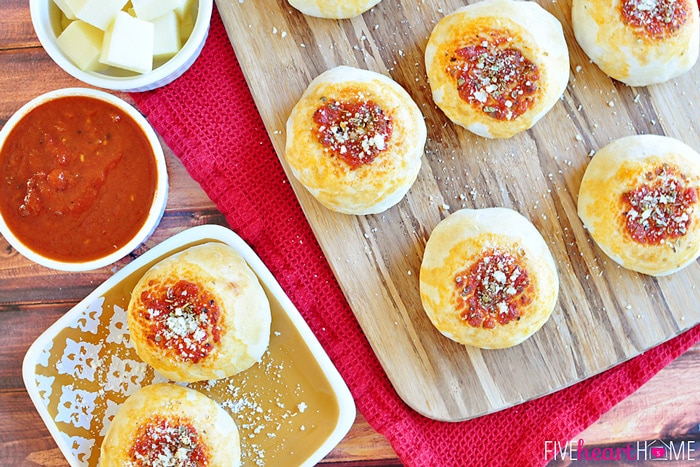 These Mozzarella Bubble Biscuits start with refrigerated biscuits, a step that saves a ton of time right off the top. I try to make most of the things that I feed my family from scratch, but y'all…I just can't give up refrigerated biscuits! They are just too easy and too good for incorporating into a variety of recipes! Fortunately, you can buy natural/organic varieties now if you're trying to avoid certain processed ingredients. Whatever your favorite brand of canned biscuits happens to be, you can make it work in this recipe! Just pay attention to the size of your biscuits and if you are using the super jumbo variety, cut them in half before proceeding with the directions.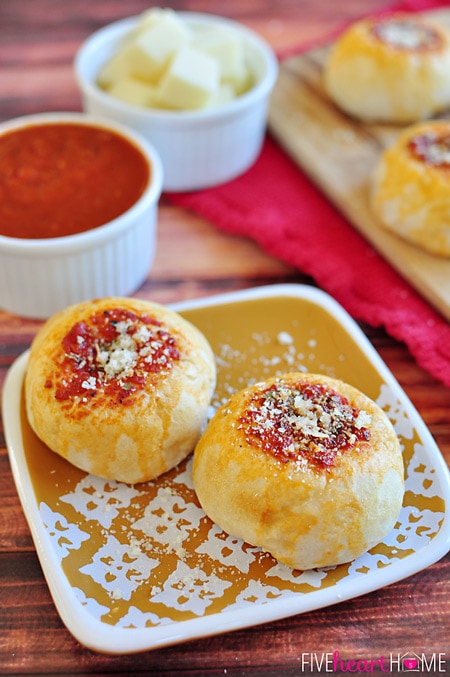 Once you have your tube of biscuits cracked open, simply sprinkle each biscuit with a dash of dried oregano and then carefully wrap it around a cube of mozzarella cheese, pinching to seal and placing it seam-side down on the baking sheet. Top with your favorite jarred or homemade spaghetti sauce (or pizza sauce) and pop in the oven. In no time at all, you'll have puffy, golden biscuits with an oozing interior of melted mozzarella. I also like to top my baked biscuits with a sprinkle of Parmesan for an additional layer of flavor because, as previously mentioned in my rambling about favorite food groups, you can never have too much cheese!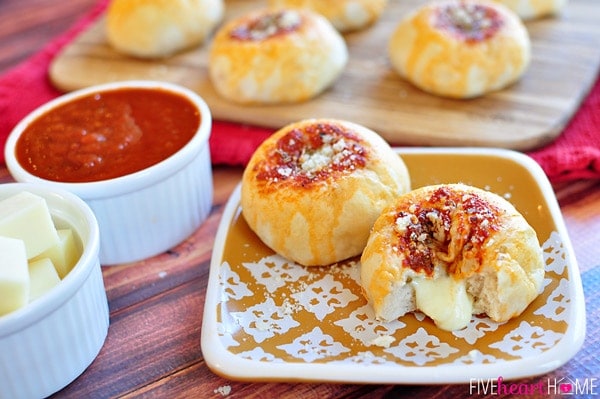 These little bubble biscuits are perfectly delicious with spaghetti, lasagna, or your favorite Italian entree. But they are also splendid as a stand-alone appetizer. After all, who could resist a party platter of these babies served up with a side of warm spaghetti sauce? And if you have kiddos in the house, these even make a great after-school snack! There's no arguing with a recipe that can serve so many different purposes, am I right?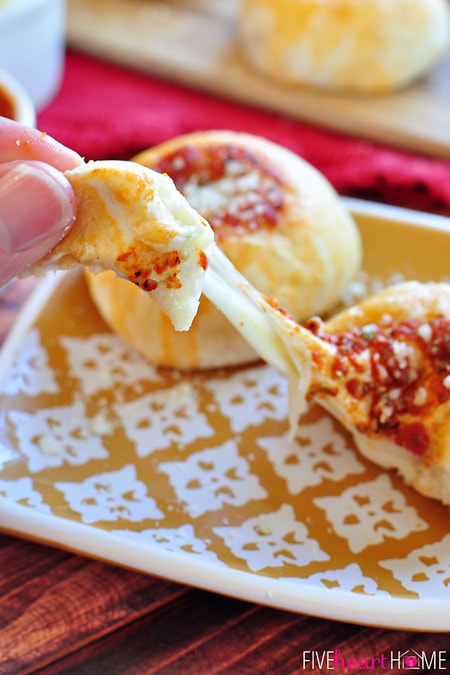 So the next time you're in the mood for Italian, or you need an app to take to a potluck, or you want to surprise your offspring with a snack that's a bit out of the ordinary, I encourage you to give these Mozzarella Bubble Biscuits a try! They come together in no time and they are indescribably tasty…especially if you are someone who would be happy subsisting on a diet of bread and cheese. Not that I know anyone like that. 😉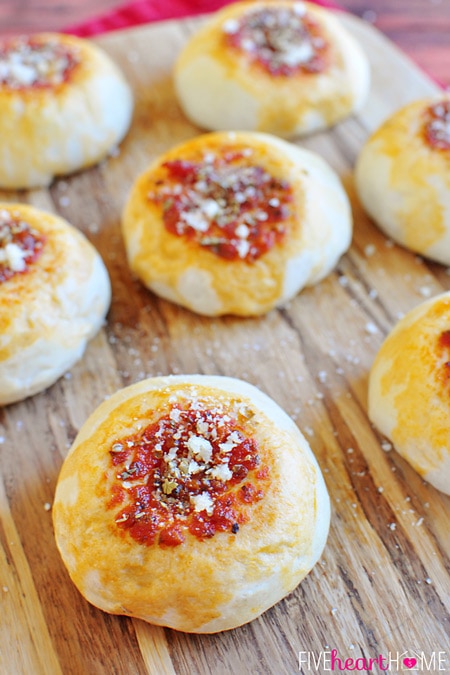 [amd-zlrecipe-recipe:339]
I'd love for you to visit me sometime at Five Heart Home for more quick and easy, family-friendly recipes,
including lots of crock pot fare and a few sweet treats thrown in for good measure… 😉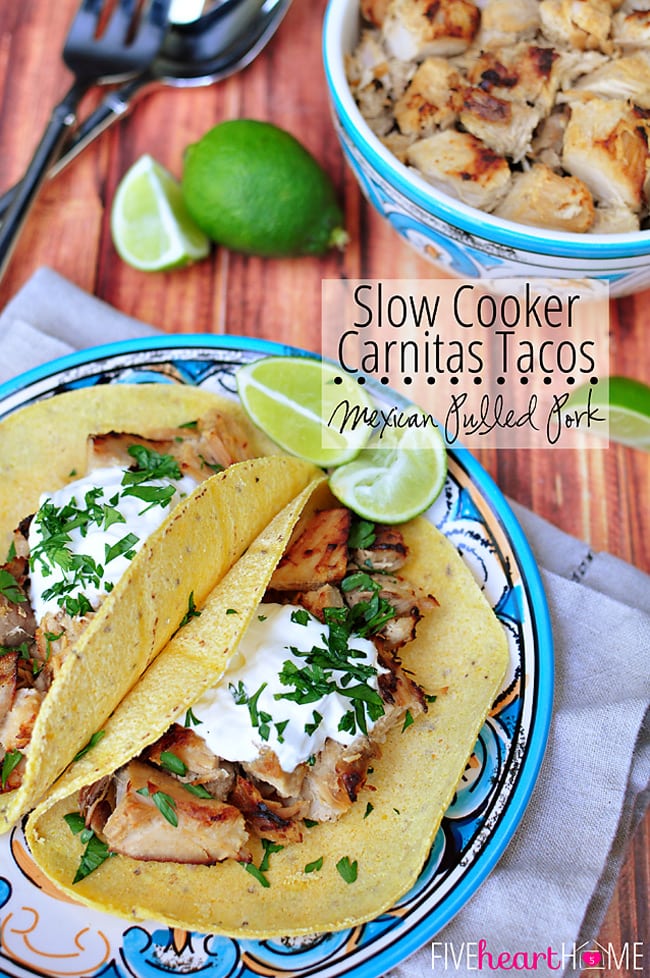 One-Minute Chocolate Peanut Butter Mug Cake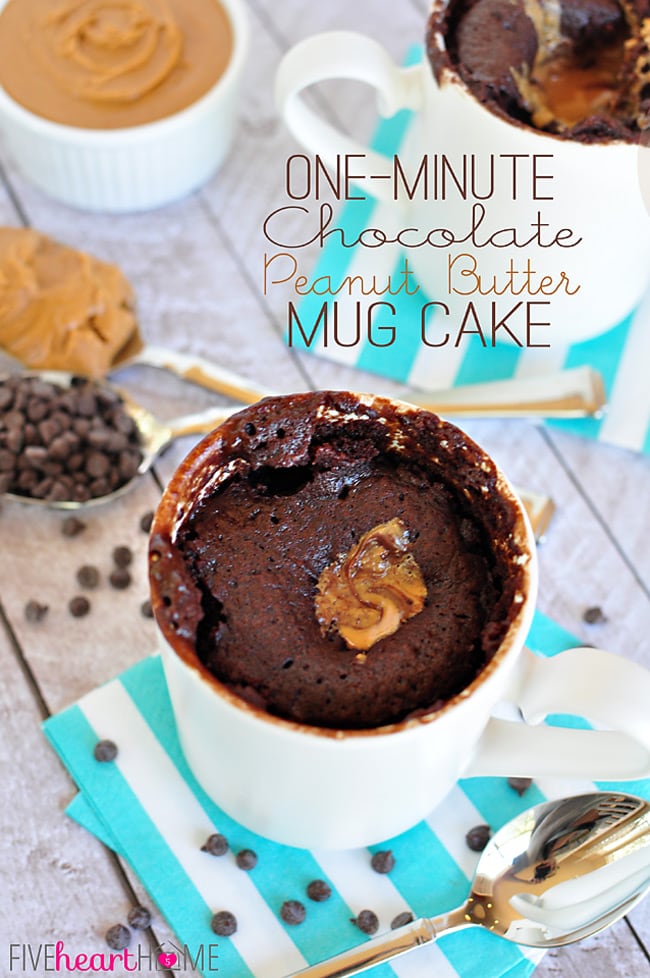 Recipes, please!! (& great family ideas too.)
Subscribe to get our latest content by email.