Print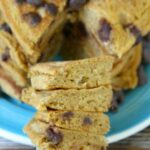 Pumpkin Chocolate Chip Pancakes
Just add a few extra ingredients to your favorite pancake mix to get just-like-homemade Pumpkin Chocolate Chip Pancakes in minutes!
Heat griddle to medium heat (350-375 degrees).

Whisk ingredients together, but do not overmix. Batter will be slightly lumpy. Let stand 2 minutes.

Grease (we like to use butter!) the griddle and pour 1/4 cup batter per pancake onto the griddle.

Cook 2-3 minutes, then flip and cook another 2-3 minutes.

*These pancakes are extra moist because of the pumpkin, so if you eat them hot off the griddle, they might seem slightly undercooked. As they cool, they will seem more done.