Hello everyone, and happy almost-weekend! It's Aimee here again from the elephant of surprise. I'm sharing a baby keepsake shadow box idea with you today. Hopefully it gets you thinking of creative ways to display memories, and maybe even create something for mom this weekend…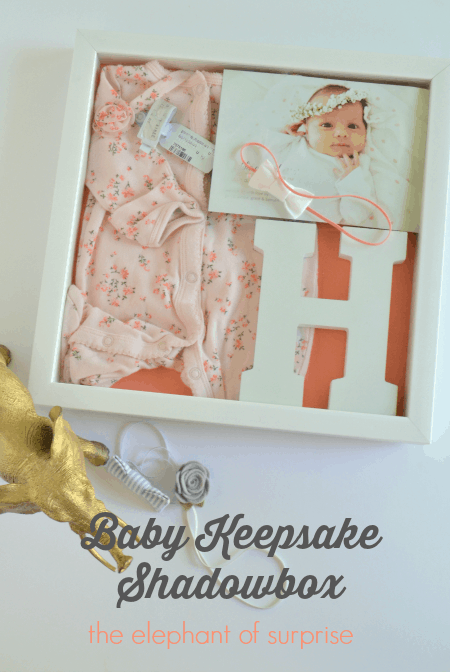 With Mother's Day right around the corner, I'm getting a little nostalgic about my babies! Even though my baby is barely even 6 months, those newborn days seem so distant. There are so many fun and precious ways to preserve memories–one can really get overwhelmed trying to do it all. I choose a few simple things to commemorate the first year, and this newborn shadow box is one of them. It's super simple!
You can find these shadow boxes at most craft stores. They're 12×12–scrapbook paper size, and have a thick, removable back. You can choose any items you want, but in the interest of space, I include the following items in my babies' boxes:
-Outfit they came home from the hospital in
-Hospital ID bracelets
-Birth Announcement
-Wood letter
The first step is placing a piece of 12×12 scrapbook paper on top of the backing. Arrange the first three items on top of the backing and use straight pins to secure them in place. Then place the wooden letter where it fits best and put the cover back on. The letter is loose and can slide around, but since it's hanging on the wall, it won't really move at all.
Here's a shot of what they look like in my boys' room.
I love this sweet reminder of their newborn phase (especially on those days when they're giving me a run for my money). And they love to see how little they once were not so long ago! What do you do for baby memory keeping?
For more ideas on preserving memories, check out these OSSS posts:
DIY Canvas Art – Turn Kid Art into a Personalized Canvas
Preserve Vacation Memories – 3 Simple Ways