There are two reasons I am obsessed with this slush drink. For one, it's so yummy (mine and the Beard Man's new fave). For two, this recipe fills 3 Ziploc bags of slush to put in the freezer…which means, it can easily be pulled out and served on 3 separate occasions! It used to be all extra bananas were put towards
banana bread
or
banana cake
, but NOW…I'm stocking my freezer
full
of this slush. I love having an awesome drink ready to go in a matter of seconds…you just dump the slush in a pitcher and pour a whole 2 liter of ginger ale on top, easy!
K, so here's what you need (for 3 bags/occasions of slush): 1 can of frozen lemonade, 1 can frozen orange juice, 1 large can (46 oz.) of pineapple juice, 4 bananas, sugar, and 3 2-liters of ginger ale (I forgot to put those in the picture.)
Place 4 medium ripe bananas in your blender with 2 cups of sugar and 3 cups of water. Blend well.
Pour the banana mixture into a large bowl. Add the can of lemonade, can of orange juice, pineapple juice, and 3 more cups of water. Mix well until all the juice concentrate has melted.
I forgot to take a picture of this part, and I'm too lazy to do it now…but, just imagine…get 3 gallon size Ziploc bags, pour the mixture evenly into each one. Squeeze out the air, seal and place in the freezer. I usually like to use a measuring pitcher to pour into the bags, less mess. You will need to freeze these for several hours before use…if you're planning on serving that same day.
When you're ready to guzzle the good stuff, pull a bag from the freezer…you might want to let it sit out for 20 minutes of so (if it's super hard), mush up the bag a little to separate the slush into smaller clumps, dump in a pitcher and pour an entire 2 liter of ginger ale on top, stir. Drink! This stuff is still yummy after the slush melts, the carbonation is gone…it's just good all the time.
Tropical, refreshing…
and SOOO easy!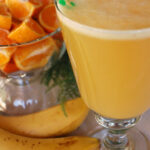 Banana Slush Punch ~ My Current Obsession!
Ingredients
4

medium ripe bananas

2

cups

white sugar

3

cups

water

1 46

oz.

can pineapple juice

1 12.

oz

can frozen orange juice concentrate

1 12

oz.

can frozen lemonade

3

cups

water

3 2-

liters

ginger ale
Instructions
In a blender, combine bananas, sugar, and 3 cups water. Blend until smooth.

Pour into a large bowl and stir in pineapple juice.

Blend in orange juice concentrated, lemonade concentrate, and 3 additional cups of water.

Divide into three gallon size Ziploc bags and freeze until solid. (At least 1 full day)

Remove containers from freezer 30 minutes before serving.

Squeeze bags to separate slush into smaller clumps.

Place slush in punch bowl or large pitcher and pour in 1 2-liter of ginger ale for each banana slush portion.