It seems like I've had lots of recipe posts lately, but I don't want to leave you hanging when we have the Super Bowl this weekend. Check out the
appetizer
and
drink
sections to get more great recipes! Oooh, and then Valentine's Day is coming up, and we have to have fun recipes for that…
check back tomorrow 🙂
Caden has been cooking his tail off, trying to decide what recipe to share for his tv debut on
Fresh Living
. He's thinking about sharing his favorite mini burgers…similar to White Castle burgers. We'll see. Meanwhile, he made a delicious, easy appetizer the other day…Buffalo Chicken Mini-Pizzas. Dipped in ranch (or bleu cheese, which we don't love around here), they are gone in no time!
(More Caden Recipes: Hamburger Gravy and Crescent Rolls)
I'm so sad, I bought some nasty celery JUST for this picture. It was going to look so sexy with a little splash of green, but…I totally forgot to use it. I had hungry wolves breathing down my neck. So, uninteresting picture, but tasty stuff!
Alrighty, you need about 10 Rhodes rolls, a pound of chicken breast (diced), olive oil, paprika, cayenne pepper, butter, hot sauce, ranch (or bleu cheese, if you like that better), mozzarella, and nasty celery (to make it look cute).
So, first press your individual dough rolls out into about 5 inch circles and place on a greased (sprayed) something…sheet pan, counter space, etc. Cover with plastic wrap and let it rise until doubled in size. Caden placed his dough near the fireplace to speed up the process…I usually use a warm, humid oven, or the sunshine.
Heat the oven to 400 degrees. Cook your chicken, then sprinkle it with paprika and cayenne pepper. How ever much you want!
To make your buffalo sauce, melt 2 TBS of butter and mix it with 1/2 cup of hot sauce. Stir together and pour over the chicken.
Grate some mozzarella…
Once the dough has risen, spread your dressing on each piece. Caden used ranch, but bleu cheese is fine too. If you're crazy. After the dressing has been spread, top with the chicken and a handful of mozzarella cheese. (Make sure your pan is greased)
Place the mini-pizzas in a 400 degree oven for 10 to 15 minutes.
Serve with extra dressing for dipping! P.S. These are not so good if you reheat them in the microwave. Too mushy. Eat them right out of the oven!
Buffalo Chicken Mini-Pizzas
(Adapted from Rhodes Family Favorites)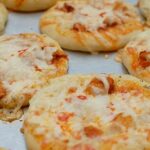 Caden's Buffalo Chicken Mini-Pizzas
Ingredients
10

frozen Rhodes dinner rolls

thawed

1

lb.

diced chicken breast

olive oil

paprika

cayenne pepper

2

TBS

melted butter

1/2

cup

hot sauce

ranch or bleu cheese dressing

grated mozzarella cheese

celery

for garnish
Instructions
Thaw the frozen rolls, spread them into 5 inch circles and place on a sprayed sheet pan.

Cover with plastic wrap and let rise until doubled in size.

Heat oven to 400 degrees.

Cook the chicken in a pan, drizzled with olive oil.

Sprinkle the chicken with cayenne pepper and paprika.

In a bowl, combine the melted butter and the hot sauce. Pour on top of the cooked chicken.

When the dough has risen, spread either ranch or bleu cheese dressing on top of each circle.

Top with chicken and a handful of cheese.

Bake for about 10 to 15 minutes.

Serve with a side of dressing for dipping!

Don't reheat in the microwave, or they get soggy. 🙂