Last month, my mom had her annual Valentine's Day party. All the kids (my siblings and I) were asked to bring a yummy Valentines-ish treat. I brought my favorite pink Cherry Chocolate Fruit Dip. My sister in laws brought pink popcorn and a strawberry cheesecake. The dessert table was totally pink, red, and fancy. And, then there were these big, fat, globby, brown wads sitting in the midst. I didn't think much of them until I saw Dan totally downing one, telling me, with his mouth full, that I had to try them. I did. It was awesome. I probably had three or four…or seven. In fact, I didn't eat anything pink or red all night long. Before I left, I knew I had to get the recipe, so I start asking all the girls which of them brought the brown stuff. Lo and behold, it was my new brother in law, Trevor. A dude! I know I shouldn't be so impressed, but in my family the guys don't make much more than toast. So, asking him for the recipe was a foreign experience. I liked it.
He'll be so excited to have his face on my girly blog. Aren't they the cutest couple?!?
Anyway, he emailed me the recipe for these S'mores Bars. I'm sure it's nothing new in the recipe world, y'all have probably had them before. But, I love them. It was my first, and I need more. I heart chewy stuff.
Chewy Gooey S'mores Bars
from Betty Crocker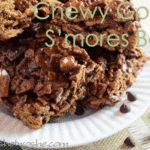 Chewy Gooey S'mores Bars
Ingredients
8

cups

Golden Grahams cereal

5

cups

miniature marshmallows

1 1/2

cups

milk chocolate chips

1/4

cup

light corn syrup

5

tablespoons

butter or margarine

1

teaspoon

vanilla

1

cup

miniature marshmallows

if desired
Instructions
In a large bowl, measure cereal.

Butter 13x9-inch pan.

In large microwavable bowl, microwave 5 cups marshmallows, the chocolate chips, corn syrup and butter, uncovered on High for 2 to 3 1/2 minutes, stirring after every minute, until melted and smooth when stirred. Stir in vanilla.

Pour over cereal; quickly toss until completely coated.

Stir in 1 cup marshmallows.

Press mixture evenly in pan, using buttered back of spoon.

Let stand uncovered at least 1 hour, or refrigerate if you prefer a firmer bar.

For bars, cut into 6 rows by 4 rows.

Store loosely covered at room temperature up to 2 days.