I've never really been a huge cherry fan, more specifically, a maraschino cherry fan. But, the other day I was scrolling through one of my favorite sites, Deals to Meals, stumbled on this recipe, and all of the sudden, I decided I was going to like cherries. Something about this recipe was calling my name, and I'm SO glad I made it! I love fruit dips, especially Caramel Toffee Dip, but now I have another delicious dip recipe that I would happily eat all day. Mmmmmm…I loved it…still love it…will be eating it all day tomorrow, hopefully not, but probably.
* All my Instagram followers got a sneak peak at this recipe. Find me there at 'orsoshesays'. 🙂
Everything you need for the Chocolate Cherry Fruit Dip:
16 oz. cream cheese (2 bars)
3/4 cup heavy cream
2/3 cup sugar
10 oz. jar maraschino cherries, drained (save the juice)
5 T. maraschino cherry juice
4.4 oz. chocolate bar
4.4 oz white chocolate bar
1 tsp. vanilla
1/2 tsp. almond extract
dipping fruit (bananas, apples, pineapple, etc.)
First, you lug out your honkin food processor. Dump the cherries in, and pulse until well chopped. Break up the chocolate bars, add to the food processor and pulse just until the chocolate is chopped to small chunks. If you do it too long, your dip won't have the yummy chunks, which are my personal favorite part. The biggest chunks are MINE.
That whole part should take you 2 minutes. Super easy. When you're done with that, it should look nice and nasty, like so…
Set the chocolate/cherry mixture aside and pull out another bowl. In that bowl, combine your sugar, cream cheese, and heavy whipping cream. Mix well. Add the vanilla, almond extract, cherry/chocolate mixture, and finally the cherry juice. Mix well.
Chill and serve with your favorite fruits. I loved dipping apples, but bananas would be super good too…maybe pineapple, strawberries, or just your finger.
Cherry Chocolate Fruit Dip
adapted from Deals to Meal's recipe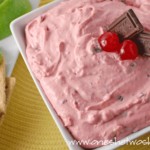 Chocolate Cherry Fruit Dip
Ingredients
16

oz.

cream cheese

2 bars

3/4

cup

heavy cream

2/3

cup

sugar

10

oz.

jar maraschino cherries

drained (save the juice)

5

T.

maraschino cherry juice

4.4

oz.

chocolate bar

4.4

oz

white chocolate bar

1

tsp.

vanilla

1/2

tsp.

almond extract

dipping fruit

bananas, apples, pineapple, etc.
Instructions
Dump the cherries in a food processor, and pulse until well chopped.

Break up the chocolate bars, add to the food processor and pulse just until the chocolate is chopped to small chunks. Don't over-pulse the chocolate, you want small chunks.

Set the chocolate/cherry mixture aside and pull out another bowl.

In that bowl, combine your sugar, cream cheese, and heavy whipping cream. Mix well.

Add the vanilla, almond extract, cherry/chocolate mixture, and finally the cherry juice. Mix well.

Chill and serve with your favorite fruits (apples, bananas, strawberries, pineapple, etc.)
Linked – WhipperBerry
Linked – 30 Days
Linked – The Shabby Creek Cottage