So, I got to thinking how I really, really want to save more time for my family in December and do lots of Christmas related activities together. Sometimes when I don't decide things like that ahead of time, it never happens. I'm sure you understand. Life is busy! But, family is super important, so I got to thinking… what could I do that would be fun for the family? What could I put together that I could share with you?? And, then it hit me.
The 12 Days of Christmas Family Fun.
I'm way excited and I would love, love, love if you did it with me. It's simple, adjustable to your family's interests, and I promise you'll have lots of fun together! The series will officially start December 1st and run through the 12th, but I wanted to give you some information on it and printables right now so you can start planning on it!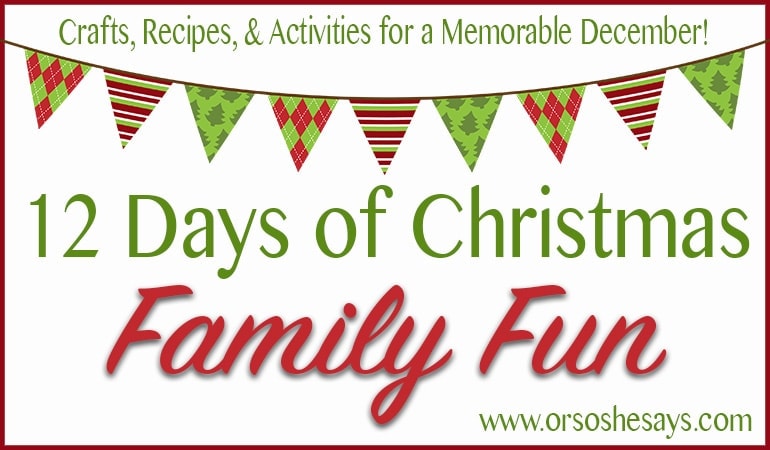 The easiest instructions, ever…
1. Print off as many sheets of Theme Tags as you have children participating. There are two sheets needed for each child, days 1-6 and days 7-12. See and print below.
2. Each day, for 12 days in December, leave a small gift with the corresponding tag, announcing the theme for the day attached, next to their bed, for them to find when they wake up. (The gifts can be a small piece of candy, dollar store prize, or whatever. Or, it can just be the tag, no gift. You choose!)
3. Throughout the day, do activities related to the theme for the day!! You can come up with your own ideas or if you want some suggestions, just stop by the blog for our round-ups of super cute and simple ideas related to the theme. The ideas will be released daily on the blog, December 1st through December 12th, in the announced order. If you share any pics, use hashtags #12daysofchristmasfamilyfun, so we can see the fun that you and your family came up with!
What do you think?? Fun, right?!? My team found the CUTEST ideas for every day of this series and we're excited to share them with you. Of course, you can use your own ideas, but you may want to check out our suggestions too. 😉
Please share this with any of your friends that may want to participate too! I can't wait for December 1st.
Oh, and guess what else… She Picks! 2015, the biggest gift idea series of the year, starts this coming Monday!! Three straight weeks of gift ideas. The BEST gift ideas, mind you. We spend a lot of time researching the best and coolest products out there. You'll want to be here, for dang sure.