Hello again!! Zainab here from Blahnik Baker. I am so happy to be back to share a recipe with you guys since it's been a while! These coconut lemon cupcakes with raspberry frosting were the talk of our last BBQ and I couldn't wait to bring them to you hoping you will give them a try!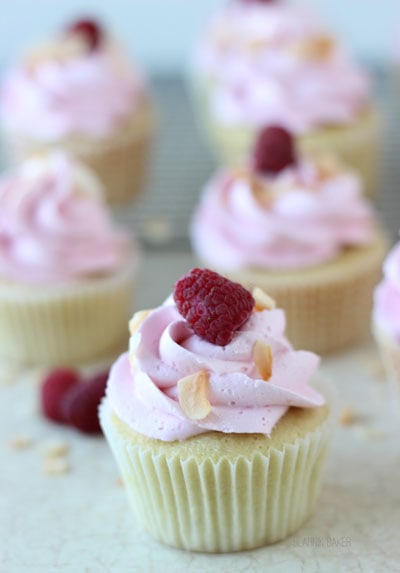 Since it is officially summer now (yay!!!), how is your summer going? I hope you are enjoying it! I decided this summer to try to do new things and I've been exploring our city in new ways. No more malls and shopping trips to run away from the heat. Instead, we are doing more outdoor activities like visiting the zoo that don't always require an entire day out in the sun. Or visiting a nearby waterfall park that will involve playing in the water to cool down. What are some of your summer plans? Any bucket list activities?
We are also attending a lot of barbeques and picnics with friends and family. For some reason, everyone seems to be throwing a picnic but it's fun to attend these parties especially to catch up with people you haven't seen in a while. Being the baker in the family, I am always bringing some sort of baked treat and these cupcakes were my last creation.
Remember how we established a few weeks ago that I LOVE coconut? (Exhibit A: Chocolate Coconut Pound Cake). Well I hope you do too (at least to some extent) because I am back with another great recipe for your next summer celebration. I used my favorite Vanilla Cupcake recipe base in these cupcakes and adapted it by using coconut milk for a great mild coconut flavor. Coconut milk also makes moist cakes and cupcakes, so I love using it in baking. These fluffy coconut cupcakes are combined with lemon zest to give a wonderfully aromatic cupcake, and are finally topped with a whipped raspberry buttercream made with fresh raspberry puree.
Seriously they taste as good (even better) as they sound! Luckily they are super easy to whip up, less than an hour and I promise they will be a hit at your next gathering.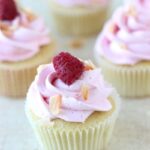 Coconut Lemon Cupcakes with Raspberry Frosting
Ingredients
For Cupcakes
• 2½ cups all-purpose flour

• ¾ teaspoon salt

• 1½ teaspoon baking powder

• ¼ teaspoon baking soda

• 1 cup

2 sticks unsalted butter, room temperature

• 2 cups sugar

• zest and juice of 1 lemon

• 3 eggs

room temperature

• 2 teaspoon pure vanilla extract

• 1 cup coconut milk

room temperature
For Raspberry Frosting:
• 3 ½ sticks unsalted butter

softened

• 3-4 cups sifted confectioners' sugar

• 3 tablespoons milk

• 2 teaspoons vanilla extract

• Pinch of salt

• 2-3 tablespoons raspberry compote

see below
For Raspberry Compote
• 1 cup fresh raspberries

• 2 tablespoons sugar

• Zest and juice of ½ a lemon
Instructions
Preheat oven to 350 degrees F. Line two muffin pans with cupcake liners or silicone baking cups.

In a medium bowl sift together flour, salt, baking powder and baking soda.

In the bowl of an electric mixer, cream butter and sugar until pale and fluffy, about 5 minutes on medium speed. Add the lemon zest and mix for an additional minute. Add eggs one at a time, beating until combined after each addition. Beat in vanilla extract and lemon juice.

Reduce mixer speed to low and slowly add about half of the flour mixture. Add half of the milk, then the rest of the flour and the rest of the milk. Beat until just combined. Scrap down the side of the bowl as needed.

Pour batter into prepared pans. Fill liners about ? full. Bake cupcakes until lightly golden or a toothpick inserted into the center comes out clean, about 12-14 minutes.

Remove cupcakes from pan and let cool completely on wire rack before frosting.
For the Raspberry Frosting:
Make compote first: Combine all the ingredients for compote plus ½ cup water in a small saucepan set over high heat. Bring to a boil and reduce heat to medium. Cook, stirring occasionally, until berries are soft and thicken about 15 minutes. Remove from heat. Pass through a fine sieve if desired. Let cool to room temperature before using. (Chill in fridge if you are in a hurry!)

Whip butter for 8 minutes on medium speed using the paddle attachment of an electric mixer. The butter will become pale and creamy

Add the rest of the ingredients, except raspberry compote and mix on low speed for 1 minute. Then increase speed to medium and mix for 6 minutes until the frosting is very light, creamy and fluffy. Add raspberry compote and whip for additional minute or two to combine.

Frost cooled cupcakes.
I would love for you to stop by Blahnik Baker sometime where I share everyday dessert recipes that are easy and elegant like these summer recipes below: