Hello again! I'm so happy to be back here sharing another recipe with you!
Because it's summer where I live (thank goodness), I've got summer food on my mind, and that means BBQ and campfire food! But BBQ's aren't just for cooking steaks, they are such a great way to cook side dishes too. Cooking your entire meal on the BBQ means less kitchen clean up (woot!), and not only that, there's just something about cooking outside that makes food taste SO good!
One of our favourite side dishes is roasted potatoes done on the BBQ. This recipe is so simple and so yummy! Plus, this method works great for camping – you can just cook them on the grill on your campfire! Hearty and delicious!
Cook-Out Roasted Potatoes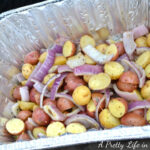 Cook-Out Roasted Potatoes
Ingredients
Cook-out Roasted Potatoes

1

lb

baby potatoes

washed and cut into halves

1

large red onion

sliced

drizzled olive oil

1 - 2

tsp

oregano

seasoning salt

I love Lawry's & pepper to taste (we use these generously)
Instructions
Combine all the above ingredients. You can either wrap this up in tin foil, or cook it in an open tin container. I have recently discovered that I like to use the containers the best! It makes stirring and monitoring food much easier!

Cook over a medium to high heat BBQ, or over a low flame campfire.

Stir often during cooking.

Potatoes are done when they are nice and golden brown.
Recipe Notes
You can add all sorts of veggies to this recipe. Sometimes we like to add mushrooms, garlic, chunks of bell peppers, or sweet potato. The possibilities are endless! Keep in mind that the more veggies you add, the more olive oil and seasoning you will likely need.
I hope you enjoy this recipe. It's so simple, but sometimes the most simple things are the most tasty!
Till next time & Happy Summer!
You know what would go great with these potatoes?? Check out these recipes:
BBQ Beer Flank Steak
Oven Baked BBQ Ribs (Dan's Favorite!)
Flank Steak Pin Wheels