How about a few favorite things for the month?? It seems like I'm always stumbling on great products and new favorites, so why not share them!!? Here are 5 of my top picks… things I'm loving RIGHT NOW!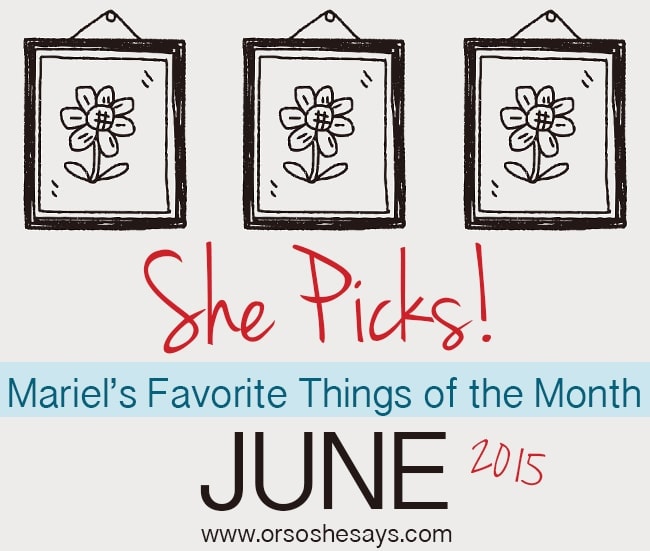 Pick #1:
These Crocs Really Sexi Sandals are rocking my world. High five to Crocs for creating something comfy AND cute! I picked these up to wear on my 15 year anniversary trip to Savannah, where I knew I would be doing a lot of walking. So far, I've walked about 37 miles through the Atlanta airport (that place is the looooongest building in the world, I'm sure of it.) Anyway, for a girl that is devoted to her granny arch support flip flops, a.k.a. Orthaheels, these Crocs gave them a run for their money… and they're a hundred times more adorable. Sold! Get your own RIGHT HERE.
I love to cuddle up with the kids and read to them. We have found several favorite novels (see 30 Books to Read Out Loud to Older Kids), but right now we are loving Escape from Mr. Lemoncello's Library by Chris Grabenstein. It's the story of Kyle and the new library in town. Kyle is one of the lucky winners, chosen to have a sleepover in the new local library. The sleepover turns into a race game, to see who can find and understand the clues to escape from the library first. It's been a fun and exciting book… and a great one to read out loud. Get a copy RIGHT HERE.
Pick #3:
Don't be surprised if I always include a Norwex product. I've been obsessed lately (see why, HERE), and keep finding new things that I love. But, this month I would probably say that I'm most obsessed with the Body Cloth. I mentioned it earlier, but the fact that I never have to buy facial cleansing wipes or face wash again, is truly a-freakin-mazing. I don't have to buy it, WHY, you ask?? Well, because the Body Cloth just needs water on it and it works BETTER than if I was to clean my face with anything else (true statement.) I am literally buying these for all of my friends and family right now, because I'm know that I'm doing them all a favor, they just might not realize it, YET. Get a set of 3 RIGHT HERE. (P.S. There are two different kinds, you'll notice. One is the body cloth, shown below, which is a little more exfoliating. The other is the Makeup Removal Cloths, which are more smooth. Both work awesome.)
Pick #4:
In the summer, I LOVE wearing comfy skirts. They're AS comfortable as my favorite leggings or yoga pants, but much cuter. Plus, they keep me cool in the hot Utah sun. I often find comfy skirts at DownEast, but Old Navy really came through for me this time. I love these long pencil skirts! I bought the one cobalt blue one, but I'm seriously thinking of grabbing this striped and also the black one. I wish they had more summery colors to choose from, but the blue is fun. They fit so perfectly and I love wearing it with my Crocs sandals (above, Pick #1), and the Old Navy v-neck Vintage t-shirts. Actually, that's exactly what I'm wearing right now. 🙂
Pick #5:
Okay, finally… this month I am loving gym Body Back Buddy Self-Massage Tool. I have a back full of knots. Like, FULL. So, having the luxury to work on them myself is huge. Have you seen these crazy looking massage tools before?!? They're cool. They have knobs all over it to help you really get into those knots, on all different parts of your body. I keep it by the side of my bed, and end up standing next to my bed for an hour, before climbing in. Once you start using it, it's hard to stop! I love the I can get it right in the exact needed spot and put as much pressure and movement on it, as I choose. Get yours RIGHT HERE.