Hello again! It's Jessica's sister, Rachel. I wrote
a post
awhile ago about some activities you can do with your kids to
help them with their math
. In case you missed it, I live in Wyoming, have a wonderful husband, Andy, and a 4 month old little boy, Ryan.
Since I had a baby this summer, I got a little behind in my canning. Typically I would do this in the late summer or early fall, but with the baby in July, I'm just happy to be getting this done in November! Long story short, this pie filling is easy enough to squeeze into your busy schedules, so give it a try!
Here's what you'll need:
Apples – any kind will do, but I usually look for something a bit tart
4 1/2 cups sugar
10 cups water
1 cup cornstarch
1-2 tsp. cinnamon
1/4 tsp. nutmeg
1 tsp. salt
3 Tbsp. lemon juice
Yellow food coloring
Peel, core and slice your apples (an apple peeler-corer-slicer will be your best friend!).
This one on Amazon, got the best reviews, and it's only $23!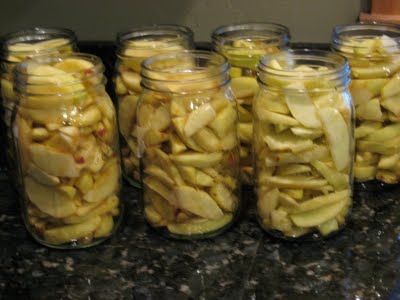 Once the bottles are packed with apples, begin cooking the filling. Mix together the water, sugar, cornstarch, cinnamon, nutmeg and salt. Cook over medium heat until it thickens. Cool slightly, then add the lemon juice and a few drops of food coloring.
Pour about 1 to 1 1/2 cups of filling into each bottle. Basically you just need to fill it up! Be sure the filling gets down all sides of the jar and into the bottom. You may have to put a knife down the side of the jar to help the filling get in between all of the apples.
Wipe off the tops of the jars with a clean cloth, then place the lid on top. Screw on a ring and place in the canner. Process in a hot water bath (or a steam canner) for 30-35 minutes. Remember, if you live at a high elevation you need to increase your processing time.
Remove from the canner and allow to cool for 24 hours. Be sure that all of your bottles have sealed before you store them.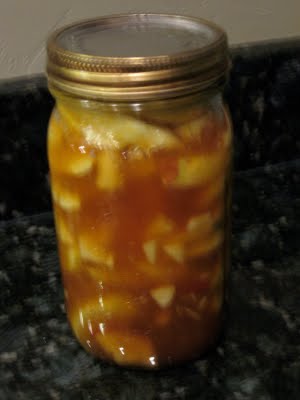 The best part of this is the yummy apple pie you get to eat later! When you're ready for pie-eating time, all you have to do is line a 9-inch pie dish with crust, pour in the filling, put another crust on top, and bake! It's as easy as pie 😉 I don't know about you, but my Thanksgiving pie cooking just got a lot easier!