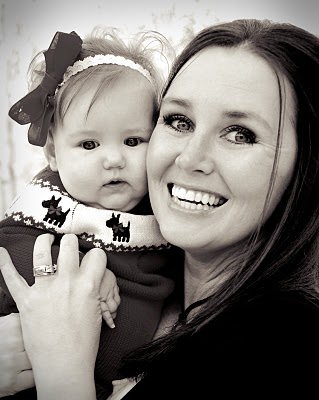 It's good to be back again! (My previous post, "
Plastic Surgery 101
") My name is
Jylaire
. When Mariel asked me to post again, I honestly was iffy on what to write about. I am definitely not an expert on the subject at hand; just well seasoned! I am now the mother of 3 little ones; ages 5, 3, and 9 months. I'm a stay at home mom who occasionally changes gears and works as a registered nurse.
I had baby #3, a little beauty named Piper Jane, last July. (Yes, she is as
squishable
as she looks!) I was a devout Gerber baby food groupie with babies 1 and 2. For some reason I decided to go the homemade route this go around. Cost? Maybe. I do love to save a buck! I know that baby food runs around $1.00 for a 2 pack. If only we could all eat for $.50 a serving! But it definitely adds up! We're currently living in a time where every dollar counts, so why not try and stretch that dollar a little further! Another reason was surprisingly the convenience factor. I'd had a couple of friends who had been doing it for years, and claimed it was not only cost effective, but fast. I started to like the sound of it!
I named this post "homemade-
ish
" for a reason. There are great ways to make baby food; some people buy all organic fruits, veggies, etc. Some just start with all fresh produce. Some start with canned fruits and veggies. I personally do a mix. I participate in a produce co-op in my area. It's an amazing way to get a hold of great produce for a fraction on the cost. I've used both
http://www.greenbeeproduce.com/
and
http://www.bountifulbaskets.org/
. I pick up a box or basket of fresh fruit and veggies every Saturday. It's a great way to try new foods not only for my older kids, but for the baby, too! I also stock up on canned fruits and veggies that are either out of season, or are a hassle to deal with!
To start this process, you'll need a couple of things:
Step 1: Storage Containers-
I'll be honest and admit that I just started out by buying about 5 2-packs of
Gerber
baby food and have used them over and over again. They wash up great in the dishwasher, plus, they're the perfect size and are
stackable
! There are lots of great options for storage containers. One idea is to make your baby food (I'll get to that in a sec.) and scoop it into ice cube trays. Cover with
cellophane
wrap and freeze. When it has frozen, you can release the cubes and put them in quart or gallon labeled freezer bags.
Easy, right?
There are also some great products (and
BPA
free) that you can purchase especially for the storage of baby food…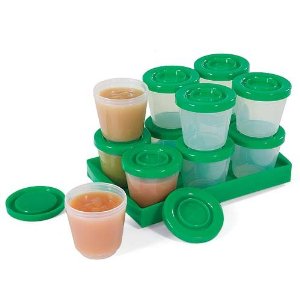 Stay Fresh containers
' 12 pack $9.95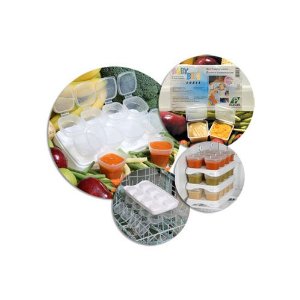 Baby Cubes
; $10.99 at amazon.com
Step 2: Preparing the food-
I'm obsessed with infomercials, so it's no wonder that I LOVE the
Magic Bullet
. It chops, dices, purees, all in seconds. You can use a blender, a baby food grinder, or food
processor
. If using canned fruits/veggies, I drain the can and then go to work! Some veggies need to be thinned. I add purified water a little at a time until it is the consistency I want. Fruit, especially canned, rarely needs water added. With fresh veggies, I use my handy dandy
microwave steamer
to soften the veggies and then puree them.
Get creative here!
Just because it's not in the baby food aisle at the
Walmart
does NOT mean you can't make it for babies! If you make a large portion, take a minute to store the extras for another time. It's so great to open my freezer and see stacks of baby food there just ready to be eaten! It's also nice to be able to take whatever fruit or vegetable you've already prepared for your family and make it baby ready in seconds.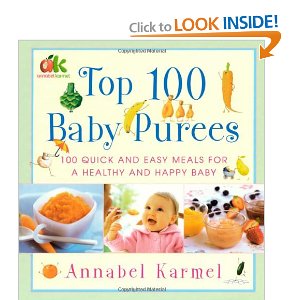 Top 100 Baby Purees;
Annabel
Karmel
$10.88 at Amazon.com
There are a ton of great resources when it comes to making your own baby food.

(Always check with your pediatrician about what times to

introduce

what foods…)

One book that I read with my first baby was "Super Baby Foods" by Ruth

Yaron

. Definitely a good read, with great recipe ideas! There are also a lot of online sites dedicated to baby food. One that I particularly liked was

www.homemade-baby-food-recipes.com

.
Helpful Tips:
– Steamables: asparagus, spinach, carrots, sweet potatoes, squash, fresh green beans and peas, etc.
– Bananas; Super easy and yummy, but will brown super quick! Either add a touch of lemon or apple juice or just serve quickly. DO not freeze.
– 1 regular sized 10ish oz makes around 3 servings of baby food. If you're paying around $.50 per can, it's like getting 3 jars for the price of one!
– Sometimes canned is definitely easier! I buy canned sweet potatoes. The large can from Walmart costs around $1.40 and makes 10+ servings of baby food. What a deal!
– As the weather warms up, check out local farmer's markets! The produce there is super fresh, and usually a bargain!
– Fruit and Veggie baby food lasts up to 3 days in the fridge and up to 3 months in the freezer. Make sure to label everything; not only ingredients, but dates!
– Take one afternoon and make several types of baby food in bulk. It's great to have a nice supply on hand, and adds to convenience!
– If your baby refuses a certain food, add a little bit of that food in with another one and mix. It worked great with my baby. She wouldn't eat carrots, but loved them mixed with peas.

Just think of all the money you could be saving!
I hope that this makes sense! This is something that has worked out great for me, and I hope it does for you too! Happy baby food making!
~ Jylaire