In case you need a giggle this weekend, Dan is sharing another Man Rant you don't want to miss. Maybe you'll find his advice on mouse eradication helpful… or hilarious.
Ready for another man rant?
I am NOT a wuss.
Okay, okay, so I am a bit of a wuss, but not when it comes to stuff like spiders, snakes, and mice. Sure, I'd rather not have any of these things rush at me, but in general I don't wig out when I encounter them.
That's why I hesitate to admit that a mouse was very nearly responsible for me being hospitalized for the emotional warfare it levied against me and my family.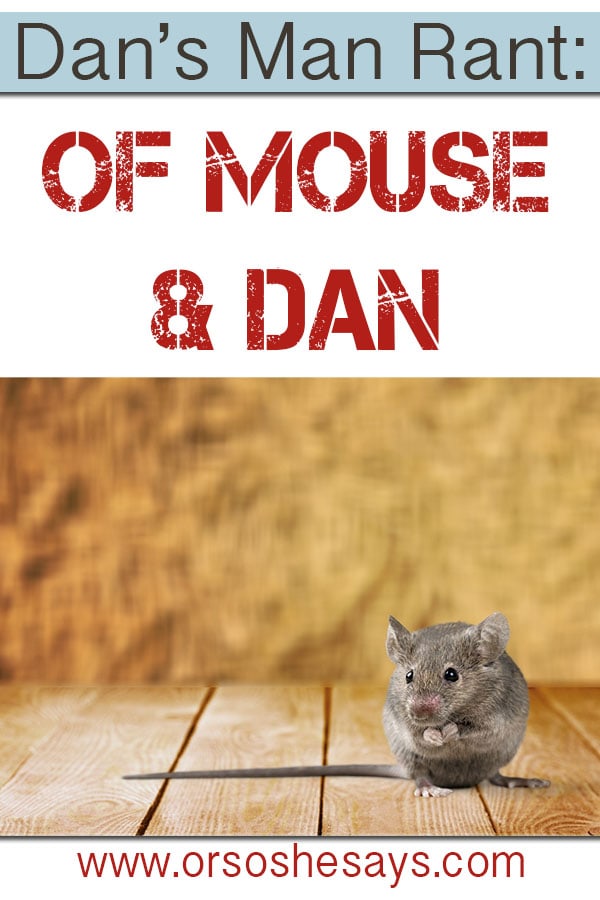 May it please the audience, I introduce to you, the Jacobs' mouse, Ramen Houdini (RH for short). Look at how fat he is!! What a lard…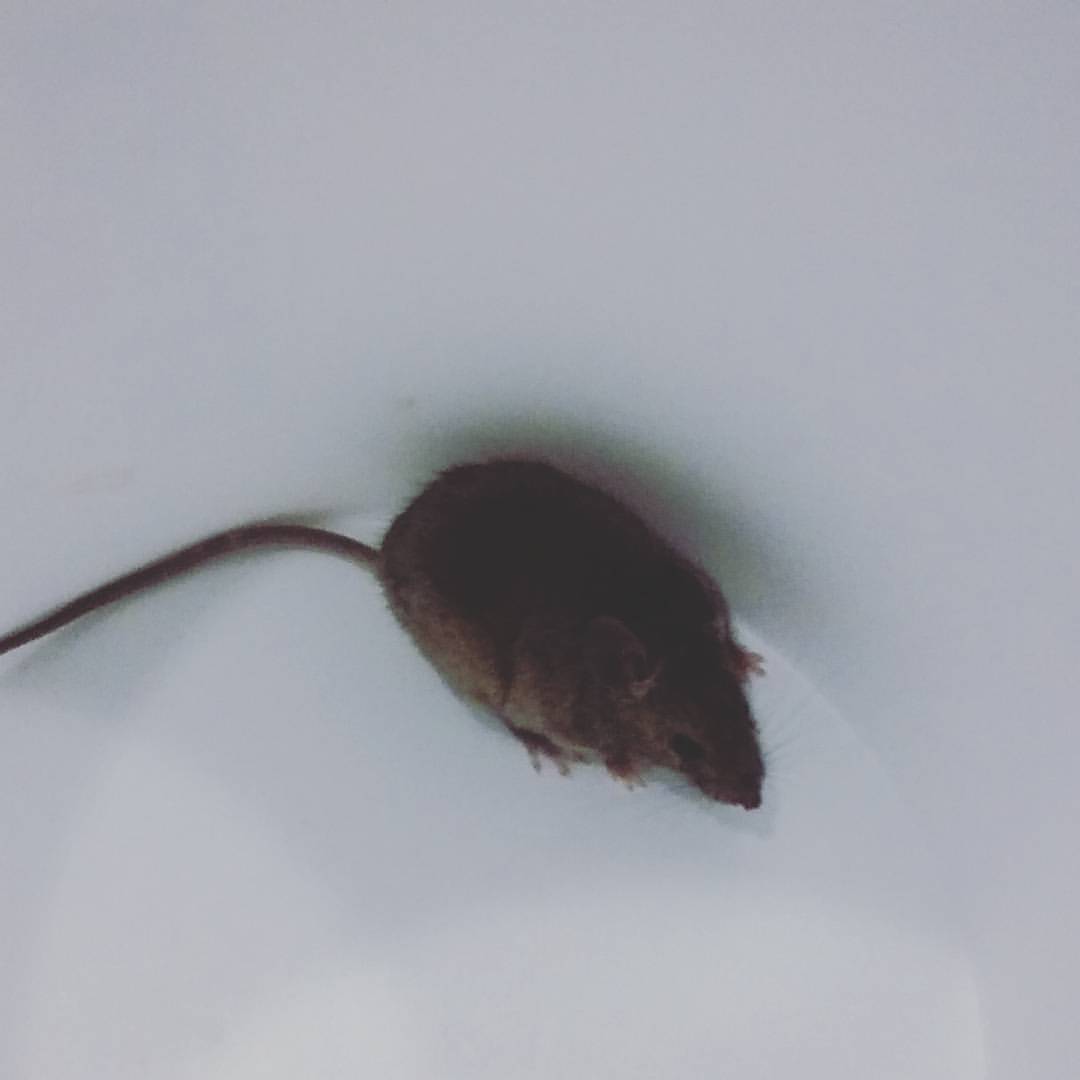 RH is dead. Finally. I finished him off with my running shoe as he attempted to scamper back towards to our house I had just evicted him from. It was pure reflex; a perfect strike. His last meal, Top Ramen (hence his name) shot out of him in all directions (sorry to be so graphic) indicating to us what he had been gorging himself on in our pantry for the last several months.
RH was the most diabolically clever mouse there ever was. I think he was toilet trained, because he never left droppings. I also am convinced he was smarter than me. He stole the bait out of my traps, ignored the mouse poison I had set out for him and even put two perfect little paw prints in one of those sticky traps (how the heck did he get out of that one??). It was like he was putting his hand-prints in cement for the Hollywood walk of fame, just to let me know that he was there. He was a ninja among mice.
RH's undoing was gluttony. He mistakenly assumed that high times were here to stay. He had nibbled a small hole in a case of Ramen on the top shelf of our food storage room, and over the course of several months (I assume) had eaten 14 of the 16 packages completely. It was with nauseous admiration I viewed his handiwork. His unholy addiction to Ramen is what ultimately did him in.
Once I found his preference, I set every trap I had with Ramen, hid the rest of his cache, and within two hours, I had injured him enough with one trap – though it still didn't kill him somehow – where I was able to catch him, try to take him outside to humanely dispatch him, and ultimately introduced him to my size 13 shoe.
RH's destructive work wasn't done. No, I would gladly invite him back for a Sunday dinner of Top Ramen every week from now until eternity than to have to go through what he put me through AFTER his death.
After I had thoroughly scrubbed my food storage room, found his filthy little hidey-hole, emptied an entire case worth of Clorox wipes and Lysol disinfectant in our basement, that is when his true evil-genius work began. Thanks to him, and a little help from WEB MD, within 48 hours of RH's demise, I had convinced myself I had contracted Hantavirus from him.
Now Hantavirus is no laughing matter. It is a horribly deadly disease thought to be spread by mice. It is truly awful, and I don't mean to make light of it in any way, but I am more likely to have a troop of Howler Monkeys escape the zoo, and shake me down for bananas than contract the disease. It is that rare. But not for my anxiety prone mind apparently.
With a little help from Google and the powerfully haunting spirit of RH, I knew without a doubt I had hit the lotto of diseases and was on my way out. That's the way Dan's insanity-go-round works sometimes.
For 3 weeks I battled the ghost of RH. If I had been repeatedly run over by a track hoe, I am certain that I would have considered that an improvement to the hell that little vermin piece of rodent crap put me through.
So. I don't have Hanta. Praises be for that. I do, however, now have a growing and irrational fear of mice. I am the veritable elephant dancing on the table in the cartoons when it sees a mouse. I hate them. Despise them. LOATHE THEM ENTIRELY!
Is there anything to be learned here? Are there any take-aways you can store for a later date when you, as most of us will in life, encounter a mouse? Yes, yes there are. No need for rash decisions. Remain calm. Here are my suggestions:
1 – If you see mouse crap in your house, burn the house to the ground. There is no other way.
2 – If you think you have a mouse – use Top Ramen as bait. Chicken flavor seems to be irresistible to them. After you have caught the mouse, raze your house to the ground (I love the way that sounds). If you have a Houdini mouse, I suggest you have someone perform an exorcism and then have your home condemned.
3 – If you are concerned about any disease that you think you might have, please consult the internet and leave yourself no doubt that you will be dead in 48 hours. It's soothing. Tim McGraw's "Live like you were Dying" will undoubtedly be playing on every radio station until your crisis passes.
4 – Allow friends and family to weigh in on social media about your plight. Comments like "Mice are prolific breeders" and "There is no such thing as one 1 mouse in the house" are as good as drinking chamomile tea for nerves.
5 – Resist the urge to run away screaming every time you see someone in Mickey Mouse attire.
There you have it. Sage advice from someone who's been there.
For more posts like this one, check this out:
Dan's Man Rant: Poison Ivy Edition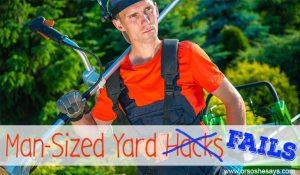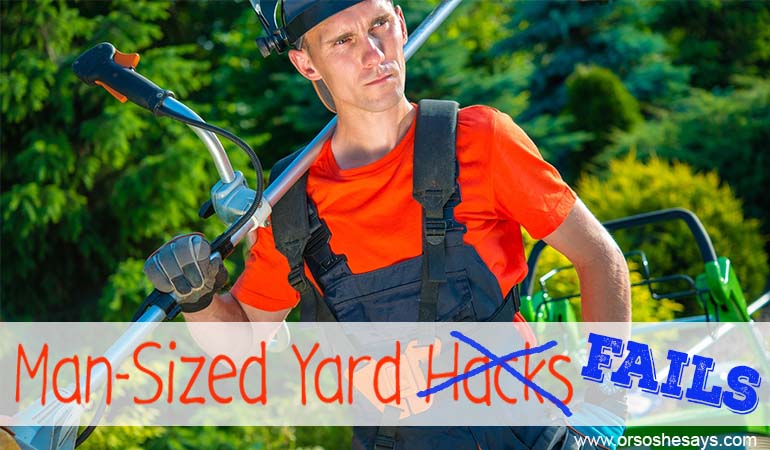 What I learned From Prayers and Bird Poop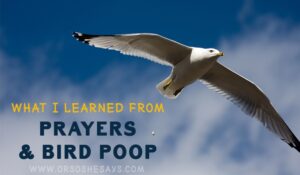 And maybe you feel like cleaning a little after reading about mice!
Norwex Kitchen Cloth – My FAVORITE Way to Clean Sticky Messes Off Countertops
Save
Save