Hey,' Or so she says …' friends! It's Cathy from Lemon Tree Dwelling, and I'm so excited to be back with you today… sharing my first Christmas post! In my world, as soon as Halloween is over, the holiday season might as well be here! I start planning our Thanksgiving menu, picking out Christmas presents, and, of course, getting some holiday baking dates on the calendar!
I have some wonderful holiday baking traditions with both family and friends, and I look forward to them every year! First, my sisters, mom and I get together for a day of cookie making and usually end up with a dozen or more different kinds of cookies. We have some old standbys (spritz, cut outs, peanut butter kisses) and we always sprinkle a few new ones into the mix, too. Then, some friends and I get together for a day of bar and candy making that lasts into the evening and results in more goodies than I could ever imagine eating. It's marvelous!
Typically I spend the day before gathering recipes and narrowing them down to my favorites. But this year….I thought it might be fun to try using my own recipes! Which means it's time for me to start getting busy in the kitchen!! Since chocolate and mint is such a classic combo, I thought I'd start with this sure winner: Mint Cocoa Krispie Treats. They're ooey, gooey, chocolatey, minty, and perfect for sharing. Enjoy!
Mint Cocoa Krispie Treats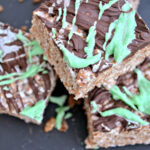 Mint Cocoa Krispie Treats
Ingredients
4

c.

Cocoa Krispies

1

bag

approx. 40 marshmallows

1/4

c.

butter

1

tsp.

peppermint extract

1/4

c.

chocolate chips

1/4

c.

mint chips

green food coloring
Instructions
Melt marshmallows and butter in a medium saucepan or large microwave-save bowl. Stir until smooth.

Stir in peppermint extract.

Add Cocoa Krispies and stir until evenly coated.

Press into the bottom of a buttered square (8x8 inch) baking pan. Let cool.

Melt chocolate chips and drizzle over bars. Melt mint chips with 2 drops green food coloring and drizzle over bars.
Be sure to stop by Lemon Tree Dwelling to check out some more of my holiday recipes !