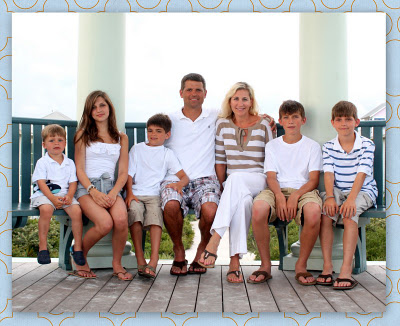 My name is Sarah and I blog at
Clover Lane
where I write about raising children, about staying home and slowing down, and appreciating these days that fly by us. I have a husband of 18 years, and five children, 4 boys and 1 (thank gosh almighty) girl. The oldest is 17 and the youngest is 3. I love books. I love writing. I love a good easy meal, and a clean house. I love my husband especially when he does the dishes.
Playing with my kids is the most rewarding, behavior-changing (for both of us), calming activity.
Sometimes I dread it. Just like exercise and going outside on cold days. But every time I do take that time to get on the ground and find something fun to do, I feel like a good mom. I go to sleep knowing that it was a good day…and I completed my mission. I love that feeling!
And my kids respond to me playing with them…they are happier, and more centered and less whiny and more (not less!) apt to entertain themselves. If a particular week is a tough one, (especially when I had 3 little ones), you know…one of those weeks when you feel like you are doing something "wrong"…you just don't know what yet and you are at Wit's End? I'd make a conscious effort to PLAY.

Just us…play groups don't count, friends over doesn't count…just mom and kid(s).
And you know what? After a couple days…behavior changed. It was sort of miracle cure. I felt it was some sort of secret.
I can't imagine playing with them for hours and hours. Really….I have 5 children! I don't think it would be good for them to constantly demand that I be a playmate to them. But getting them started with something, by showing an active interest and leading them into creativity…that's my job as a mom, I feel. Whether it's Legos, or Polly Pockets (sniff sniff…a thing of the past…I loved those things!), or coloring books, or puzzles…they didn't seem to care…they just wanted ME showing an interest, quietly work side by side.
Like that Lego village Patrick, Andrew and I built? I'm pretty proud of it.
~ Sarah