"Howdy, howdy, howdy!" I'm Julie, mother of 2 girls and 1 baby boy, and wife extraordinaire to my own "Prince Charming".
And I'm Angie, mom to 2 little boys, and wife to my own "Mr. Incredible".
As sisters we share a lot in common, we love our families, we love toast and fishing (yes, sometimes together)…and we love DISNEYLAND!
We're both partial to Fantasyland (Julie is on a first name basis with Peter and Alice), and Adventure Land attractions like "Pirates of the Caribbean" and "Indiana Jones". We also adore "Disney's Enchanted Tiki Room", despite certain spouses' reference to it as the "Enchanted Sleepy Room".
The atmosphere at Disneyland is magical…from glass slippers to goofy characters, the music, the rides, the shows, the fireworks, the menagerie of large-eared hats worn by every passerby, and don't forget the aromas of the ice cream parlor spilling out into the hustle and bustle of Main Street. It's an enchanting place and that's just one park!
There's just one thing…we're all about soaking up the magic, but long lines are only so magical for so long, right?
Well, there is a system to Disneyland. If you know the system you will get on and off rides much faster, see more magical attractions, and be able thoroughly enjoy the atmosphere! Here are our favorite Disneylandd tips and tricks on how to work the system.
Because this post is all about more magic and less wait time, we encourage you to zip to the heading that interests you most. They will be as follows:
FASTPASS
STROLLER PASS
OTHER ATTRACTIONS
IN-LINE DIVERSIONS
APPS
Disneyland Tips and Tricks:
FASTPASS…
For those who may not know, a Fastpass is a pass you can get for a specific ride that basically lets you skip most of the line. The majority of popular rides have a "Fastpass Distribution Area" where you show your Disneyland Admittance Ticket to pick up these passes. Having a Fastpass will typically take off about half the wait time for that ride. For example, I want to ride "Indiana Jones", the wait time for the ride is 60 min. Luckily, I have a Fastpass so instead of waiting 60 min, my wait time will really be around 30 min or less. It really is worth scheduling Fastpass pick-ups into your day. They will ensure that you get to ride your favorite rides without spending all day in line.
Here we have and example of a Fastpass for "Splash Mountain" notice it tells you what times to return between to use it, and at the bottom it specifies when you can get another Fastpass.
TIP: you can't get as many Fastpasses as you want in a row. As mentioned above the pass tells you on the bottom what time you are eligible to get another pass. You have to wait for a while in between each pass you get, so start collecting early in the day. Also passes are not distributed all day. If a ride is really busy and tons of people are collecting passes, they will usually run out. So, before you get to the park, it would be wise to get a group/family consensus about specific rides everyone is dying to go on so that you can grab a Fastpass for those rides as soon as you get to the park.
TIP:Even though the Fastpass gives you a specific return and ride time, you can really ride anytime after the arrival time. For example, the Fastpass above says to return between 10:05 and 11:05. However, you can use it anytime after 10:05 that day. Again, it doesn't matter if the time has already expired, they will accept your pass for the rest of the day. So if you collect passes all day and the park isn't really busy enough to use them, save em' up and when the park gets hopping later in the evening, you'll be hopping to the front of those long lines. Awesome!
.
STROLLER PASS…
Stroller Passes are another version of a Fastpass, except that more rides provide them. The idea behind a stroller pass is for parents who have small children (too little to ride) to take turns riding in a timely manner, without having to wait in a huge line twice.
So this is how it works, dad and big brother (who meets the height req.) wait in the normal line and ride the attraction. As they get off, they request a stroller pass from the cast member attending the ride. Now dad watches the "shorties" while mom and big sister present the stroller pass at the entrance of the ride. The "cast member" aka, employee of Disneyland, escorts them to the front of the line and they are on and off in a matter of minuets! You can also request the stroller pass before your first party gets in line, as you may have to show them your stroller/child. The stroller pass allows any two people to jump the line and get on fast, so it also works for you and your hubby to ride while say, your sister watches the kids. Hooray for stroller passes!!!
If you have questions about this system ask a cast member. They are more than happy to explain how it works and direct you to the person giving them out.
TIP:Don't be afraid to use your Fastpass and stroller passes together. Bump up your ride time! Have two people use their Fastpass to get on the ride and then send your next party on with a stroller pass. Then you can even save a couple of your Fastpasses for
later and you can go on the ride twice if there is a long line.
OTHER ATTRACTIONS…
In recent trips to Disney, we explored many of these alternative attractions and were astounded at how much more there is to DO & SEE off the beaten path (we had no idea there was so much we'd been missing!).
TIP: Beat the crowds, get out of line, save your feet, and enjoy MORE MAGIC by taking in the SHOWS and WALK-THROUGH features Disney has to offer!
There are some stellar reasons to visit shows and walk-throughs. Let us enumerate:
1. These attractions are often less visited + less crowded = less lines
2. Large group style admittance at these attractions facilitates more doing and seeing, less standing/waiting.
3. There may still be a wait time for shows (typically none for walk-throughs) but the wait should be much shorter with a longer duration as the pay-off.
4. These attractions provide tons of extra incredible Disney features that enhance your magical experience.
By highlighting these activities, our intention is not to dissuade you from your favorite main attraction (by all means, get your Peter Pan fix). But you'll definitely want to maximize your DOING & SEEING experience by including some of the following show and walk-through attractions during your Disney adventure.
SHOWS
( Location/ Duration)
Disney Junior-Live Onstage (DCA 22 min)
Turtle Talk with Crush (DCA 20 min)
A Bug's Life: It's Tough to Be a Bug! (DCA 8 min)
Aladdin (DCA 29 min)
Captain EO (DL 17 min)
Jedi Training Academy (DL 15 min)
Enchanted Tiki Room (DL 15 min)
Disneyland: The First 50 Magical Years/ Great Moments with Mr. Lincoln (DL 20 min)
WALK-THROUGH
(Locations/ Duration)
Tom Sawyer's Island (DL 15 min-1hr)
Sleeping Beauty's Castle (DL 10 min)
Mickey's Toontown (DL 10-30 min)
Sorcerer's Workship (DCA 10-20 min)
Red Wood Creek Challenge Trail (DCA 10-20 min)
Mission Tortilla Factory (DCA 2 min)
No height requirement for any of these attractions, yipee! There are a few that younger kids or older kids may prefer over others, but overall every age group should enjoy them.
Each of the above attractions are definitely worth visiting, but allow us to spotlight a few "must sees".
Aladdin: Think mini-broadway… "mini" as in shorter, not less spectacular. The music is awesome, the genie is a hoot, and yes the magic carpet flies! Line up 20-35 min before the show depending on where you want to sit, (but there's really not a bad seat in the house). Accommodates all ages.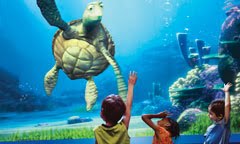 Turtle Talk with Crush:
An interactive show with the most tubular host ever, Crush! This is one of our favorites! Believe it dudes and dude-etts, Crush really does talk to you. He asks questions and responds to your answers. A cool bit of technology that everyone in your group will love!
Sorcerer's Workshop: We don't want to spoil the fun so we won't tell everything this walk-through contains…but we will tell you that here, you'll visit the Beast's library to find out which Disney character you're most like. You'll also enter Ursula's Grotto and use your voice to speak for characters in various Disney clips.
Tom Sawyer's Island: We just explored this place for the first time and loved the adventure! You arrive and depart the island by raft (10 min wait or less!). The Island is huge! It includes a short hike, a tree house, several caves (with some creepy pirate features), a shipwreck, dead pirates, a stash of treasure, a fort (closed?), and yes, two restrooms for your convenience! This is an excellent way to refresh yourselves by getting out of line, and letting your kids run and climb-and it is thick with Disney magic.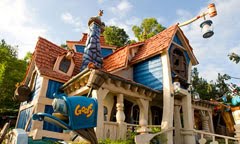 Mickey's Toontown:
This is another place to let your kids explore and stretch their legs. You can visit Mickey and Minnie at their respective houses, but there is often a line. We recommend Chip n' Dale's Tree House, Goofy's Playhouse, and Donald's Boat for more moving and grooving.
Jedi Training: One of Disney's many street shows. In this performance, Jedi warriors teach Jedi's in training how to banish members of the Dark Side. Kids from the audience get to wear robes and wield light-sabers during their training…get your camera ready because your young-ling is about to light-saber Darth Mal in the knees! May the Force be with you.
Don't forget to check out the Animation Academy, the Sailing Ship; Columbia, Mark Twain's River Boat, World of Color…the list goes on. Be sure you look online or grab a park schedule for a complete list of these attractions, because we've only covered a few of our favorites. There are plenty still to be discovered and shared with us by YOU! So go exploring and try some things you've never done before.
IN LINE DIVERSIONS…
We don't have to try too hard to have fun at Disneyland but we have heard a handful of people say they just feel like it's for kids. Well for all you fun haters out there, there's a lot of things you can do to make your visit more interesting, yes even for adults.
TIP: The magic words are "Hidden Mickeys" – fun for adults and kids to get into! Strategically hidden around the park's rides and buildings are hundreds of "Hidden Mickey's". Most of them are small little Mickey Mouse symbols (or Mickey heads) but there are some that are a little different. It is a lot of fun, and may we say quite addicting, to try to find those sneaky Mickeys hidden all over the park. For example, there's one on a suit of armor in "Pirates of the Caribbean" and one on top of a building in New Orleans Square that can only be seen from the top of the tree house on "Tom Sawyer's Island". Oh yeah, and there's the one on your head (just kidding-you knew that one). Pretty safe to say that most rides have a Hidden Mickey somewhere on them, not to mention all the others hidden throughout restaurants…etc in both Disneyland and California Adventure.
TIP: Ask a cast member! In our experience cast members are very helpful and willing to point out the secret locations if you ask nicely. Now, there is a lot of controversy over what is an obvious Hidden Mickey, and whether more abstract looking versions are the real thing. There are some you really have to use a lot of imagination to see, but they really are everywhere, so have fun looking! Several books such as the one pictured below, will give you clues where to look, or if you have a smart phone with Internet you can Google the locations of the infamous mickeys incognito at each ride while you wait in line.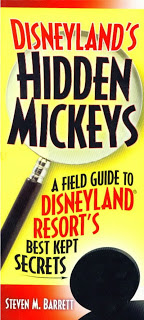 Disneyland's Hidden Mickeys
TIP: Discover some of the amazing Disneyland facts and history that make the park's story come alive. Fact: Did you know, when Disneyland was being built Walt Disney had a little office/apartment built on the upper level of the Firehouse on Main Street? When he was there he always lit a lantern and put it in the window. Everyone working in the park knew Walt was there if the lantern was lit. Now if you look at the upper window in the firehouse there is a lantern that is always on. It is never turned off in honor of Walt Disney. Fact: Did you also know there is no gum sold anywhere in Disneyland and there is a half court basketball court in the top of the Matterhorn mountain? Hundreds of these little tidbits are awaiting your discovery. Again there are a lot of books that have tons of fun info about the park.
We bought this book
at Disneyland and have loved it. It not only gives great facts but tells you about
things to touch or look at
while in line that make noise or give a weird reaction. Whatever you do don't touch the golden apple above the spell book at the entrance of "Snow Whites Scary Adventures"!!!
APPS
TIP: load an app like the Disneyland Notecast and MouseWaite to your smart phone to strategize your attraction route. MouseWaite is particularly great because it not only gives the facts but also tells you the wait time of the rides, so you can decide what you want to do next.
We figure the average
ride time
at Disneyland is around 5 min, while the average
wait time
is…usually a bit longer. It's easy to get stuck in a lot of long lines, trying to hit the "main attraction circuit". So work the system with some Fastpass and Stroller passes and don't forget to visit the shows and walk-throughs! Our goal for you is to experience more adventure, more nostalgia, and yes, whisper it…more magic! Have fun on your next Disneyland adventure!
-Julie and Angie
For the best prices on your Disneyland vacation, visit my favorite travel agency,
Get Away Today
!
Want more Disneyland Tips and Tricks??
Check out these posts, and be sure to pin the
Disney Everything!
page, where I keep everything Disney and family vacation in one spot!