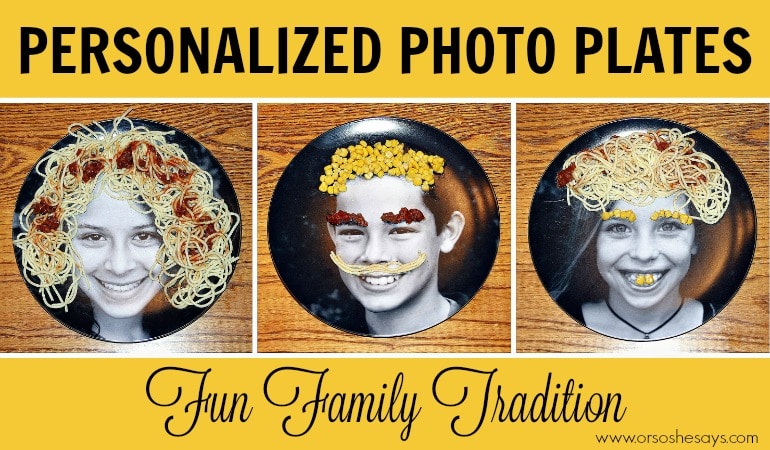 Hi there! I'm Veronica and you can find me over at Nine A Plenty. I'm the really happy mom of nine amazing kids. We have a busy, crazy life, but it's the best one around. I'm not the most clever mom, but every once-in-a-while, my frazzled little brain brings forth a grand idea that actually works for us! I'm always excited to hear about other's ideas that make our home a happier and better place. So, I thought I'd share something that works for us! Who knows?! Maybe it will work for you too!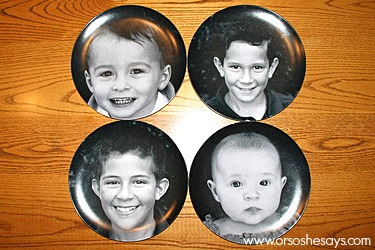 PERSONALIZED DINNER PLATES
We have many favorite traditions in our home, but I think one on my favorites are our personalized dinner plates.
…plates?Yes! Plates! I love them!A couple years ago for Christmas, my mom bought each family a set of personalized photo plates. Such a GREAT gift idea, right?! I will admit that it was kind of creepy eating off of someone's face at first, but it was short lived! We have had a lot of fun with our plates.
Sometimes they get to eat on their own plate…for some reason this makes the food taste so much better! But, most of the time I give them a random plate. Sometimes we'll go around the table and you have to tell something you love about the person who is on your plate. This is great for days when my kiddos are miserably cranky or when there seems to be a lot of contention in our home. How can you not feel better when someone tells you why they love you?! We have also done random acts of kindness at some point throughout the week for the person who is on our lovely plate. I've also put numbers on the bottom of the plate. The numbers are assigned to a treat with the same number.
Then other times…we just have fun. Who says playing with your food is a bad thing?
You can imagine the fun we have. The ideas are endless!
I'm a firm believer that there is something powerful that happens in a home when you sit and eat together as a family. It strengthens our family in ways that are hard to explain to you. But just that one simple act makes a difference. In this busy world of ours, it's not always easy or convenient. But, I promise that if you try, you will notice the difference. That's one of the reasons I love our plates. They remind us that we're a family, that we care about each other, and that we matter to one another. If you no longer have children at home, these make the best gift for families.
Interested in getting some plates? Here's a great link!
Have fun with your plates! Who knows? Maybe you'll enjoy a new family tradition!
~ Veronica
For gift ideas for everyone on your list, check out the Gift Ideas tab and be sure to pin Gift Idea Central, to keep the whole collection in one place.