Treat your loved one (or yourself) to this Red Velvet Mug Cake. This mug cake is moist, egg-free and utterly delicious with that distinctive red velvet flavour, and even topped off with a complimenting cream cheese frosting – Perfect, easy and ready in no time!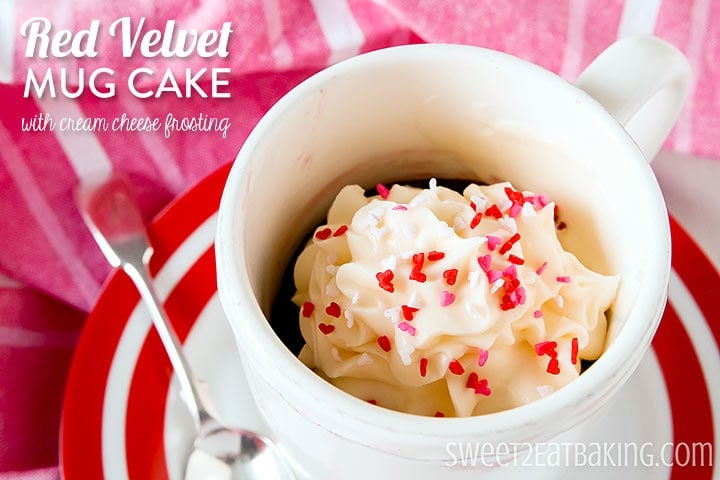 Hey OSSS friends. It's Lisa here from Sweet 2 Eat Baking. How are you all?
Are you excited for upcoming Valentine's Day? The only day of the year where it's acceptable to bust out all the Barry White CDs (or rather MP3s these days!) and listen to cheesy 80s love songs to get yourself in the mood for lurrrrrve.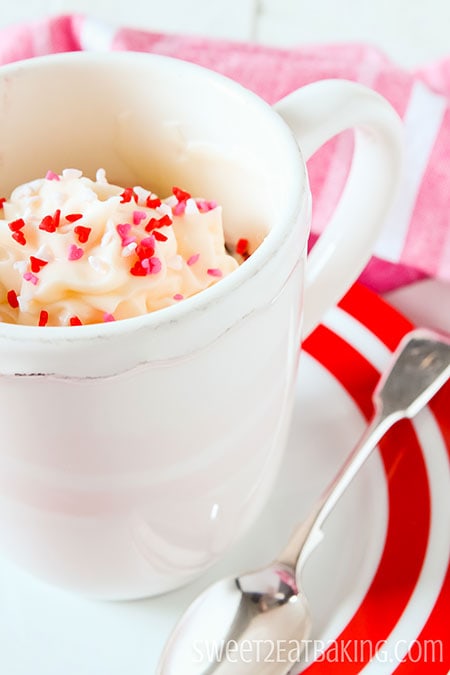 Well, scrap the cheese (but not the creme cheese, obvis) because today I'm bringing the love to you with this amazing Red Velvet Mug Cake.
Are you feeling special yet? Because you should, this mug cake is awesome.
We all know that some mug cakes can be terrible. Even I have had my fair share of chewy and rubbery mug cakes, blech! But this red velvet mug cake? It's the epitome of mug cakes! No rubber here, peeps

Let's first talk about how ridiculously easy this mug cake is to make. A few store-cupboard ingredients for the cake, and voila! We're talking around 6 minutes from start to cooked, then some cooling time (which can be sped up in the fridge or freezer) before frosting and enjoying.
This mug cake recipe is egg-free. I'm sure that this recipe could be easily adapted for a gluten-free diet, and the milk can be substituted for almond or coconut milk for those with diary restrictions.
And finally, this red velvet mug cake actually tastes like how a red velvet cake should taste too. And with that cream cheese frosting… perfection.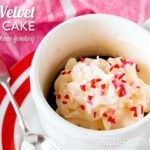 Red Velvet Mug Cake with Cream Cheese Frosting
This Red Velvet mug cake is moist, egg-free and utterly delicious with that distinctive red velvet flavour, and even topped off with a complimenting amazing cream cheese frosting – Perfect, easy and ready in no time!
Ingredients
Mug cake
3

tbsp

buttermilk

1½

tbsp

vegetable oil

red gel food colouring

2

tbsp

granulated sugar

1

tbsp

cocoa powder

pinch

salt

4

tbsp

self-raising flour

see notes
Cream cheese frosting
1

tbsp

14g unsalted butter, softened

1

tbsp

15g cream cheese, softened

4-5

tbsp

icing

confectioners' sugar

½ - 1

tsp

milk

if needed

sprinkles

optional
Instructions
To make the mug cake, add the wet ingredients (buttermilk, vegetable oil and 2-5 drops of red food colouring) into a mug. I only needed 2 drops of Americolor super red food colouring.

Add the sugar, salt and cocoa powder and whisk with a fork until smooth. Fold in the flour and heat on full power in the microwave for between 1 minute to 1 minute 30 seconds, depending on the power of your microwave. Check at 1 minute, and 1 minute 15 seconds. The cake should be moist so if testing with a toothpick, some crumbs should cling.

Remove from the microwave and allow to cool fully before frosting. You can speed this up by popping in the fridge for around 30 minutes - 1 hour, or pop in the freezer for 15 minutes if you're impatient like me.

Once fully cooled and to make the cream cheese frosting, add the butter and cream cheese to a clean mug and beat with a clean fork until softened further. Gradually add in the icing sugar, beating after each addition. You may not need to add in the milk, so only add if needed.

Spoon or pipe the frosting over the cooled cake and add a dash or so of sprinkles if desired.

This cake is best enjoyed immediately or on the same day - cover with plastic wrap and pop in the fridge for later.
Recipe Notes
Don't have any self-raising flour on hand? You can substitute with plain (all-purpose) flour and add ¼ tsp baking powder.
Valentine's is for 2, you say? Double this recipe to make 2 mug cakes and enjoy that special day... together.
Why not hop on over to my blog, Sweet 2 Eat Baking, to find more delicious desserts, including some British classics.
You can also follow me on Facebook, Twitter, Pinterest, Google Plus and Instagram. Or sign up to receive email notifications.
See you next month!
For more delicious desserts in mugs, try these posts on OSSS:
Pumpkin Chocolate Chip Mug Cake
Chocolate Fudge S'Mores – In a Mug!