When I say "72 Flowering Plants For Under $10 Bucks!", I mean TOTAL $10 bucks. Yes, total. What's the catch?? Well, you have to plant them…from seed. Don't be turned off, it's so easy! I have been grounded from going to the nursery this year with the %
[email protected]
!! economy being the way it is. It's really annoying. I wish y'all would just keep building homes! Anyway, I refuse to have no new plants this year so I came up with a way to make that happen for me. I'm growing them from seed! Let me show you…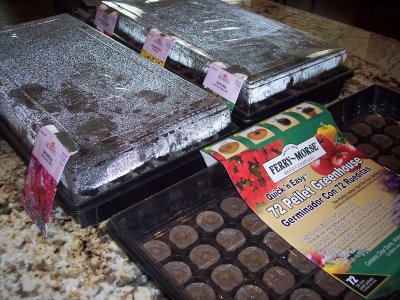 First off, go pick up a 72 pellet greenhouse at Lowes, Home Depot, Wal-Mart, the grocery store, wherever. I see them everywhere right now. If you're like me, pick up 8 of them. I got mine at Albertson's for 6 bucks. Basically, they are a tray with 72 soil pellets that puff up when you add water. Now you just need to buy some seeds. This is the fun part! Find the seed section and pick out some lovely flowers. I decided to only get perrenials because they come back every year, although there is always a larger selection of annuals. Seed packets are around a dollar each. You can do roughly 2 to 3 packets per tray. Total you will spend around $10. Not bad. Look on the back of the seed packet. Try to pick seeds that germinate in a similar length of time to put into one tray. That way they are all progressing similarly.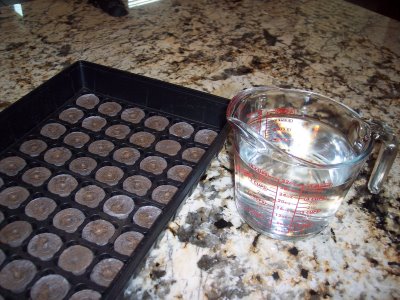 Pour about 10 cups of warm water on top of the pellets. As it soaks in, they will rise up. Drain any excess water. You might not see the excess water, cause it's in the bottom of the tray. So, bring the tray to the sink anyway and carefully tip the extra water out.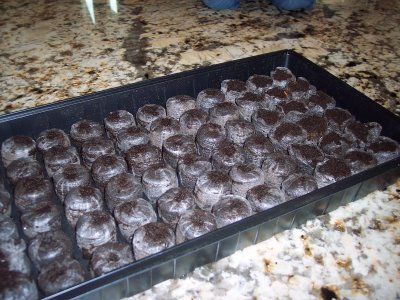 Peel open the netting around each of the soil packages. If you like, you can get a pencil and poke a short hole in the center of each soil section to drop the seeds into.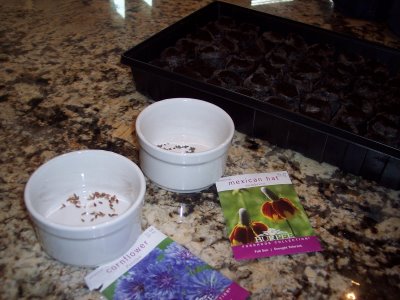 Dump your seeds out. Place 2 to 3 seeds in each individual soil section.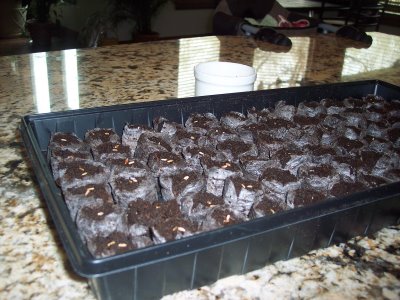 Bury the seeds (lightly) with the surrounding soil. Don't bury too much, less than half inch.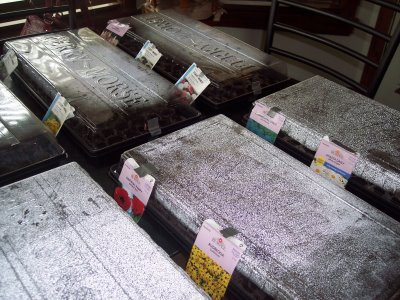 Place cover on. I like to tape on the seed packet so I remember what's growing and have the outside planting specs handy. Guess how many plants I'm growing….576! Holy cow, I can't wait to see them sprouting!
After they start sprouting, prop the lid open. When all of them have sprouted, take the lid off and place the trays somewhere sunny (inside). Water them with lukewarm water whenever they start to get dry. Always drain the excess. Optional: fertilize with 1/2 strength liquid plant food every other watering.
Wow, wouldn't you know it…I did this post a little over 2 weeks ago and here are my super cute sprouts! Aren't they precious?? I could just squeeze and cuddle them all day.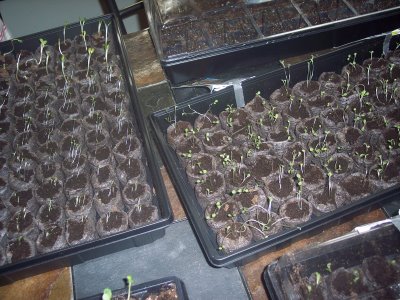 When small adult leaves start to appear on the stems, cut back all except the strongest seedling in the pellet. This will ensure that at least one plant in each pellet is exceptionally strong. You don't want to plant these outside until the cold weather has passed and they are SEVERAL inches tall. Also, before you can plant them outside you must harden them (accustom them to a new environment) by gradually increasing their exposure to outdoor temperatures over about 2 weeks. Each day place them outside in the shade. At first leave them for a couple hours for a couple days then bring them back in the house. Then bump it up to maybe 4 hours in the shade for a couple days, 6 hours, etc. Eventually give them partial sunlight until you reach full sunlight. The result is you will have happy plants with thick, hardy stems.
Remember to read the instructions on each seed packet to see what kind of sunlight is preferred, how far apart to space the plants, how deep to plant, and how to water. Always keep the packets (I have mine in a file in my office) for reference.
Another tip* If your plants are getting too tall for their little space in the tray and they aren't ready to be planted outside, transfer them to a 7 oz. plastic cup.
My last piece of advice is to hurry and get started! If I had thought about it sooner I would have started my seeds back in March so they were almost ready to plant now. I worry about planting these in the hot, summer, Utah sun but hopefully if I harden them enough to the outside temps first they will do fine. But, now I know. Next March, I'll do another 576 plants.