I love reading a good book anytime, but during the summer is great! You can sit outside, sip your beverage of choice and get lost in the pages.
Here are my top 5 favorite books, lately:
Alicia: My story.
This is my all time favorite book that I have read 7 times. It is about a young girl in Poland during WWII, who is brutally separated from her family, who escapes her captors. During the war she fights for survival, and is supported by faith in family and the goodness of people. After 40 years she tells her unbelievable story. It received 5 stars on Amazon.
Memoirs of A Geisha
: If you have seen this movie, you have barely scraped the surface. Author Arthur Golden takes you through the life of a fishermans daughter, who achieves one of the highest status for a woman in Japan- a geisha. It is absolutely absorbing, and takes you back in time to experience the perspective of a geisha's life and the role women in Japan play.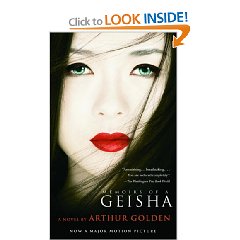 Serena: by Ron Rash
. My cute husband convinced me to listen to this one. I wasn't sure about it at first, but I ended up really liking it. The average customer review on Amazon was 4 stars. It takes place in the North Carolina mountains, where newlyweds George and Serena Pemberton start a timber empire. When Serena learns she is unable to have children, she goes after the woman who had George's illegitimate child. Soon the Pemberton's marriage begins to unravel, and the story moves to it's shocking reckoning. It is a long book, so if you don't have time to read it, I suggest getting it on
Audible
and listening to it.
The Constant Princess
by Philippa Gregory. I am a big Philippa Gregory fan. I have read all of her books almost and love all of them. This one is about the first wife of Henry the VIII- Katherine of Aragon. It tells about her first love Arthur (Henry's brother) and how she becomes the Queen of England. I like this book because it isn't as "racy" as some of her others, and since I am a hopeless romantic, it was right up my alley.
Last but not least is
The Tea Rose
, by Jennifer Donnelly. Set in Whitechapel, England in the 1880's, Finoa Finnegan and her love Joe Bristow have big plans to set up their own tea shop. But when Fiona's mother is murdered by Jack the Ripper, she has to flee with her younger brother for their safety and leave Joe behind. Laced with romance, murder and mystery, I couldn't put this book down. It is the first book of two and I can't wait to read the next one!
Happy Reading!