I am Amanda ~Mom of Two Boys and One Amazing Husband…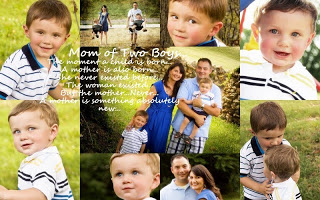 I am very proud of our little family and thrilled to share a little piece of us right here on "Or so she says…"!
When Aidan Kale was a few weeks old, I noticed he was more fussy than usual and his stomach was distended. Being the overprotective Mother I am, I mentioned this to his pediatrician at our next check-up.
She sent us for X-Rays and immediately scheduled an appointment at a nearby Children's Hospital. She explained that there were a few possibilities (Hirschsprung's Disease the only one requiring surgery) and they would need to perform a contrast enema to correctly diagnose the symptoms.
When we met with the specialist at the Children's Hospital, we were told there was nothing wrong with our baby. The doctor even asked me if I was a first time Mommy, insinuating I was being overly cautious. I didn't want anything to be wrong with my baby but I knew something wasn't right. We could have loaded our baby back in the car, made the two hour trip home and put our baby at a fatal risk or we could question the expert. I could live with being a pushy, paranoid Mommy. I couldn't live with myself if anything terrible happened.
So we insisted they go ahead with the contrast enema and as soon as we saw the results, we knew Aidan Kale had Hirschsprung's Disease. A disease about which up until that point I had never heard. The formal definition is a disease of the large intestine that causes severe constipation or intestinal obstruction due to a lack of nerve cells in part or all of the large intestine. A biopsy was then performed and the results were inconsistent with HD. Frustrated and confused, we asked for another biopsy. It was conducted and we were released. As soon as we made the two hour drive home, we received the call that the new biopsy was consistent with HD and we needed to drive back to the hospital for surgery.

Exactly ONE month after Aidan Kale was born, we watched as they wheeled him into surgery. It BROKE my heart. Four hours later they wheeled him out and on June 6th we celebrated his third birthday.
I know I am not the only one who has gone through this type of situation.
Doctors are only human and unfortunately will make mistakes.
If something like this happens to you and your family, remember the following:
Trust Your Instincts…You are more familiar with your own child. You know when he/she is acting differently. Never be afraid to push the issue if something is telling you your child is sick.
Be Respectful…Remember the bees with honey expression? It is very important to be respectful even though you may challenge a professional opinion. Just because they might be wrong, they still deserve to be treated kindly.
Insist on Seeing a Doctor…Even if the doctor says they don't need to see you, if you feel they do, make an appointment.
Insist on the Tests…The only way to know for sure is to go through with the tests. Pray they come back negative, but even if positive at least you will have concrete answers.
Report Inappropriate Behavior…Needless to say, we didn't use the specialist who first saw us and we reported his dismissive attitude to the hospital. I wanted to make sure other families did not have the same experience we did. We were assigned a new surgeon who was/is incredible and who was very sensitive to our needs.
Don't Feel Stupid…Even if after all is said and done you child is perfectly healthy, DO NOT doubt yourself. Next time your instincts might be exactly right.
Ask for a Second Opinion…We have been seeing doctors for the last three years. This year Aidan Kale had constipation issues and we received conflicting information regarding treatment and test results. We decided to get a second opinion regarding his HD progression. We found that our doctor was correct and acting in our best interests. It increased our trust in his abilities and helped us understand a little more about HD.
Our battle with Hirschsprung's continues but one thing is for certain. I am confident in my instincts. I know when my boys are behaving out of character and I am not afraid to act. I am their advocate and they need me to be their voice. I have at times been wrong BUT I have been right when it really mattered.