Hello girls! I am
Whitney
salmon,
Jessica's
sister in-law. (our
hubby's
are brothers.) I was so excited when
Jess
asked me to do a post until I started thinking of what to do, cause I couldn't think of anything and then I decided to make this
Delicious
Antipasto Vegetable Pizza! I sold pampered chef for a little over a year and this was the most fun thing to make and everyone loved it!! I still make it lots and it is a great dinner or
appetizer
. Here it goes!
You can pretty much put anything from your garden like tomatoes, squash, parsley,
zucchini
, olives, or any vegetable that you love! First, preheat your oven to 400 degrees. Take your
refrigerated
pizza crust and roll it out (I stretch mine a little but not to much). Then spread one tablespoon of olive oil over unbaked crust. Set aside until oven is preheated then put in oven to bake!
Then you will pour your juice from the marinated artichoke hearts in a bowl, and chop up your artichoke hearts. A food chopper is very handy for this part. After that, chop the rest of the veggies and put in bowl with the marinade from the artichokes, then add the herb and garlic. I think it is good to let it sit and get well marinaded for
at least
a half hour or so.
OK
this is how it should look all mixed together in the bowl. If you want it for dinner it is really good with a couple of chicken breasts grilled and diced. After the crust cooks in the oven for eight to ten minutes, pull out and
immediately
put half to one cup
mozzarella
cheese on top and let melt for a few minutes. After the
cheese
is melted, pour marinated veggies on top of the pizza and then cut and serve!!! DELICIOUS!!!
Someone stole a
piece
before i could get a picture!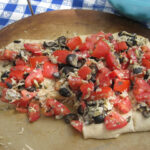 Antipasto Vegetable Pizza
Ingredients
1

package refrigerated pizza crust

1

tbsp

olive oil

1/2 to 1

cup

mozzarella cheese

1

6-7.5 jar marinated artichoke hearts, undrained

1

tsp

Italian seasoning mix

1

garlic clove pressed

2

tbsp

fresh parsley

1

small zucchini

4

plum tomatoes diced

1/2

cup

sliced olives

And any other veggies you want!

Those are just the veggies it calls for, but add all you want!
Enjoy!