I love banana bread…warm and toasted, with butter! It's something my kids are always asking for too, so that's all the reason I need to bang it out. This recipe has been a hand-me-down from my grandma. It's super easy and so good! It's one of those recipes that takes me back to childhood, I love it.
So, if you have at least 3 bananas sitting around, starting to turn brown, I say "banana bread!"
Here we go…
You will need 1 stick of butter, eggs, sugar, bananas, vanilla, flour, salt, baking soda, and optional chopped pecans.
Heat your oven to 350 degrees. In your blender put the stick of butter, 2 eggs, 1 cup sugar, 3 cut bananas, and 1 tsp. vanilla. Blend together. You will likely have to stop it and push down the ingredients several times so that it blends well.
In a separate bowl, mix together the 2 cups of flour, 1/4 tsp. salt, and 1/2 tsp. baking soda. Pour into the blender and blend together well. If you want chopped pecans in the bread (I do! I do!) then this is the time to add them. Add about 1/2 cup of chopped pecans and stir with a spatula throughout…don't blend or you won't have nut-chunks. Hey! I like that word "nut-chunk"…it sounds like a mean word that I should call Jessica. We love saying mean things to each other…good times, good times.
Anyway, pour your mixture into two greased small loaf pans or one larger bread pan. But, two is better than one. Place in 350 degree oven and bake for 50 minutes to an hour. Just check it and it is done when you can stick a toothpick in it and it comes out clean…or when the top starts to slightly darken.
And there ya have it! Two loaves of bangin' banana bread that you will love!
Grandma Petersen's Banana Bread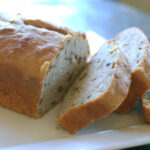 Grammy P.'s Bangin' Banana Bread
Ingredients
1/2

cup

butter

2

eggs

1

cup

sugar

3

cut bananas

1

tsp.

vanilla

2

cups

flour

1/4

tsp.

salt

1/2

tsp.

baking soda

1/2

cup

chopped nuts

pecans
Instructions
In a blender, or mixer, beat together the softened butter, eggs, sugar, bananas, and vanilla.

In a separate bowl, mix the flour, salt, and baking soda.

Add the dry ingredients to the wet, mix well. Stir in the nuts.

Pour evenly in to two small greased bread loaf pans.

Bake at 350 for 50 minutes to one hour until toothpick comes out clean.
*
If you're using a large mixer, you can double or triple the recipe.