* Today is the LAST day of the giveaway! Scroll down if you haven't entered!
I
love
summertime because produce is fresh and at it's best! My mom and I picked apricots and made jam the other day, so I thought I'd share our endeavor with you. It's easy and oh so good.
Here are your ingredients: Apricots, Lemon Juice, Pectin, and Sugar.
Chop up the apricots and put in large pot.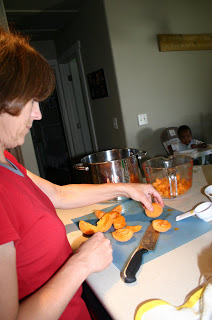 Add lemon juice and pectin. Stir until it starts to boil. When it is boiling, add the sugar and when it is boiling again, let it boil for 1 min.
Pour in jars. Before you put the lids on, you should boil them in a small saucepan for a couple minutes, it helps them seal better when they are processed (sealed). Put the lids on the jars and place in a large pot, fill with water until the jars are covered. Put a lid on the pot and when it comes to a boil, set the timer for 20 minutes. This will seal the lids.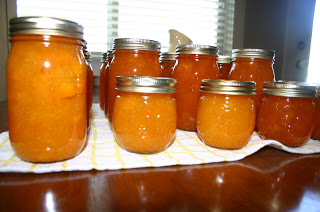 Voila! Homemade jam! Sure to impress! Great for gifts! Here are some super cute labels you can put on your jars too if you are giving them away.
Misspicklespress
on Etsy! $15 for a pack of twelve.
Ingredients:
5 cups of chopped apricots, (leave the peels on)
1/4 cup lemon juice
7 cups sugar
1 box pectin
Chop up apricots. Put in a pot and add 1/4 cup lemon juice and 1 box of pectin. Stir until it comes to a boil. Gradually add sugar, then boil for 1 minute. Pour into jars. Boil lids in small saucepan. Place them on jars, and put the jars in a pot (make sure they are covered by water, and process for 20 minutes after it reaches the boiling point).