Were you surprised by the new blog design?? I hope you're getting used to it. I've got so much to learn, and still several things to adjust with the layout and look. So, if something looks off or missing, hang in there…I'm working on it!
In the meantime…
I've been looking for a favorite salsa recipe for a while now, and I think I may have found it! Despite needing to roast the chiles and tomatoes, it still ended up being pretty quick to make. And, it's perfect for freezing. Just pull it out and let it thaw when you need a quick appetizer.
Awesome Fresh Salsa
(from The Food Nanny ~ makes about 5 cups)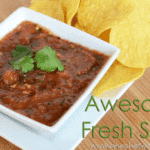 Awesome Fresh Salsa
Ingredients
16

Roma tomatoes

2

jalapeno chiles

2

serrano chiles

1

white onion

small

8

garlic cloves

whole

1

bunch fresh cilantro

1 1/2

tsp.

salt

1

TBS

cider vinegar
Instructions
Heat oven to broil.

Place tomatoes and chiles on a sheet pan and broil each side until they are blackened. About 5 minutes per side, give or take (my serranos were black sooner, so I pulled them early.)

Remove from oven and let cool.

In the meantime, turn your oven to bake at 450 degrees.

Slice the onions and peel the garlic.

Place on a different sheet pan and let roast until they are soft and brown, about 15 minutes. Let cool.

Chop cilantro and set aside.

Over the first pan, peel the skin off the tomatoes and cut out the core, letting the pan catch the tomato juice.

Peel the skin from the chiles.

Depending on your preference of chunky or not so chunky, place the tomatoes in a blender (not-so) or a food processor.

Pulse the tomatoes (with the extra juice from the pan), add the onions, chiles, and garlic, pulse until desired consistency.

Pour into bowl, stir in cilantro, salt, and vinegar.

To freeze: fill quart size Ziploc freezer bags with desired amount. Freeze up to 5 months. To thaw, let sit out at room temperature for about 30 minutes.

Love Mexican-ish food?? Check out these posts: Black Bean Taco Soup, Enchiladas Verdes de Pollo, Busy Night Mexi-Burritos, Mexican Macaroni Salad, Breakfast Fajitas