We love oatmeal around these parts. The kids love it, I love it. My eyes perk up any time I see a recipe with oats in it. And, that's a good, seeing as how I have hundreds of pounds of it in my
food storage
room. I better have more than just a few ideas of what to do with it! Here's just ONE of them…
I found this recipe for
Baked Oatmeal
, and it's great! It is so easy to throw together, and I love how it makes enough to feed a small family. My kids love those little oatmeal packet things, but I think I converted them, when I made this.
All you have to do is mix 1/2 cup melted butter, 3/4 cup brown sugar, and 2 eggs in a bowl. Add 2 tsp. baking powder, 1 cup milk, 1 tsp. salt, and 3 cups Old Fashioned oats. Did you catch that last part?? Use the old fashioned kind, not quick oats…it tastes better and adds a bit of chewiness. Yum.
Dump everything in a sprayed 9×13 dish and bake at 350 degrees for 30 minutes. Serve hot with brown sugar and milk. Of course, there's a ton of different toppings you could add, instead of brown sugar: blueberries, raisins, strawberries, peaches, cinnamon apples, etc. Also, the brown sugar in the recipe can be substituted for 1 cup of white sugar. It just depends on the taste you're going for. 🙂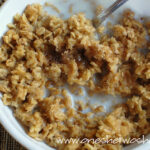 Baked Oatmeal ~ Easy Family Breakfast!
Ingredients
1/2

cup

melted butter

2

eggs

3/4

cup

packed brown sugar

or 1 cup white sugar, depending on your preference

2

tsp.

baking powder

1

cup

milk

3

cups

Old Fashioned oatmeal

1

tsp.

salt
Instructions
Mix together butter, eggs and sugar in a medium bowl.

Stir in the rest of the ingredients: baking powder, milk, Old Fashioned oatmeal, and salt.

Pour the mixture into a sprayed/greased 9x13 dish.

Bake at 350 degrees for 30 minutes.

Serve hot with brown sugar and milk. Or, other toppings: raisins, peaches, strawberries, blueberries, cinnamon apples, chocolate chips, anything you love!